Thursday's Rugby News has Twiggy pushing ahead, what Quade Cooper has been up to, Barnes weighing in on the Sunwolves, and more Brisbane Tens squads.
---
[one_half last="no"]
Twiggy puts his foot down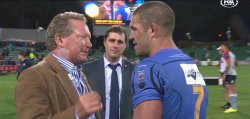 RA boss Raelene Castle commented at the start of this week about the trip she had when she visited WA to see the many justifiably disgruntled members of the rugby community. Well, yesterday Twiggy had a say of his own: that regardless of whether RA approve of it or not, the IPRC will be going ahead in 2019.
Castle mentioned that her and Twiggy had some encouraging discussions around the competition, and even mentioned that the Force could be back as early as 2021 when the new broadcast deal begins. The biggest stumbling block was apparently the idea of whether players in the IPRC should be eligible for Wallaby selection.
(I'm interested to see what all you GAGRs think about the whole Wallaby eligibility issue. Personally, why not? What damage will it honestly cause? If it gets lots of our overseas players back and playing on our shores, and also keeps the game in WA, I'm all for it).
Twiggy however wants to see the Force back on the paddock sooner rather than later, and made it clear when he spoke to SBS News yesterday.
"We'll either get Rugby Australia's approval, or we won't. But either way we're going to roll, and we'll be playing internationally," he said.
"This is a tournament that is waiting to happen, and will be fantastic for Australia.
"We've had something like 250 enquiries from elite players around the world.
"We've had endorsement from Rugby Asia. We know that World Rugby is completely on side.
"I think if you have a legitimate love for the game and a legitimate interest in what's best for the players, you'll back the new tournament."
Twiggy also launched a brand new junior WA rugby program on Wednesday, RugbyRoos, which will focus on providing clinics for kids aged 4-12 on learning the skills of the game. Twiggy also included in the program an obligation for all future elite Force players to donate 350 hours every year to programs like RugbyRoos, so kids can meet and play with their heroes.
Currently the venture is only in WA, but Twiggy has plans to go nationwide.
"Rugby starts at the grass roots, and finishes with elite. Not the other way around," Forrest said.
"Rugby has been struggling a bit in the eastern states at a community level. The RugbyRoos is a great way to build the community spirit through rugby in the eastern states. [It] is a long-term vision."
This strategy looks to be already yielding results. The Force have  landed themselves two important signatures already, with former players Marcel Brache and Peter Grant signing with RugbyWA to lead the team in the NRC this year, and look committed to a future IPRC side.
[/one_half]
[one_half last="yes"]
Where's Quade?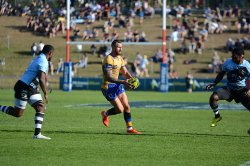 Ever since Brad Thorn informed him that his services would no longer be required at the Reds, it's fair to say that Quade Cooper has really disappeared off the radar.
Well, it turns out, he looks to be saying exactly where he is, pocketing $650,000 from the Reds and Wallabies to effectively play club rugby all year in Brisbane. With the timing of his removal all but ruling out him out of playing in Japan, Cooper looks to be making the most of his time in Brisbane, focusing his attention on boxing and becoming the highest paid club rugby player in Australia.
And, according to Berrick Barnes, Cooper had no compulsion to go anywhere but the Reds. The fact he has two years still left on his contract puts him in a very weird position.
"If I was him, I'd be staying and playing club rugby," Barnes said to the Sydney Morning Herald.
"It's the greatest gig in the world.
"I'm not sure what he's looking at and what his goals are but, yeah, it's interesting watching on from afar.
"It is … it's strange. But he signed his deal and the Reds owe him that deal. The ball is in his court as to what he wants to do with his future. He'll make a decision as to what's best for him.
"He trains hard and keeps fit … perhaps things change down the track and they want him back."
According to another close mate, Digby Ioane, Cooper also is unsure about what to do besides stay and get paid to play club rugby.
"He didn't do anything wrong. I just feel for him. I guess he's the most expensive club player … I'll take that job. That should be me.
"He's still getting paid and he's playing rugby – club footy. Good on him. I hope he just stays at Souths, doesn't go anywhere and proves himself over again. How much do you need to prove yourself? It's so weird. I've never seen that before."
"It's not like they've got five-eighths falling from a tree," Ioane added.
"You need depth in Australia. He's one of their most experienced players and actually a good leader."
[/one_half]
[one_half last="no"]
Speaking of Barnes…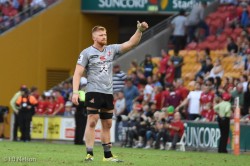 Berrick was a bit of chatterbox yesterday. On top of talking about Quade Cooper, he also had a lot to say about Japanese rugby in general.
Barnes moved over to Japan back in 2013 and has been a huge advocate for Japanese rugby ever since. However, while he believes that rugby has bright future in Japan, he doesn't know if the Sunwolves will be a part of that.
The Sunwolves have amassed three wins in their entire history (interestingly, they have also never ever beaten an Australian side), and if they don't pick up some success soon, they could be in hot water come 2021 when the current broadcasting deal expires.
The Sunwolves are also, like a lot of Japan's professional clubs, bankrolled by many major companies, including Panasonic, Suntory, Toyota and Honda. Those companies can choose to release players for the squad if they wish.
"The money's not in the international game in Japan. It's not in the JRFU, it's within the companies," Barnes told AAP.
"Companies pay their players and they're effectively paying their Sunwolves deal. It's that push and pull.
"Most of them are really generous and give their players and I know we do at (Panasonic), we want our players to go forward and experience that stuff. But it's kind of hard.
"But coming into a World Cup, everyone's got on board to know that (the Sunwolves need) success … (it's) similar to what they do in New Zealand, everyone knows the All Blacks is the top brand so they've got to try and push the resources into that first and foremost.
"I don't know what the future is … after the World Cup some big decisions need to be made about where the future's going to be heading in the southern hemisphere and what the product is and where it goes," he said.
However, Barnes does think that, with the Sunwolves joining the Aussie conference and signing several more big names, that they will improve a lot this year.
[/one_half]
[one_half last="yes"]
International Tens Squads…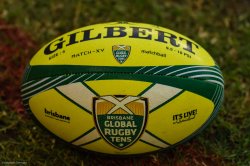 We can now officially see who else will be playing for the other teams in the Brisbane Tens this year, as the squads for the Mens and Womens teams have officially been released. 
 Julian Savea and George Bridge are the two big marquee names for the Hurricanes and Crusaders, respectively, and both will be using the tournament as an opportunity to push for higher Super Rugby and All Black honours.
French Top 14 club Pau have released a star-studded squad, including former All Blacks Conrad Smith and Carl Hayman, former Wallabies captain Ben Mowen and former England flanker Steffon Armitage.
Other big names include Berrick Barnes and Digby Ioane (for the Wild Knights), Liam Messam and Charlie Ngatai (for the Chiefs), George Moala and Akira Ioane (Blues) and Elliot Dixon and Luke Whitelock (Highlanders).
Carlos Spencer (Blues) and Pita Alatini (Highlanders) will also be big stars that will make an appearance at the Tens.
The event is scheduled to begin in the late Friday afternoon and go on into the evening, after playing in middle of day last year proved to be too bloody hot for everyone involved.
For those looking for tickets and information, head over to the competition's website.
[/one_half]