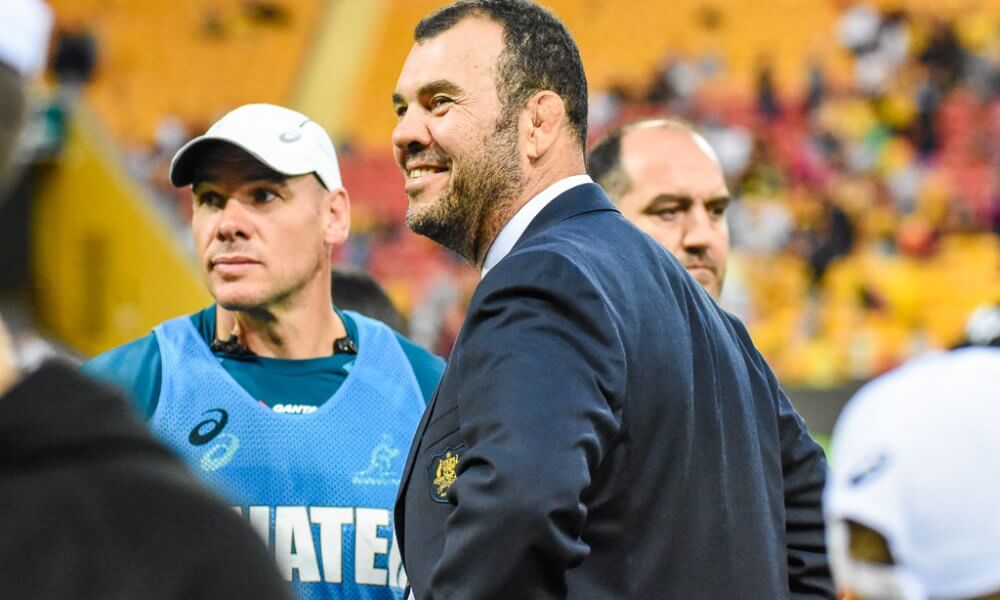 The twittersphere, facebookland, our forums (and, I'm guessing, in the real world) have been awash with 'coach-chat' this week on the heels of yet another comprehensive loss to the All Blacks. With Wallaby boss Michael Cheika set to coach his 50th test this weekend, arguments have raged as to whether or not his job is in question, based largely on his low win percentage (currently sitting at 51.02%).
There are any number of arguments, statistics and opinions thrown around when these discussions take place. I've seen perspectives varying from comparisons with former coaches, the quality of the opposition and, curiously, the number of rookies he's selected.
As I read through some of these it got me asking my own questions, and questioning some of the perspectives. Instead of countering haphazardly I thought I'd do some research myself and look back at all the Wallaby coaches in the professional era (since 1996). As I dug deep, I got sucked into some sort of vortex of analysis with constant questioning of relevance. I've decided to try to share these findings with readers of Green and Gold Rugby to provide some basis for more informed discussion.
A lot of what I have captured is fact based from relatively accessible match information. Additional information has taken me back to my own rugby library of biographies and record books. Then of course there's a healthy dose of theorising and thumb sucking.
In the end, there's a chunk of information for you to consume, hopefully in somewhat accessible forms.  I've tried to stay neutral in my opinions, and it's fair to say my own perspectives changed through this process.
SUCCESSION STORIES
Following on from the iconic 1995 Rugby World Cup in South Africa and a Super League breakout in rugby league, 1996 would see the traditionally amateur game of rugby become professional.  Despite the Wallabies bombing out in the Quarter Finals at the RWC, incumbent coach Bob Dwyer remained determined to keep the role and oversee the dawn of the professional era.  He would be challenged by NSW coach Greg Smith and Queensland coach John Connolly. Dwyer had lost favour due to the RWC early exit as well as his purported involvement in a rebel rugby competition. Connolly was favoured as QLD had won Super 10 titles in 1994 and 1995.  Ultimately the ARU Council (5 votes NSW, 3 votes QLD, 1 each from ACT, Victoria, WA, SA, Tasmania and NT) announced that Smith was the coach and pandemonium ensued.
A couple of years later and the Wallabies were again returning from South Africa following a significant loss (61-22 in Pretoria). Smith told the media at the airport in Sydney that he intended to fight for his position, and at least see out the contract that ended after that year's European tour. However two days later he announced his resignation, having been convinced it was right by CEO John O'Neill. With Connolly still without the support required, Rod MacQueen was the standout candidate due to his work with the newly professional Brumbies outfit.
Towards the end of 2000, MacQueen starting to discuss with O'Neill his wish to stand down the following year. McQueen wanted out after the British and Irish Lions series, however JON insisted he stay until the completion of the Rugby Championship. MacQueen got his way. Once again the new coach would come from the Brumbies with Eddie Jones having guided them to their inaugural championship in 2001, following on from their runners up spot in 2000.
Jones himself lasted until the end of 2005 before he was sacked (this time by Gary Flowers) even before a review of the disappointing Northern Hemisphere tour had completed. A run of eight losses in the final nine tests of the year did not help his cause.  Waratah coach Ewen McKenzie declared an early interest in the position with David Nucifora also considered. Eventually both McKenzie and Nucifora withdraw their interest and John Connolly was appointed to the role he had sort actively almost a decade before.
Connolly's initial contract was for two years which would see him through to the 2007 Rugby World Cup. Following another early exit from that campaign, Connolly stood down within days of the Quarter final loss to England. Within a couple of months the ARU had appointed a foreign coach for the first time ever as former All Black and highly successful Crusaders coach, Robbie Deans, was announced as the new top dog on a four year contract. Other candidates for the job included McKenzie, Nucifora, Lawrie Fisher, Alan Jones and John Muggleton.
After 74 tests and a little over six years in the job, in 2013 Deans 'stood down' following a 2-1 series loss to the British and Irish Lions.  As with Eddie Jones taking over McQueen, Deans's successor was obvious with Ewen McKenzie finally getting the gig having led the QLD Reds to a Premiership in 2011 followed by two further finals appearances.
Despite waiting for the job for so long, come 2014 McKenzie's time would be up relatively quickly and in controversial circumstances. Details aren't public and rumours remain rife, regardless McKenzie's Wallaby coaching career ended about 14 months after it started. Ironically his replacement was just as obvious a selection as had he had been. Michael Cheika had experienced success in Europe but the timing of his Championship with the Waratahs allowed the ARU (under Bill Pulver) an easy option in finding a quick replacement.
A lot of that may well have been well known to you, but it's worth revisiting to understand the flow of the Head Coaching position, the decisions behind their appointment as well as some of the names involved along the way. Now let's check out some figures.
JUST THE STATS
Let's start by looking at overall win percentages for each coach:
Moving on from the startling fact we've won less than two-thirds of our tests in the professional era, there are no other real surprises here. MacQueen's record is outstanding. I suspect some may be surprised to see Connolly's name in 2nd spot and we can look at more detail there a little later.
What stands out to me is that our three most recent coaches are at the three bottom on the list. This seems to indicate an overall decline in performance (achievement?) of the Wallabies over the last decade. Or perhaps it is just that the MacQueen period was an absolute outlier on the back of the early adoption of professional high performance mixed with a freaky number of generational players (Eales, Horan, Larkham, etc).
One of the recent arguments against Cheika has been that his success at the 2015 RWC (finishing runner-up) taints his numbers due to the easy lead up games.  To investigate this, let's separate those stats.
Ok, so worryingly, Australia's overall win percentage outside of Rugby World Cups is not much over 50%. We are barely breaking even.
Looking in more detail, MacQueen once again rules the roost winning three quarters of his games sans RWCs. Smith never made it to a RWC so his overall percentage puts him in 2nd place with Connolly's short reign producing some impressive numbers for third.
Deans and Jones are tracking around the overall Wallaby average while Link's RWC-free stats sit second last. Significantly, when you take out that RWC 15 campaign, Cheika's sits at a staggering 45.24% win percentage.
One of the proponents for change on twitter is the account @Subbiesbattler . One of his (I assume???) tweets (see below) was further to the above theory about matches against lower tier teams and their impact on overall stats.  The numbers below indicate that a larger percentage of Cheika's games are against teams not in the Rugby Championship or 6 Nations. Cheika's numbers are actually lower than McQueen's. McQueen's numbers however may be boosted by his teams requirement to actually have to qualify for the 1999 RWC following the disaster in 1995. As a result we had to play Fiji, Samoa and Tonga in late 1998.  Additionally, McQueen played Argentina four times before they were in the Rugby Championship.
As an aside, Dean's numbers are bloody low considering the number of tests he coached. If anything it shows how damn tough his 2011 RWC battle was and perhaps paints his overall numbers in a different light.
Over professionalism Wallabies have played 8.3% of tests against teams outside the 6N or RC.
Smith – 5.3%
McQueen – 11.6%
Jones – 8.8%
Knuckles – 16%
Deans – 5.4%
Link – 0%
Cheika – 11.1%

— Subbies Battler (@Subbiesbattler) August 22, 2018
Let me take this a step further and look at each coach's performance against the top teams.  I've done the same as the above and basically included all Rugby Championship teams (including Argentina, even when not in the RC) and 6 Nations team (ditto Italy).
The pattern continues. MacQueen – outstanding. His performances against the All Blacks is incredible. Smith and Connolly are both right up there, although they only have one win between them against New Zealand. Dean's stats jump him up a bit, built largely on the back of some excellent wins against the Boks (including three in the Republic), a huge run against Wales and many more games against Italy than I can remember.
McKenzie's stats are again towards the bottom, significantly all of his tests were against Rugby Championship or 6 Nation teams. Cheika, again, bottoms out the table with a 45% win rate. One thing that does need to be taken into account here is the undeniable resurgence of Northern Hemisphere rugby in recent years. While England have usually been strong, with some ups and downs (and laughable touring teams), the rest of the home nations have lifted their game dramatically in recent years and Cheika's stats suffer because of it.  Across the coaches against these 6 Nations teams, the lowest win rate other than Cheika is Eddie Jones at 63% (he had a real issue with England! Ironic hey?). Everyone else was around 73% and above.
ROOKIE WATCH
Another perspective on the coaching argument this week has been their willingness to bring in young guys, or rookies. I am not convinced that this is a legitimate justification for judging a coach, but did some research regardless.
Basically I looked at the number of test debutants under each coach as a percentage of the number of tests they coached.  Greg Smith comes out on top with 19 rookies in his 19 tests, which fits with his reputation has someone who fiddled with the team excessively.   He laid the ground work for the RWC99 success by launching the likes of Steve Larkham, Toutai Kefu, Owen Finegan, Andrew Blades, Matt Cockbain and David Giffen on the world. He also had a few one test wonders in Mark Bell, Cam Blades and Filie Finau.
The rest all hover around the 68% mark (for every test there is .68 of a debutant….or whatever..). MacQueen had some pretty solid talent already before bringing in some bit part players, still crucial to his success, such as Jeremy Paul, Nathan Grey, Mark Connors, Rod Kafer, Elton Flatley and Tom Bowman. After winning a World Cup he also gave some young tyros their first start in George Smith, Phil Waugh and Stirling Mortlock.
Eddie's rookie stats are of similar regularity, but perhaps a little more quirky. He was the first to really get behind the leaguie poaching strategy with Wendell Sailor, Matt Rogers and Lote Tuqiri. Jones also picked Stephen Hoiles, Matt Giteau and Tatafu Polota-Nau from relative obscurity to tour with the Wallabies with limited other top level footy experience.
Connolly's short reign saw a lower rookie rate, which is to be expected, but the strategy was clear. Fix the scrum and forward dominance – which was contrary somewhat to how Eddie wanted his pack to play. Rodney Blake, Tai McIsaacs, Guy Shepherdson and Benn Robinson were all given a shot that first year, as was the Kefu-like Wycliff Palu.
Deans' debuted players at a similar rate to McQueen and Eddie but, after a flirtation with leaguies (Ryan Cross and Timana Tahu anyone?) he started to focus on youth. Quade Cooper, James O'Connor, David Pocock, Kurtley Beale were all thrown into the test ring as teenagers.  James Slipper followed soon after at just 21 – rare for a prop. Deans did have some making up to do considering he had lost Larkham, Gregan and Latham to retirement the year before he started.
McKenzie's rate was similar to the others, with a strong Brumbie focus early on (he threw debuts to Matt Toomua, Scott Sio, Scott Fardy, Nick White and Tevita Kuridrani in his first test).  He also gave Bernard Foley his first test cap and saw some early potential in Will Skelton.
Cheika's 'rookie rate's is actually second only to Smith at 73%. There is no doubting much comes at a time when Australian Rugby is struggling to keep up with the foreign market, particularly in France and Japan. It has necessitated somewhat of a churn of players as the likes of Sean McMahon, Taqele Naiyaravoro and Lopeti Timani signed OS contracts shortly after their test debut.
One thing about Cheika is that he has been granted almost carte blanche in terms of selection.  Picking overseas contracted stars such as Matt Giteau and Drew Mitchell, calling up returning players such as Dean Mumm and Matt Toomua, even picking players who hadn't played rugby in the country (Marika Koroibete). Cheika has been given a  freedom in selections that few, if any coaches, have been granted previously. No doubt much of this is the very global and professional nature of rugby these days and the challenges Australia faces to produce and keep quality players.
LION TAMERS
I have left out of the above stats analysis any mention of the British and Irish Lions tours. The nature of the scheduling of these tours means that only two coaches got a shot against them. MacQueen snagged a 2-1 series win in 2001 as his swansong and Deans suffered a 1-2 series loss in 2013, which was also his swansong.
The isolation of these tours means they are tough to compare with other eras. One thing I will say is how moments matter. Remember back in 2001 in the closing stages of that third test? Series tied 1-all after the Wallabies were spanked in test one and came back from behind to win the 2nd.  They clung to a close lead in test three with the Lions having the lineout close to our try line and were set to launch another of their nearly unstoppable mauls. Except rookie lock Justin Harrison backs himself, soars and snags the steal. The Wallabies hold out and secure an historic series victory.
Fast forward 12 years and that first test at Suncorp Stadium. Folau scores 2 on debut with George North and Alex Cuthbert scoring in response.  Penalties traded, a scrum minutes to go and, surprise surprise, the Wallabies fold the Lions in. With seconds to go Kurtley Beale lines up a penalty to claim the win from a distance he had kicked one not long before. Fate steps in and he slips in his stride and the ball goes low and wide. Lions win.
As it turns out the Wallabies win the 2nd and, as they did in the first test of 01, are pummelled in the last. Naturally results in a decider should count for more, but if you believe the rumours Deans was a dead man walking and very much under the pump. It made delivery tougher. What may have been, though, if Kurtley's foot held firm in the 80th minute of that first test?
CONCLUSION
This article is long enough. It's time to come up with your own conclusions.  I myself was surprised by some things though. By Smith's and Connolly's solid, yet short, coaching cameos but more broadly by the clear decline in performance of the Wallabies over the last decade.
As for Cheika's future? Cards on the table, I think he should go. His record is downright terrible. As I acknowledge above the improvement in England, Ireland, Scotland and Wales has been significant and HAS impacted his stats in comparison to previous coaches. But it also calls to question, why haven't we improved? That's one of the most frustrating elements for me – I can't point to any improvement in this team. New players, sure, but from any of the standard outputs of a rugby team? Starkly bare.
Of course the big question that I can't answer is, if not Chek, who? Who indeed. We have some quality talent I'd like to see given ago in a supporting role for the Wallabies. The likes of Lawrie Fisher, Dave Wessels, Simon Cross and Matt 'Tattsy' Taylor (acknowledging he has recently re-signed with Scottish Rugby for a couple of years). But we need that MacQueen figure to bring it together and I'm buggered to know who that could be? Do you?