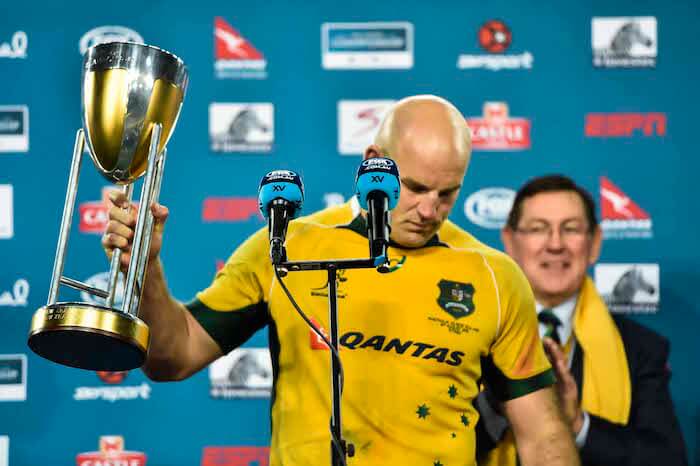 With RWC 2015 finally here, it behoves us to assess two of the talking points. For Australia, the choice of Stephen Moore as captain, and for New Zealand, Richie's last great hurrah. Talking points that are not unrelated.
For the Wallabies, the Australian public and probably Michael Cheika too, the choice for Australia came down to two – the incumbent, Michael Hooper, and last year's first choice, Stephen Moore. Squeak obviously got the nod, but why, and was it the right choice? For the All Blacks, Richie's record as a player speaks for itself (most capped ever, most wins, most starts), but his record as a captain is extraordinary. Admittedly, he has played for a team that of itself isn't too shabby but recall that when he first appeared on the scene, the Kiwis were not as dominant as now, especially against Australia. In fact, in the clutch matches, they had been on the wrong side of the ledger, but since Richie became captain, that has changed. Is it a coincidence?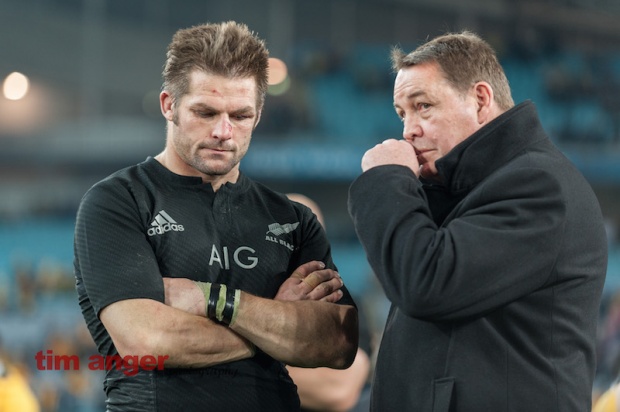 Picture the scene. It's Saturday. You travel across town, dress up in your finest, and try and impress someone you have never met before. Despite rejection, disagreement and occasionally total confusion, you do your very best to continue to impress this person, despite being pushed to breathlessness and unable to speak at times, and all the while with your mates encouraging you, and often "helping" you, as mates do. You keep at it until you either succeed, or the other person walks away.
Sound familiar? All this before you head out on the tiles for a few lemonades. Why? Because you're the captain. Every week, you rock up and get introduced to the referee. The lower down the grades and ages you go, the more chance you've never met this person before, and may not see them again. You have no choice in their selection, you know little about them, yet in the next short period of time, you have to be able to understand what they want, deliver it to them and yet all the while cunningly convincing them that what they want is actually what you want. It's like a blind date – no matter how stupid, ugly, smelly or incapable they are – you're stuck with them, and you have to make the most of it, not only for yourself but for your team.
Meanwhile, the referee has turned up, determined to run the game as they see fit. Two of the key criteria for a referee are "Change Behaviour", and "Empathy", which coincide nicely with what you are trying to do as captain. Except for the minor detail that whilst you are both trying to do the same thing, your goals are diametrically opposed, and you're not the one with the whistle, so from the very start, there's a power imbalance (remind you of anything?). Will you get a whistle of your own? Of course not, so you must resort to other, more devious means. Which leads us neatly back to Richie and Squeak.
Watching professional rugby on TV, especially in HD and with the multitude of cameras and the ability to pause and rewind, is a delight. However, despite having the match officials wired, the couch warmer misses most of the on-field dialogue between the officials and the players. If you can't be on the field as the match official, you need to have your SportsEars in place and tuned to the referee's frequency. Only then will you truly understand what happens at this level, and where Richie's mastery truly stands out.
His ability to master the subtle art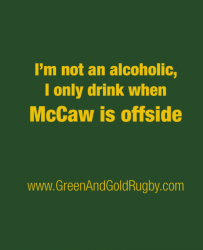 of referee seduction is evidenced by a number of things:
GAGR's very own merchandising efforts "I'm not an alcoholic, I only drink when McCaw is offside", born of the perception that Richie has a cloak of invisibility at the breakdown;
His win/loss record as captain;
His low level of yellow carding, despite being an open-side flanker; and
The most telling of all, his silence. He is very rarely heard on the referee's microphone. He doesn't raise his voice, he listens to the referee, he doesn't argue and he is incredibly polite. On the rare occasion that he hears "Not now Richie", he humbly acquiesces and walks away.
Contrast this with the recent Test between Australia and New Zealand in Sydney, refereed by Wayne Barnes. The match was getting a little lively, so Wayne decided to have a yarn to both captains – the "tidy it up or I will tidy it up for you" chat. At the time, more of the mess was coming from NZ, but Squeak couldn't help himself, and he talked over Barnes FOUR times. Richie just stood and listened. Fortunately for Squeak Barnes is a cool character and let it go, but other referees may not. A perfect example of seduction – Squeak set himself back some minutes, whereas Richie, whose team was most at fault, walked away, nodding obediently, perceived as the good guy.
What's the message from all this? It comes down to how to select a captain, and ideally, this should start early, in junior rugby. Yes, the player needs to make the team, and yes, they really should have the respect of their team-mates. But captaincy is not something to automatically give to your best player. If that was the case, Israel Folau would be Australia's captain based on winning the past two John Eales Medals and being Australia's first player picked in a World XV.
It means having a high level of emotional intelligence (EI, or EQ). In the fight for Australia's captaincy, all else being equal, Squeak had the benefit of experience, and a better developed, although clearly still developing, EQ. Michael Hooper is still a young man, and whilst he has handled himself with aplomb in the circumstances, he is not yet obviously a seducer of referees. For those in the junior ranks, by all means experiment with your captaincy, but value it. Rotating it around the playing group, or giving it to your best player, is probably doing your team a disservice. Find someone with the EQ, and stick with them.
So to Squeak's challenge. Although Cheika's best option, if he continues the form shown with Wayne Barnes, Squeak will have many a lonely night. Let's hope he's been working on the dark arts, has done his homework on his upcoming dates, and ends up scoring big time at Halloween. If so, the Wallabies might just squeak home.