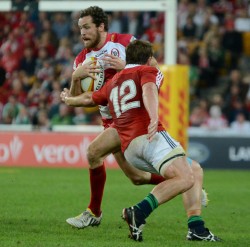 The British and Irish Lions toughed it out for a hard-fought win over an enterprising Reds side that didn't die wondering.

In an attack of cliches, it was a game of two halves, with a free-flowing first half, and a messy arm-wrestle in the second half. The Lions had solid set pieces, with great counter-attack, and the Reds good ruck defence and moments of brilliance.
The Match
The Red vs Lions started poorly for the intended referee Jaco Peyper falling victim to a bad kebab, which saw Jerome Garces step in to add some French je ne sais quoi.
The Reds came out playing fast rugby, featuring accurate long passing, giving the Lions almost no ball. The Lions countered through Tommy Bowe from their half, with Alex Cuthbert falling short of a try by inches in a great Morahan tackle.
There were ominous signs for the Reds with the first two scrums yielding penalties to the Lions after massive drives through the Reds pack. First blood to Lions at 13 minutes came from Farrell's boot after a scrum penalty.
Luke Morahan scored a brilliant individual try at 17 minutes with a lovely chip and chase after beating some poor defence from Warburton. Cooper added the extras.
Hearts were in mouths and faces were palmed after a 'no-look' Quade Cooper pass was hacked dead by the Lions, but Farrell knocked a penalty over minutes later.
The Lions' superior set pieces, and more structured forward play started to get them some field position as the game closed on 30 minutes, but handling errors marred their play.
A penalty for offside at 32 minutes gave the Reds a relatively easy chance for three points, but Cooper's attempt just missed.
Morahan saved another certain Lions try by Farrell, with a sneaky hand to knock the ball out inches from the line. Ben Youngs scored from the ensuing scrum after stripping the ball from Jake Schatz; Lions were up 13-7 at 35 minutes.
George North ran through the middle of the Reds from the kick-off, putting Warburton over the line, but he was somehow held up by Cooper and Fainga'a. The Reds survived a scrum onslaught, but gave up three points on half-time. 16-7.
A patient 17-phase build up by the Lions after the second half began was snuffed by another Reds turnover, after more excellent break-down defence and counter-rucking, a feature of their play.
Conditions became more treacherous as the Queensland humidity started to fall more heavily, and handling errors stacked up for both teams. A lazy Quirk penalty gifted Farrell 3 more points at the 50 minute mark. 19-7.
Beau Robinson was knocked cold at 54 minutes after meeting the top of Vunipola's head flush with his face, calling a medical halt to proceedings for several minutes. Looked to be a likely facial fracture. Tough stuff for Beau.
A messy arm-wrestle continued, with plenty of errors with the wet ball, until an opportunist try was scored with some great lead-up work by Frisby to Davies then back to Frisby. Aussie Mike Harris missed to conversion. 19-12 at 64 minutes.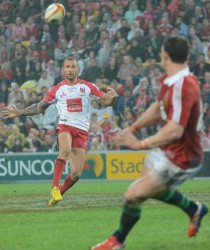 A nice kick for field position by Cooper led to an unforced error at the back for the Lions, and a Reds scrum 15 metres out saw some good pick and drive, but a turnover got the Lions off the hook.
Ben Lucas was next to catch the medi-cab off the field after a possible head / neck injury in the 70th minute. Nick Frisby returned, and fed the second row at the scrum, giving away crucial possession.
At 73 minutes, Glen Jackson saw a forward pass through the driving rain as the Reds threatened to break out from their own line. Oddly enough, few others saw it quite like Glen.
A ruck penalty to Paul O'Connell at 77 minutes allowed Farrell to extend the Lions lead to 22-12 from about 25 metres out.
Desperate Reds attack in the final minutes proved to be to no avail, and the Lions took a deserved, but hard-earned win 22-12.
For the Lions, Ben Youngs was busy, Geoff Parling a lineout menace, Vunipola carried well, and Bowe, North and Davies were handfuls in the backs. Very solid set pieces, good field position.
For the Reds, Luke Morahan had a great first half, Holmes did a mountain of work, Cooper had some great touches and deft kicks, and a couple of 'moments', and Davies was busy.
---
[one_third last="no"]
The Game Changer
Rain. The game changed as relative humidity hit 100%, and ball handling became tougher, and the error rates from both sides climbed. The exciting attacking play of the first half never really got going in the second, though not for want of trying.
[/one_third]
[one_third last="no"]
The G&GR MOTM

Luke Morahan had an electric first half in attack and defence, and for the Lions, Ben Youngs, George North and their locks were very effective. This unbiased judge gave it to Morahan.
[/one_third]
[one_third last="yes"]
Wallaby watch
Luke Morahan did his best to advance his Wallaby chances with a brilliant first half in attack and defence. Quade Cooper had a solid game, with some nice touches, and a few errors so we have to wait and see on Tuesday.
[/one_third]
---
The Details
Crowd: Full House – WE ARE RED. About 50,000
Score &; Scorers
[one_half last="no"]LIONS: 22
Tries: Ben Youngs
Conversions: Farrell 1/1
Penalties: Farrell 5/5
[/one_half]
[one_half last="yes"]REDS: 12
Tries: Morahan, Frisby
Conversions: Cooper 1/2
Penalties: Cooper 0/1
[/one_half]
Cards & Citings
Nil