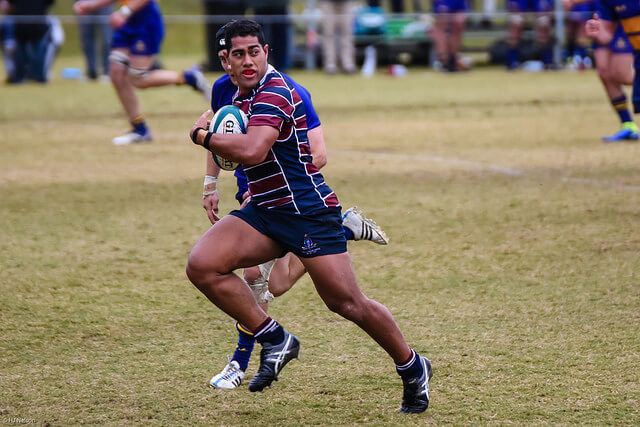 Premiership favourites The Southport School have survived a scare at home, coming back from a 17-6 deficit in the second half to beat Toowoomba Grammar School 28-24 in Green and Gold Rugby's Game of the Round.
In other opening round results around the GPS, Nudgee College comfortably beat Brisbane Grammar School 39-3, Ipswich Grammar upset defending Champions Churchie 23-12, and Brisbane State High School opened its account with a 22-12 win over Gregory Terrace.
Read Fraser Barton's match report from Churchie v Ipswich Grammar here: http://bit.ly/29IDnOk
Read Nic Darveniza's First XV season preview here: Queensland GPS First XV (Almost) Preview 2016
If you want to watch the match live, check out DoubleTake Production's lifestream here:
Many thanks to new new contributor Unpaid Intern for his match report, and to HJ Nelson for more excellent photography.
First half
TGS took their opportunities and scored the first try (2 – Faessler) from a line-out 10m out from the TSS line. TSS showed some promising attack, particularly through No. 8 (Mavoa) and the full-back (Dowd), but poor discipline and sloppy handling prevented them crossing the line. TSS treated the TGS defence with the appropriate respect and took the points from penalties when on offer, resulting in a 10 – 6 lead to Toowoomba at half-time.
Second Half
Toowoomba started strongly with a great break and try to 13 (Mack) and got out to a 17 – 6 lead. TSS countered with good runs from Dowd (15) and Day (1), but good tackles from Oates (12) bought them down. With TSS in an attacking position, the Toowoomba #2 was yellow-carded, resulting in 2 tries in quick succession to McElroy (7). TSS followed up with a try to Stuart (9), of a blindside run on the back of a scrum by Mavoa. A subsequent penalty had TSS out to a 28 – 17 lead with only a few minutes left to play. Toowoomba #13 (Mack) scored his second try from a mid-field cut-out ball, but there was time for a restart. Full Time score TSS 28 – TGS 24.
Turning point
With 50 minutes gone, down 17-6 and their lineout starting to wobble, Southport looked in trouble. The yellow card for TGS #2 proved the turning point, and TSS scored 2 tries while he was in the bin, and hot on the attack in the red-zone as he returned.
Players to Watch
Southport
Angus Blyth (5) – Undoubted talent. Needs to focus on the game and not the mind-games.
Koen Dovey (14) – Genuine speed, but didn't get many opportunities.
Toowoomba

Ashton Watson (11) – Good step and strength, had several solid collisions with Mavoa and held his own (mostly)
Matthew Willshire (4) – Safe option in the lineouts, plus several steals. Plus a good restart win.
Best
Southport 
Dowd (15) was dependable with his boot, and returned the ball strongly. McElroy was rewarded with 2 tries. However, Southport's best was Mavoa (8) who was damaging in both attack and defence.
Toowoomba
Oates (12) and Cover (15) both made try-saving tackles, Faessler scored a good try, but the best of the day for Toowoomba was their captain Mack (13) with 2 stand-out tries.
Final Score
TSS 28 (Tries: McElroy (7) 2, Stuart (9). Conv: Parata (12) 2. Pens: Parata 3)
TGS 24 (Tries: Faessler (2), Mack (13) 2. Conv: Oates (12) 3. Pen: Oates 1)