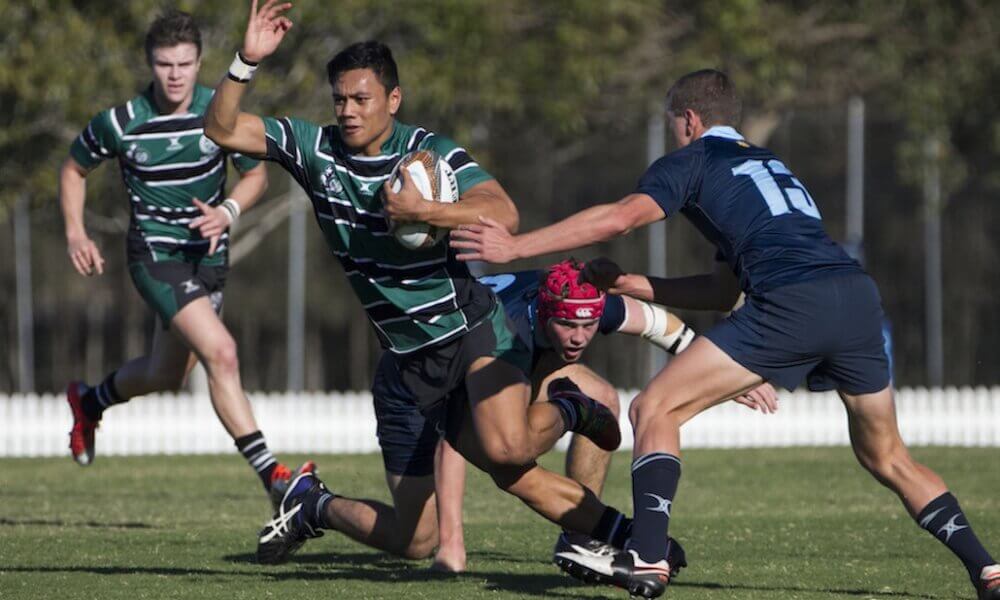 The Queensland GPS Team of the Season selections have finally drawn to a conclusion.
1237 fans, 56 First XV players, three GAGR Rugby Writers and 8/9 GPS Rugby Coaches have voted – and here is the official Team of the Season.
2016 Premiers Brisbane State High School were rewarded for a successful year with five players selected, including three in the starting team.
Co-runners up Gregory Terrace had four selected, as did Nudgee College.
Ipswich Grammar School, Toowoomba Grammar School and Brisbane Boys' College each contributed two players to the team of the season, while The Southport School and Brisbane Grammar School contributed one apiece.
We have compiled exhaustive highlights tapes for as many players on the list as we can – so scroll through and watch the official First XV highlights tapes of the Queensland GPS' best and brightest for 2016.
Congratulations to the 2016 Queensland GPS All-First XV Team of the Season
1. Dechlan Day, TSS
2. Matt Faessler, TGS
3. Josh Nasser, GT
4. Tom Jeffries, NC
5. Harry Wilson, GT
6. Ethan Bullemor, NC
7. Josh Sheridan, IGS
8. Fraser McReight, BGS
9. Neal McNamara, BSHS
10. Isaac Lucas, GT
11. Ashton Watson, TGS
12. Quinton Mahina, BSHS
13. Len Ikitau, BBC
14. Will Eadie, GT
15. Murray Taulagi, BSHS
16. Sean Farrell, BBC
17. Eugene Koorts, IGS
18. Moses Alo-Emile, BSHS
19. Trevor Hosea, BBC
20. Josh Fenner, BSHS
21. Harry Green, TGS
22. Semisi Tupou, NC
23. Willie Malala, NC
1. Dechlan Day, The Southport School
186 cm, 102 kilogram wrecking ball Dechlan Day led his Southport School First XV from the front in 2016.
Uncompromising physicality in attack and defence earned Day several comparisons to Wallabies prop Scott Sio, ultimately impressing three First XV coaches, two GAGR writers and his peers in the First XV player's vote.
Stats: 59 carries, 39/44 tackles (88%)
Total: 6/13 votes
2. Matt Faessler, Toowoomba Grammar School
Another inspiring leader, Toowoomba's Matthew Faessler recently captained the Australian Schoolboys Barbarians to a resounding win over the Tongan Schoolboys at Newington.
A seriously dynamic operator in the wide channels without neglecting his in-tight duties, Faessler has clearly spent considerable time watching Dane Coles highlights: the Toowoomba hooker was the most tries in a season of any front-rower in Queensland GPS history.
An accurate lineout thrower to boot (87% success rate), there was no chance Faessler was missing out on 2016's All-GPS First XV.
Seriously – take the three minutes to watch this highlights clip. You won't regret it.
Stats: 49 carries, 62/69 tackles (90%), 10 tries
Total: 9/13 votes
3. Josh Nasser, Gregory  Terrace
1991 World Cup-winner Brendan Nasser began his career as a destructive No.8 at Gregory Terrace before spearheading the Wallabies forwards in England.
In son Josh, standing 187 cm tall and 110 kg, the rugby ball hasn't fallen far from the tree.
Specialising in yards after contact, Nasser thrived when given the opportunity to run off his flyhalf – which often meant bad news for the inside backs forced to tackle him.
Nasser proved difficult to dislodge from the breakdown as well, netting eight pilfers through the 2016 season.
Stats: 49 carries, 62/76 tackles (81%), 4 tries, 8 jackals
Total: 8/13 votes
4. Tom Jeffries, Nudgee College
Nudgee College lock Tom Jeffries had his work cut out for him to escape the shadow of his brothers, Sam (Melbourne Rebels) and Nick (NC First XV 2014).
Jeffries' form at the Queensland Schoolboys trials impressed selectors enough to give him a crack in a Combined States jersey – and as they say, the rest is history.
202 cm Tom was the bedrock on which Nudgee College built their 2016 Premiership charge, relying heavily on his workload in defence and attack as well as terrorising opposition jumpers at lineout time, netting nine lineout steals.
Stats: 59 carries, 52/62 tackles (83%), 2 tries
Total: 6/13 votes
5. Harry Wilson, Gregory Terrace
Entering the season unheralded by all outside the halls of Gregory Terrace, Year 11 lock Harry Wilson was a revelation for Gregory Terrace this season.
A busy ball-carrier for his side, Wilson's athleticism and Sonny Bill Williams-esque ability to offload through contact never ceased to threaten the defence.
His incredible form has been rewarded with a well-deserved call-up to the Australian Schoolboys. With another year in the First XV beckoning, Harry Wilson's is one name to remember going forward.
Stats: 71 carries, 96/109 tackles (88%), 11 offloads – 8 runs, 12 tackles, 3 tries
Total: 9/13 votes
6. Ethan Bullemor, Nudgee College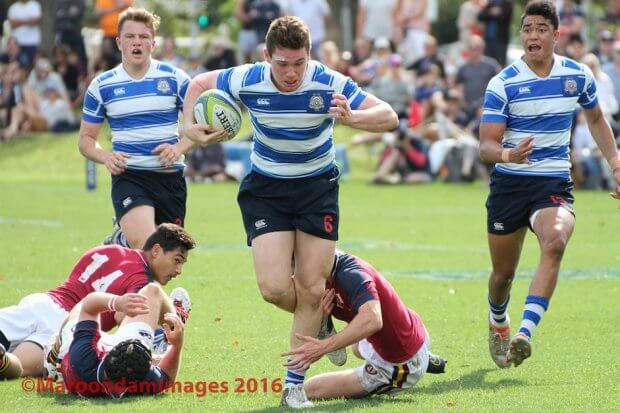 Nudgee College entered the rugby season missing the services of Australian Schoolboys captain Reece Hewat for the first time since 2013.
They didn't have to wait long to find his replacement: 16-year-old Queensland State of Origin representative Ethan Bullemor, a League product from Emerald, proved himself the find of the season for Nudgee College.
With an ability to churn through metres and beat defenders that compares very well to the prodigious Hewat, Nudgee have unearthed a superstar of the future in Bullemor. With potentially two more years in the First XV to come, defences would be well advised to watch out for the Broncos rep.
Stats: 89 carries, 53/63 tackles (84%), 6 linebreaks, 5 tries
Total: 9/13 votes
7. Josh Sheridan, Ipswich Grammar School
After converting from outside centre to openside flanker at the end of 2015, Ipswich Grammar School captain Josh Sheridan became the most dominant player in his position.
While his blazing speed came in handy on attack, Sheridan actually shone brightest without the ball.
Sheridan's closing speed allowed him to take down the bigger units before they could build up their own, and his ability to leverage his speed into big hits was eye-catching.
Sheridan's low centre of gravity helped the diminutive flanker pinch eight pilfers through the season as well as leading the competition in tackles completed.
Stats: 73 carries, 126/146 tackles (86%), 3 line breaks, 3 tries, 8 jackals,
Total: 10/13 votes
8. Fraser McReight, Brisbane Grammar School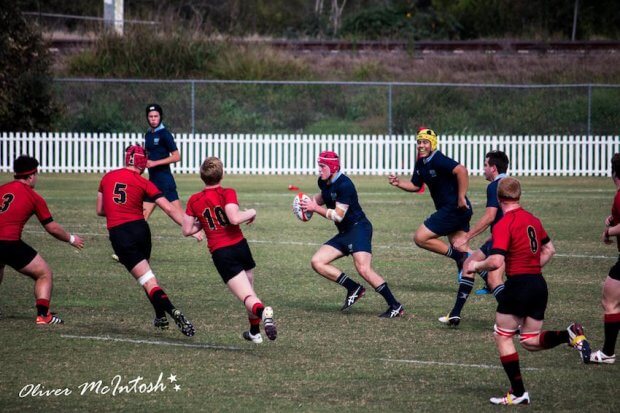 In the terms of most valuable player in 2016's competition, there can be little doubt that Brisbane Grammar's Fraser McReight meant the most to his school.
At times throughout a three-year First XV career it seemed the only reason BGS were in some games at all was through McReight's sheer strength of will.
A natural openside flanker, Brisbane Grammar's Australian Schoolboys energiser bunny was everywhere for the struggling school in 2016. His efforts were recognised by seven coaches, two GAGR reporters and his peers in the First XV Player's vote.
Stats: McReight's stats were only recorded for the first two games. Extrapolating from these two, McReight would have finished with 60 carries, 56/68 tackles (82%), 4 linebreaks, and 20 jackals
Total: 10/13 votes
9. Neal McNamara, Brisbane State High School
The younger brother of former BSHS star Liam McNamara, Neal has often looked every part as natural a ball-runner as his Australian U20s and Queensland Country winger sibling.
State High's powerful pack and incisive backline created the perfect storm for the lightning quick halfback, making defences pay if they failed to account for him when scooting.
McNamara scored four tries in his final year in the First XV.
Stats: BSHS stats were unavailable.
Total: 9/13 votes
10. Isaac Lucas, Gregory Terrace
Isaac Lucas is the latest – and quite possibly has the potential to be the greatest – of Gregory Terrace's Lucas family; Ben, Matt, Tom, and now Isaac.
The Australian Schoolboy #10 has all the tools a flyhalf might need – strong service, wicked sidestepping, accurate kicking and an exceptional feel for support play.
What separated Lucas from the pack was his game management. Terrace lead the competition in points scored and least points conceded, which can be traced back to the work Lucas put in to ensure Terrace played smart football at the right end of the pitch.
With the exact same height and weight as All Blacks stars Lima Sopoaga and Aaron Cruden, the sky is the limit for young Isaac.
Stats: 66 carries, 91/97 tackles (93%), 59 kicks, 227 passes (95% good), 3 tries, 8 offloads, 18 pts
Total: 10/13 votes
11. Ashton Watson, Toowoomba Grammar School
Toowoomba's Ashton Watson was a match-up nightmare for opposition wingers in 2016.
With prototypical size, quick feet and overwhelming physicality, there were seldom few wingers in the competition that were harder to defend one-on-one.
Since transitioning from an inside centre to the wing this year, Ashton Watson provided plenty of punch for what was another strong Toowoomba Grammar side.
Stats: 68 carries, 26/34 tackles (76%), 8 line breaks, 4 tries, 37 carries over 5m (54% of carries)
Total: 6/13 votes
12. Quinton Mahina, Brisbane State High School
Queensland I centre Quinton Mahina displayed an extremely well-rounded game throughout 2016.
The Premiership-winning centre was both a robust runner and a talented distributor, unlocking State High's talented strike weapons with delayed sleight-of-hand passes at the line frequently.
No shrinking violet, Mahina's violent tackling fit nicely into the competition's hardest hitting team.
Stats: BSHS Stats unavailable.
Total: 7/13 votes
13. Len Ikitau, Brisbane Boys' College
Rated by many as the most talented player in the competition, Len Ikitau's dominant form throughout six games was just enough to hold out the challenge of  Semisi Tupou for the hotly contested #13 jersey.
Commonly regarded as a lockdown defender in space in his two previous seasons in the BBC First XV, 2016 proved to be the year that Ikitau broke loose in attack as well.
Packing a Quade Cooper-style sidestep, lightning acceleration and a deceptive dummy-pass, Ikitau was inarguably the most well-rounded centre in the GPS.
Ikitau's snubbing by the Australian Schoolboys raised plenty of eyebrows north of the Tweed and in Canberra as well; creating an opening for the Brumbies to snaffle him for the 2017 Super Rugby U20s season.
Stats: 50 carries, 30/37 tackles (81%), 7 offloads, 24 carries over 5m (48% of carries) – six games
Total: 6/13 votes
14. Will Eadie, Gregory Terrace
To borrow from The Waterboy's video description: "Winger Will Eadie has real speed; top end pace & explosive off the mark acceleration. A weapon on the right flank for Terrace, Eadie has a lethal in-and-out move that leaves defenders clutching air. His speed also provides a deep threat with the kick; if you have to turn & chase, my money is on 14. Eadie was a key part of GT's resurgence in GPS 1st XV this year and will play for Australian schoolboys."
Eadie was nothing short of brilliant with every touch, to the extent that audible grumbles echoed around the stadium if he failed to beat at least one defender per run.
With 13 tries through eight games, Eadie was the only unanimous selection for 2016's Team of the Season – and that really says it all.
Stats: 53 carries, 24/34 tackles (70%), 37 carries over 5m (70% of all carries), 10 line breaks, 13 tries
Total: 13/13
15. Murray Taulagi, Brisbane State High School
Freshly signed North Queensland Cowboys livewire Murray Taulagi showed flashes of extraordinary ability in last year's First XV comp – prompting me to write this in the 2016 Preview:
However, the star of this First XV is without doubt electric fullback Murray Taulagi.

The younger brother of former Queensland Reds winger Jamie-Jerry Taulagi, Murray is cut from the same hot-stepping cloth.

With a special ability to beat the man one-on-one, Taulagi will provide the x-factor that might help push this team over the edge.
That turned out to be an understatement as Taulagi lit up the First XV competition from fullback for Brisbane State High.
Taulagi also improved in defence, packing a powerful punch for anyone who had the misfortune of breaking the line.
Stats: Again, State High's statistics were not available.
Total: 9/13 votes
16. Sean Farrell, Brisbane Boys' College
Farrell, the younger brother of former Australian Schoolboys openside Jack Farrell, cracked the National team himself in 2016.
Despite battling injury throughout the year, Farrell's smash-mouth brand of Rugby impressed his peers enough to win a tie-breaker for the four-way deadlock at hooker.
Farrell's 78% lineout accuracy, combined with effective running and tackling numbers, were enough to earn a spot on the bench for the Team of the Season.
Stats: 36 carries, 26/33 tackles (78%) – four matches
Total: 1/13 votes
17. Eugene Koorts, Ipswich Grammar School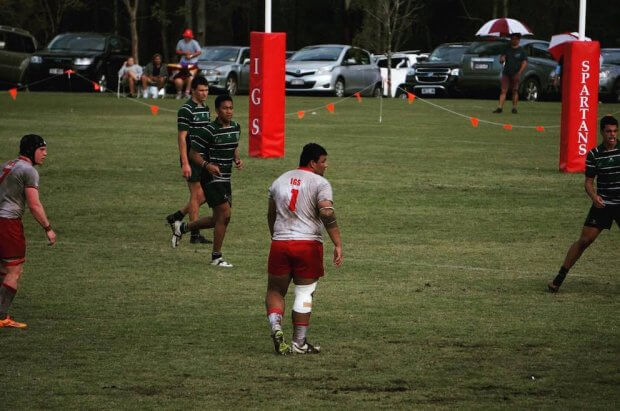 Built like a brick outhouse is putting it mildly.
175 cm, 112 kg Ipswich Grammar School prop Eugene Koorts was the focal point for his side's attack in 2016.
When Koorts and front row mates Jason Tani and Kolio Petersen-Timu got rolling, precious few teams could stop them.
Koorts, entering Year 12 next year, was also one of the competition's premier lineout throwers after representing Queensland as a hooker at the National Championships.
Stats: 49 carries, 56/65 tackles (86%), 84% lineout accuracy
Total: 3/13 votes votes
18. Moses Alo-Emile, Brisbane State High School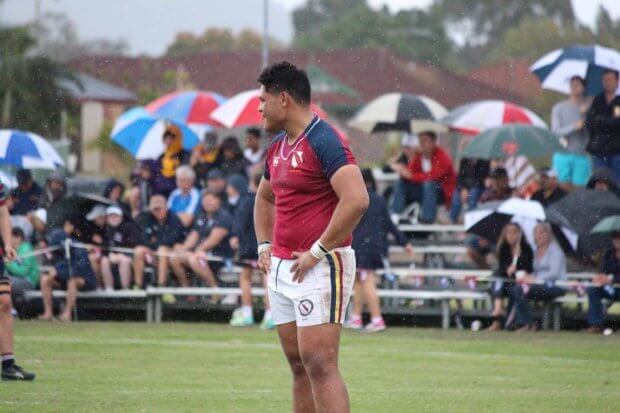 16-year-old Moses Alo-Emile had a sink-or-swim debut for the Queensland Schoolboys at the National Championships in 2016, scrummaging against opponents often two years his senior.
Alo-Emile swam, and backed up his performance with a strong year in the First XV for Brisbane State High School.
Another player with as many as two years left before graduating, Alo-Emile may even surpass elder brother Paul (Melbourne Rebels + Stade Francais) in the Australian Schoolboy most-capped records as he develops physically.
Stats: One try
Total: 4/13 votes
19. Trevor Hosea, Brisbane Boys' College
Another current professional Rugby player, 16-year-old Trevor Hosea signed for his local Melbourne Rebels team before travelling to BBC to develop his Rugby in 2016.
Standing 202 cm tall and weighing in at 110 kilograms, Hosea brought incredible athleticism for his size to the second row position at the College.
Perhaps even more exciting are Hosea's distribution skills – for a big man, seldom few in Australia possess better ball-handling skills.
Stats: 35 carries, 35/43 tackles (81%) in 5 games
Total: 3/13 votes
20. Josh Fenner, Brisbane State High School
Versatile blindside flanker / lock Josh Fenner starred on the flank for Brisbane State High School in 2016, crossing for four tries and assisting in the creation of plenty more.
A 197 cm lineout target, Fenner played a key role in the Premiership-winning side at the set piece as well as being a featured ball-carrier.
Rumoured to have been signed by the Queensland Reds U20s before the season had even finished, Fenner confirmed tonight that he had instead signed with the Leicester Tigers in the UK for 2017 and beyond.
Stats: Unavailable
Total: 4/13
21. Harry Green, Toowoomba Grammar School
Toowoomba's little general continued his good form in 2015 with a Team of the Season-worthy performance in 2016.
Green played with the confidence of a Queensland rep, operating successfully from the base of the ruck and even at first receiver, to great effect.
With a bullet for a fast-ball, Green fed his talented outside backs the possession they needed to strike with astonishing frequency throughout the season.
Stats: 15 carries, 46/55 tackles (83%), 3 tries, 452 passes (92% good)
Total: 2/13 votes
22. Semisi Tupou, Nudgee College
Unlucky himself to miss out on an Australian Schoolboys jersey, Semisi Tupou brought overwhelming physicality to the outside centre position in 2016.
Dishing out big hits with regularity, Tupou was no slouch over 100 metres either and proved capable of burning defences once he'd broken the first tackle.
Tupou could run over you, around you, and could probably even tunnel under you before you'd stop him; it's safe to say that in any other year, Tupou would have been the standout outside centre.
Stats: 65 carries, 50/65 tackles (77%), six offloads, 39 carries over 5m (60% of carries), eight tries
Total: 5/13 votes
23. Willie Malala, Nudgee College
A favourite of Fox Sports' 'The Other Rugby Show', Malala's lightning pace saw the wiry former Papua New Guinea-U17 representative shred opposition defences all year round.
Fearless in contact, Malala's ability to change angle and hit the gas helped him score three tries from five line breaks.
Perhaps Malala's strongest attribute was an uncanny ability to shoot out of the level to snuff out opposition raids before they could develop.
Stats: 42 carries, 16/19 tackles (84%), five linebreaks, three tries, six offloads, 22 carries longer than five metres – four matches
Total: 2/13 votes