Good news drop bear fans. We're a chance of winning this game against the Cheetahs. The Reds sit just one position below their 13 position and are just four points behind them. But it's going to take another step up from the Reds. The Cheetahs play an exciting brand of rugby and they score a lot of tries. About twice as many as the Reds do, but they also let in a lot of tries.
So what do the Reds need to do to win this? The Cheetahs haven't named their team yet but I'm going to have a crack at some of the players to be named.
The Lineout
As a unit the Reds lineout has the numbers on the Cheetahs, but Francois Uys doesn't care about that 5%. He leads the whole comp in lineout wins and has stolen tree opposition throws to rub salt in the wound. Rob Simmons, Ben Matwijow and Curtis Brownings lineout mission must be to shut down Francois Uys.
The Scrum
The Cheetahs have the worst scrum record in Super Rugby. Yes the Reds should monster them here, but it easy to go overboard and go into scrum overload. So the Reds scrum mission? Win our ball, disrupt their ball and win some penalties. 'Well DUH' I hear you say. We all remember the Waratahs calling for 73 tries on the Reds try line in 2000 and something. How many points did they get out of that?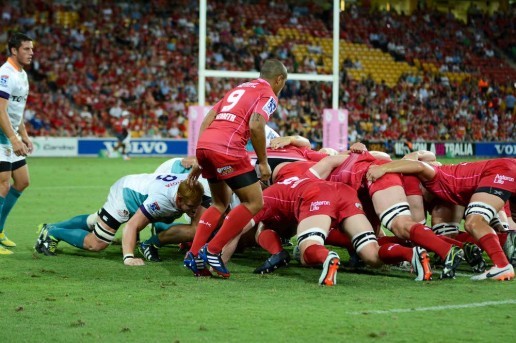 Turn Over Ball
I'm going all factual on you now. The Cheetahs love you to give them the ball. They don't care if you drop it or pass it to them or kick it to them. They're going to pick it up and run it back at you. Here's how I know. The Cheetahs gave scored 32 tries this season. 15 of those tries came off first phase ball. That right FIFTEEN and a further seven came within three phases. 22 of their 33 tries came within three phases of winning the ball. The Reds turnover mission? DON'T! But if they do, work extra hard to clean up knock ons because you have a massive scrum advantage. Kick less or kick for a lineout but if you do kick it to them work hard in defence on first phase. Simples.
Francois Venter
The Cheetahs inside centre carries the ball a lot. Not Samu Kerevi a lot but still a lot. But that's not the problem. Out of 84 carries in eight games he's managed 15 offloads. That's a problem. The Reds Venter mission? Hover. Hover around the tackle everytime he gets tackled. And tie the ball up.
Sergeal Petersen
This guy is trouble. Second in tries scored in Super Rugby. He's run for 535 metres and manage 15 clean breaks in eight games.  The Reds will have to starve him of the ball. Keeping the ball in hand will help. Kicking away from him will also help. Shutting down Venter will help. Eto Nabuli will have his work cut out but I think he's up to the job.
Why Should I Watch it?
These two teams will play open attacking football. The Cheetahs will run just about anything. Whatever happens and whoever wins you will be entertained. As an added bonus the Reds are a chance to win this! In fact I think they're going to win it!
Reds by 10.
Teams
Cheetahs:
15 Clayton Blommetjies, 14 Sergeal Petersen, 13 Nico Lee, 12 Francois Venter, 11 Raymond Rhule, 10 Fred Zeilinga, 9 Shaun Venter, 8 Henco Venter, 7 Uzair Cassiem, 6 Paul Schoeman, 5 Lood de Jager, 4 Carl Wegner, 3 Maks van Dyk, 2 Torsten van Jaarsveld, 1 Charles Marais
Replacements: 16 Jacques du Toit, 17 Luan de Bruin, 18 Johan Coetzee, 19 Francois Uys, 20 Oupa Mohoje, 21 Tian Meyer, 22 Niel Marais, 23 Michael van der Spuy
Reds: 
15 Karmichael Hunt, 14 Junior Laloifi, 13 Samu Kerevi, 12 Anthony Fainga'a, 11 Eto Nabuli, 10 Jake McIntyre, 9 Nick Frisby, 8 Curtis Browning, 7 Liam Gill, 6 Hendrik Tui, 5 Rob Simmons, 4 Ben Matwijow, 3 Greg Holmes, 2 Andrew Ready, 1 James Slipper (c)
Replacements: 16 Saia Fainga'a, 17 Sef Fa'agase, 18 Sam Talakai, 19 Cadeyrn Neville, 20 Michael Gunn, 21 James Tuttle, 22 Duncan Paia'aua, 23 Ayumu Goromaru