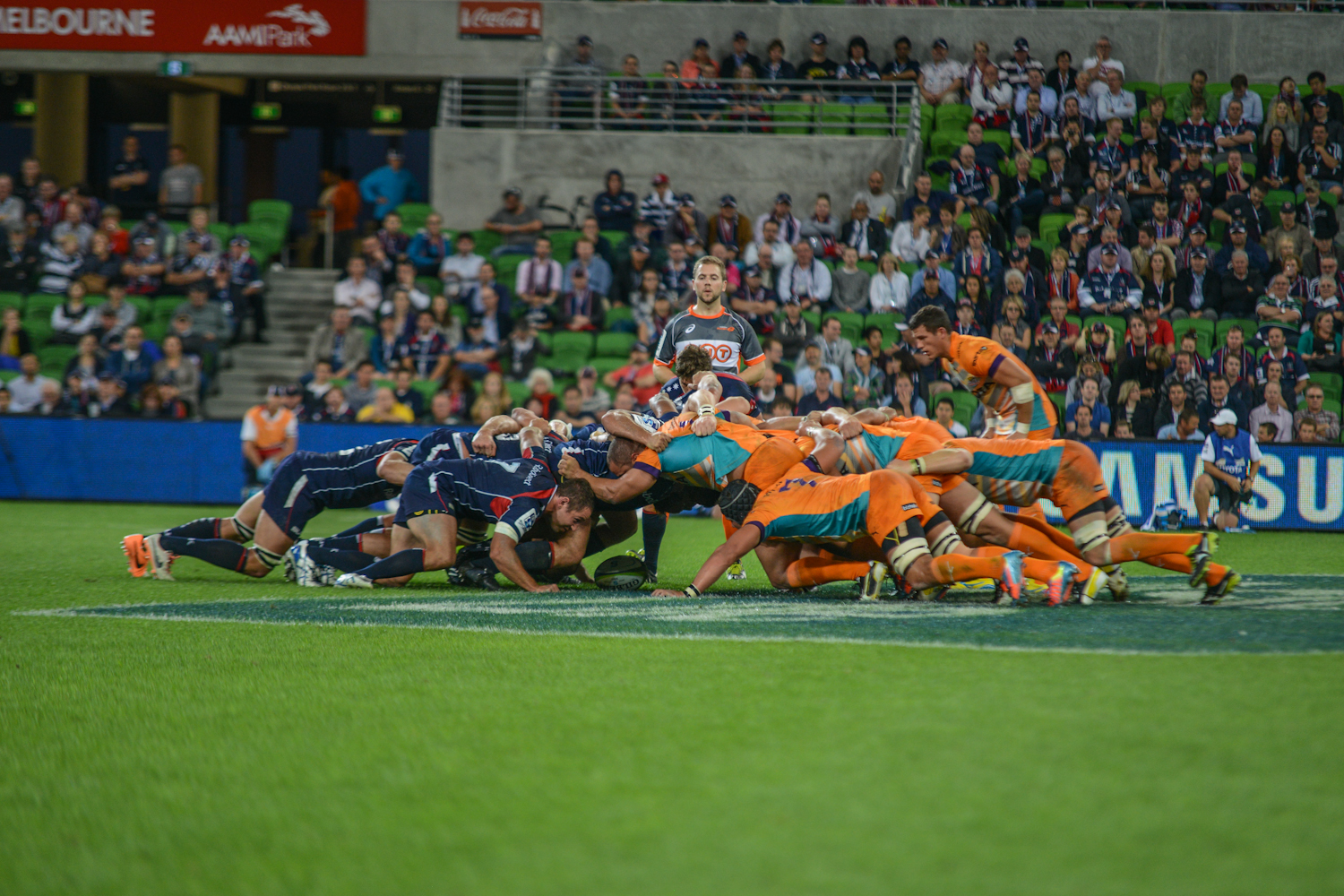 The Melbourne Rebels are wanting to get their 2016 campaign back on track at AAMI Park this Friday after a disappointing outing in Round 8 against the Hurricanes.
The other night I had a disturbing dream; I dreamt that the Rebels were playing against the Hurricanes in a giant sandpit and the Hurricanes stole the Rebels ball and wouldn't give it back. But I digress…
The AAMI Park Groundsmen.  Lots of game time last week.
A week after being schooled in all things Rugby by the Hurricanes from Wellington 38-13, the Rebels return again to their home ground (read "beach" ) at AAMI Park.  They will try and make amends against a Cheetahs side brimming with confidence. Having obliterated the poor Japanese Sunwolves at Bloemfontein with a near record 92-17 scoreline (ouch!), the Cheetahs will feel like they are invincible. Scoring 14 tries to 2 (that was not a typo), including hat-tricks to Petersen and Schoeman, the South Africans now sit 12th overall with just two bonus point wins – both over the Sunwolves.
Dom Shipperly – 100th Rebel Try at AAMI Park.  
KEY MATCH-UPS
Adam Thompson v Paul Schoeman: Last round, Adam Thomson was unlucky not to score the Melbourne Rebels' 100th try, while the Cheetahs No. 8 Paul Schoeman bagged a hat-trick against the Sunwolves. With a weakened backline, the Rebels will be looking to their big ball carriers to get over the gain-line, but also not allowing the likes of Paul Schoeman to do the same… or worse.
Everyone v AAMI Park: Apparently the groundskeepers replaced 30% of the turf at AAMI Park during the week.  The ARU have guarantees that moving forward we will not see similar issues with the ground in Melbourne as has been witnessed thus far. We will wait and see what happens when the first scrum is packed down on Friday night.
SHOULD I BOTHER?
Yes. Oh, you wanted a reason? OK, while the term "must win" is overused (who really wants to lose a match?), this really is one of those must-win games for the Rebels. With the strength of the Kiwi sides blatantly evident, the Melbourne boys can ill-afford to drop another game.  Especially at home.
Seregeal Peterson – loves a swan dive
TEAMS
Tony McGahan has made five changes to his Rebels side that went down 38-13 to the Hurricanes last weekend. With Dom Shipperley out for the rest of the season with a torn ACL, there has been a reshuffle to the backline and the reserves bench. Sefa Naivalu moves to the wing with Reece Hodge taking his place at outside centre.
Jonah Placid moves from the bench to fullback and Japanese International Kotaro Matsushima and Melbourne-raised Sione Tuipoluto move onto the bench. In the forwards, Toby Smith returns after missing the Hurricanes match with concussion.  Colby Fainga'a returns from an elbow injury to take a spot on the reserves bench.
Cheetahs head coach Franco Smith has made only one change to the team which thumped the Sunwolves 92-17  last weekend, with Luan de Bruin  replacing Johan Coetzee on the bench.
REBELS
1. Toby Smith; 2. James Hanson; 3. Laurie Weeks; 4. Luke Jones; 5. Lopeti Timani; 6. Jordy Reid; 7. Sean McMahon; 8. Adam Thomson; 9. Nic Stirzaker (Captain); 10. Jack Debreczeni; 11. Sefa Naivalu; 12. Tamati Ellison; 13. Reece Hodge; 14. Cam Crawford; 15. Jonah Placid. Reserves: 16. Pat Leafa; 17. Cruze Ah Nau; 18. Jamie Hagan; 19. Sam Jeffries; 20. Colby Fainga'a; 21. Ben Meehan; 22. Kotaro Matsushima; 23. Sione Tuipoluto.
CHEETAHS
1. Charles Marais; 2. Torsten van Jaarsveld; 3. Maks van Dyk; 4. Lodewyk de Jager (vc); 5. Francois Uys; 6. Hilton Lobberts; 7. Uzair Cassiem; 8. Paul Schoeman; 9. Shaun Venter; 10. Neil Marais; 11. Raymond Rhule; 12. Francois Venter (C); 13. Nico Lee; 14. Sergeal Petersen; 15. Clayton Blommetjies. Reserves: 16. Jacques du Toit; 17. Danie Mienie; 18. Luan de Bruin; 19. Carl Wegner; 20. Henco Venter; 21. Oupa Mohoje; 22. Tian Meyer; 23. Fred Zeilinga.
PREDICTION
The Cheetahs smashed the Sunwolves last round, no doubt about that, but their only two wins this season have been against the new Japanese side. They are a young team, full of promise, but can be hugely unpredictable.  The Cheetahs boast a largely unchanged side since their momentous win last weekend, which could be a good omen.
The Rebels, meanwhile, have had an inconsistent start to the season. While the win/loss ratio is still (just) in their favour, injury and a lack of cohesion has meant the Rebels are either running hot or cold.  This was most evident against their recent Kiwi opponents.
While the Rebels forward pack is holding up well, the backline has been decimated by injury, forcing many changes to the lineup.  They are missing the experience of Mike Harris as a second playmaker.
Last time the Cheetahs played in Melbourne…
Being a young team, could the Cheetahs become over-confident based on their last result? Maybe, but either way, I feel the Rebels will put in a strong performance this time around and in doing so, keep their finals hopes alive.
Rebels to win by 10
Date: Friday 22 April 2016
Venue: AAMI Park, Melbourne, Australia
Kick-off: 7:40 pm (AEST)
Referee: Glen Jackson
Assistant Referees: Angus Gardner and James Leckie
TMO: George Ayoub