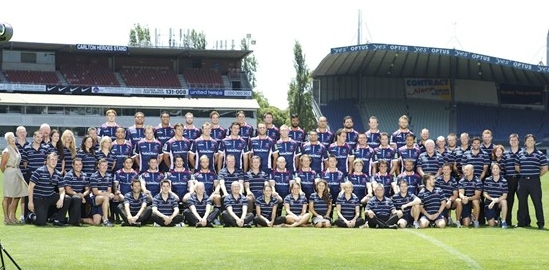 It just doesn't get any easier for the twelfth-placed Melbourne Rebels. After a interstate road trip marked with two disappointing performances, and a bye week plagued with controversy following Danny Cipriani's premature exit, they front up on Friday to face the thrice-champion, fourth-placed Bulls. Ouch.
Indeed, AAMI Park has been a happy hunting ground for touring Republicans. The home side are yet to claim a home win against a South African team, losses to the Sharks and Stormers last year preceded their fall to the Cheetahs earlier this season. They faced Friday's opponent in their first Republic road trip last year, and despite crossing the line twice, were taught a lesson by the Bulls, losing 47-10. Sounds good?
I see your unremarkable history, and raise you the injury record of the home side.  Melbourne have kept local emergency rooms in business in recent weeks, James O'Connor taking a rib to the liver and getting six weeks off for his trouble. He joins Laurie Weeks, Jarrod Saffy, Adam Byrnes, Tom Chamberlain and Paul Alo-Emile in the suits on the sidelines. Former Brumby Jono Owen pulled on the navy blue against the Waratahs, and this week, he's joined by RugbyWA graduate Ryan Hodson as an emergency signing for the Rebels. Even better? But wait, there's more!
In a week where the Rebels really needed to buckle down and get their house in order, rumours of players being disciplined for continued poor behaviour over the break culminated in the setting aside of Danny Cipriani's contract, the Englishman agreeing with the Rebels to join Sale Sharks earlier than expected. While many will see this as the only move for both parties regarding a player who, by his own admission, had lost focus since securing his return to the Premiership, it raises the question: How emotionally draining can a bye week be?
The visitors also come off a bye, and have maximum points from their last month's play – although they were fortunate to get past close games against the Brumbies and Crusaders, winning by two points apiece. They welcome back Flip van der Merwe and Dean Greyling, coming in for Wilhelm Steenkamp & Dawie Steyn. A formidable opponent home or away, in blue or in pink/violet/salmon, they have enjoyed great form in their recent opening tour matches, losing just one since 2006.
TEAMS
MELBOURNE REBELS
1. Nic Henderson, 2. Ged Robinson, 3. Rodney Blake, 4. Cadeyrn Neville, 5. Hugh Pyle, 6. Luke Jones, 7. Tim Davidson, 8. Gareth Delve, 9. Nick Phipps, 10. Kurtley Beale, 11. Cooper Vuna, 12. Lachlan Mitchell, 13. Mitch Inman, 14. Mark Gerrard (c), 15. Julian Huxley.
REPLACEMENTS: 16. Adam Freier, 17. Jono Owen, 18. Al Campbell, 19. Ryan Hodson, 20. Richard Kingi, 21. James Hilgendorf, 22. Stirling Mortlock.
Caderyn Neville makes his Super Rugby debut, joined in his debut match by Cottesloe's Ryan Hodson, who starts on the bench. Kurtley Beale takes over from Danny Cipriani and James O'Connor at 10, with Lachlan Mitchell at 12. Mitch Inman and Adam Freier return, and a young man by the name of Stirling Mortlock impressed Damien Hill enough to earn a run on the bench.
PRETORIA BULLS
1. Dean Greyling, 2. Chiliboy Ralepelle, 3. Werner Kruger, 4. Flip van der Merwe, 5. Juandre Kruger, 6. CJ Stander, 7. Jacques Potgieter, 8. Pierre Spies (c), 9. Francois Hougaard, 10. Morne Steyn, 11. Bjorn Basson, 12. Wynand Olivier, 13. JJ Engelbrecht, 14. Akona Ndungane, 15. Zane Kirchner.
REPLACEMENTS: 16. Willie Wepener, 17. Frik Kirsten, 18. Wilhelm Steenkamp, 19. Arno Botha, 20. Jano Vermaak, 21. Louis Fouche, 22. Johann Sadie.
DETAILS
This game will take place at AAMI Park, Melbourne, on Friday at 7.40pm, broadcast as always on FOX Sports 3 and 3HD.
These two have met once before, when the Bulls beat the Rebels 47-10 at Loftus Versfeld, Pretoria, in Round 13 2011.
The man in the middle will be Andrew Lees from Australia. He will be ably assisted by Angus Gardner (AUS) and Julian Pritchard (AUS). The TMO will be George Ayoub (AUS).
GAME BREAKER
The franchise, as much as I love them, could not have timed these events worse – they have taken away from a truly special event taking place at AAMI Park this round: The 100th Super Rugby cap for the unstoppable Mark Gerrard. A schoolboy representative in both League and Union, he debuted in the Super 12 in 2001 for the Waratahs, but would play only two games over two years in Sydney before moving inland. From 2003 to 2009, he played 77 games for the Brumbies, scoring 306 points. In 2004, in front of a record crowd at Canberra Stadium, his hat-trick of tries would deliver the Canberrans their second Super 12 title, 47–38 against the Crusaders.
The next year, he would make his debut in gold, earning his first test cap against Italy, coincidentally enough, in Melbourne. He would go on to play 22 more tests between 2005 and 2007. His Australian career would temporarily end when, in 2009, he made the move to Japan, to then-second division side NTT Shining Arcs, playing 10 games over two years, scoring 34 points.
When his contract ran out at the Shining Arcs, he was actively pursued by the Rebels, amongst others. He signed for Melbourne in 2010 and played 11 games in the Rebels' debut season, earning a spot in the Wallaby squad to play Samoa at season's end. His form has improved rapidly in 2012, stamping his authority on the game with his deft touch and an unsurpassed kicking game.
Congratulations Gerrardo!
FEARLESS PREDICTION
This could be bad for the Victorians. The Bulls will have the advantage in both attack and defence, and, though both teams will start slowly off the bye, it will be the Rebels, perennial slow starters, who will likely get burned.
All we can hope is that the return of Stirling Mortlock, and the significance of Mark Gerrard's century, will lift the home side to a spirited performance, but I fear that this will be an all too appropriate end to a week that the Rebels would rather forget.
Bulls by 25.
Can the Rebels lift for Gerrardo's hundredth, or will this be a Bull-rush?