I wonder how many people watching the 2010 Sydney Premiership Club Grand Final realised they were seeing a classic demonstration of a profoundly revolutionary style of play that I have termed "physical imposition rugby".
The clash of Australia's two most historic and successful clubs saw Sydney University triumph by 46 points to six; five tries to nil; and seven goals to two. Both sides were weakened by injuries the previous week, Randwick losing five players and University two.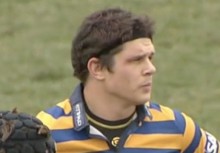 Game strategies based around physical domination are nothing new in rugby, but where the Sydney University style is innovatory is that it is not just based on the forwards overpowering their opposition but the whole team systematically grinding the other team down.
The foundation of the University system is a training methodology which involves minimal actual conditioning but rather an almost exclusive focus on heavy strength and speed training. The counter-intuitive result of this radical approach is that the team is renowned for its ability to finish over the top of its opposition, particularly in the final quarter of games.
If we take the Grand Final as a template of how physical imposition rugby should be played we can distinguish a number of defining characteristics.


Sydney University play is structured and methodical with an emphasis on patience and relentless control. In defence the team presents a "brick wall" across the width of the field and has confidence in its ability to continually repel attackers. Two or three players engage the ball carrier and try to drive him back, usually so effectively that multiple phases yield either no net gain or a loss of territory. The aim is to frustrate opponents so that they eventually lose the ball in a turnover or knock on.
Although multiple players usually make the tackle and initially attempt to secure possession, virtually no one is subsequently committed at the breakdown. This frees players to fan out at the sides of the ruck in readiness for the next assault on the defensive line. There is no attempt to slow the opposition ball down as the more tackles the team can make with multiple defenders engaging a single attacker the greater the toll on the opposition's reserves of strength and fitness.
In possession, because of their enhanced physicality University players enthusiastically attack the line, often recruiting support players for the ball carrier even amongst the backs. In tight play they frequently vary the pick and drive from the back of the ruck with passing to a small pod of forwards standing four to five metres to the side of the ruck.


One of the distinguishing features of the Sydney University style as it has now developed is the use of big midfield players who function like forwards. Both centres in the Grand Final weigh around 105kg and play very physically.
Supplementing the trench warfare is a strategy of field position where the emphasis is on relentlessly going forward. Both Berrick Barnes and Luke Burgess kicked into Randwick's defensive corners aided by a very committed chase typically led by Tom Carter. This produced defensive lineouts near the Randwick try line or a hurried kick with insufficient angle to gain much distance.
When Randwick attempted to kick deep, University usually had at least a couple of players in position to receive the ball. Rather than floating a long pass across field the ball receiver typically elected to counter attack directly, often into a heavily populated area where they would get past at least a couple of defenders before being brought to ground. Then the process of physical imposition would continue.
University's patience and relentlessness predictably caused frustration in the Randwick players giving an outstanding kicker in Barnes opportunities to keep the scoreboard ticking over to yield a 16-6 lead at half time. In the second half physical and mental fatigue caused Randwick to concede another 30 unanswered points.

During the match University played some very enterprising rugby but much of it came after they had softened up their opponents.
The precondition for playing physical imposition rugby is a specific type of fitness which is essentially anaerobic and heavily strength based. However it also requires exceptional mobility in order to contain and counter the opposition game plan. Technical proficiency in the set pieces and mauls is a primary focus, but it is a 15-man
involvement in physical imposition that is the strategy's defining characteristic.
Sydney University has demonstrated that physical imposition can be employed very effectively at a semi-professional club level and there is no reason why it wouldn't be equally successful in a fully professional environment. However this would require radical rethinking of both player conditioning and the role and attributes of centrefield players.