Introduction and fearless predictions by "thats_gold"
This Saturday marks the start of the 2018 AAGPS rugby comp. Like 2017, this year's battle will comprise one round of five games. Every match a potential grand final.
Five schools have a good to outside chance of winning the School Challenge Trophy. Once again a shared premiership is a distinct possibility.
After multiple trial games, all teams are chomping at the bit to get the business end underway. Here's what some keen school supporters had to say about their team and the outlook for 2018.
Yours truly has made some fearless predictions for who might finish 1 to 6.
Note: We were still waiting on previews for Newington and Shore at the time of publishing. We will add these when available.
SCOTS
By "crackerjack"
With trial wins over Newington, Kings and Joeys, Scots appear to be the 2018 GPS benchmark; certainly, the team the others will most want to knock off!
Captain, Will Harris (8), has been outstanding; amongst his teams' best afield each week. His understanding and work off the back of the scrum with half, Seb Strang (9), is a delight.
Scots' stocks of locks and flankers has been tested already, but the impressive return of Jeremy Williams (5) in last week's final trial game, will have thrilled teammates.
Few teams so far have got the better of Scots' front row of Hugo Patterson (1), Nathan Zylstra (2) and THP Nick Wingrove (3).
From stability in the set piece, to grunt-filled enthusiasm for the rolling maul, Scots' backs have repeatedly been able to launch attacks through the deadly accuracy of Strang and deft handling of flyhalf, Charlie Savala (10).
The back three of Fred Tricks (11), Ben Zucchiatti (14) and custodian, Jack Mossman (15), though not the biggest in the comp, do combine superbly as a dependable last-line in defence.
Scots' defence overall, is arguably "best in class". It sets a platform for when they get the ball that they don't need to kick it away; rather keep in hand, penetrate and recycle to advantage.
Scots' 2018 edition has a settled feel; a healthy combination of quality right across the park and depth in some key positions should injuries, unfortunately, present.
Scots to be hard to beat!
Players to watch
Will Harris (8), Seb Strang (9), Charlie Savala (10) and Jeremy Williams (5)
Fearless prediction
1st – Scots have the best pre-season results and a team coming mainly from last year's premiership winning 1sts and 2nds.
JOEYS
by "Hunters hillbilly"
Joey's pre-season form has been mixed with close losses against Trinity and Barker and a spirited loss to Scots in marked contrast to dominant performances against Marist Canberra, Shore and Knox.
If Joeys can cut their error rate and sort out defensive lapses they will win the tight matches and improve on finishing 3rd in 2017.
The Joeys forwards are customarily well drilled and fit. The pack is more mobile than last year and uses their height to advantage. Whether tight five or back row, all players are capable of line breaks and skilful in offloading to players in space.
Hugh Bokenham has been outstanding in the trials, proving dangerous in the air. Julian Heaven is the only returning forward from 2017 and has moved to his preferred position of hooker to lead the forwards.
The Joeys backs have been quick to capitalise on opposition errors and will run it from anywhere. Returning backs Vincent Creagh, Xavier Ryan and Liam Scolari are an experienced combination having played together now for six years.
Creagh has moved to inside centre with year 11 student Jude Gibbs inclusion at 5/8. Both provide dangerous attacking options with ball in hand or off the boot.
Competition for starting positions has been fierce and the depth of talent is evident when you see the quality of players in the seconds.
Players to watch
Liam Scolari (11), Nick Murray (9), Hugh Bokenham (8) and Julian Heaven (2)
Fearless prediction
2nd – appear to have the most scope to improve from an already impressive base.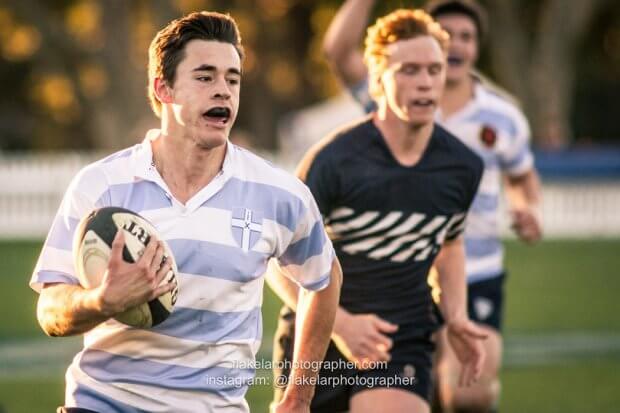 KINGS
by "no_sheep_jokes_please"
Kings, many people's favourites in 2016 and 2017, have another quality team this year. With eight back from last year's 1sts, they deserve to be considered one of the leading contenders in 2018.
In the pre-season, they beat Riverview, Knox, Stannies and Shore convincingly, but lost narrowly to CAS heavyweights Barker and the winners of the last five GPS premierships, Scots.
Kings boast a mobile and powerful forward pack, with Charlie Cale (5) and Ben Peper (7) two of their better performers. They play an up-tempo game with fast recycling a feature, along with a knack of resetting the line super quick, in defence and attack.
But it's in the backs that Kings has some serious weapons. Matt Minogue (10) directs with precision and has a great boot.
The centre pairing, Hamish Mac Smith (12) and Ben Stewart (13) are big and elusive. And the back three – Joseph Suaalii (11), Jordan Williams (14) and Johnny Connolly (15) – have jet shoes and great footwork.
Kings have a favourable draw, playing three of five and their first two games at home.
Kings need to learn how to close out the close ones, but at their best, they will take some stopping.
Players to watch
Matt Minogue (10), Ben Peper (7), Joseph Suaalii (11) Johnny Connolly (15)
Fearless prediction
3nd – were predicted to win in last two AAGPS season previews, so might benefit from not 'having the mocka' put on them. Very capable of winning this time too.
RIVERVIEW
by "honey_I_bogged_the_beemer"
View look forward to the 2018 GPS comp knowing they have the players to cause some potential upsets and possibly even go all the way.
The forwards have some 1st XV experience, with Will McLennan (2) leading from the front. They also have a big and mobile second and back row. Keep an eye on Junior Schmidt. He can play several positions in the forwards and is one of a few lads who have really stepped up from the 2nds and 16As last year.
The backs comprise arguably the best centre pairing in the business in Dom Easy (12) and Angus Bell (13). Both made NSW II in 2017. They make up a fast and dangerous attack with ball being feed to a speedy back three.
View had a 100% record against CAS teams, beating powerhouses Barker, Waverley and Knox in the pre-season. Against GPS opposition, they lost 7 – 32 to Kings (although they have improved quite a bit since then) and beat Newington 50 – 21 last weekend.
With an away game against Kings to kick-start their campaign, we will know by around 4.30pm this Saturday whether View are a genuine chance of hoisting the silverware or not.
Players to watch
McLennan (2), Schmidt (6), Easy (12) Bell (13)
Fearless prediction
4th – with a loss to Kings and win over New, 4th seems about right but this is the prediction I most fear I could end up eating my hat over.
NEWINGTON
By "Quick Hands"
For the second year running, the Newington 1st XV squad will contain just as many, if not more, new faces than boys returning from 2017.
Captain Angus Bell (1) leads the team and is a welcome return after missing some of the trials through injury. Damon Foley (4) and Saul Lewis (15) are the other 2017 1st XV regulars back for 2018.
A pre-season tour to South Africa was highly successful, but while the cultural aspects of the tour were undoubted, the opposition was reasonably weak.
Trial form was below the expectations of some, although with the number of Year 11 and Year 10 boys in the team, shouldn't have been such a surprise.
Comfortable wins against Oakhill in the first trial and Trinity in the penultimate trial were overshadowed by some hefty losses to Scots, Riverview, Waverley and a closer loss to St Augustine's.
The 50-21 loss against Riverview last week wasn't the ideal way to head into the AAGPS season.
In recent times, Newington's success has been built on forward dominance and, while the 2018 pack has plenty of drive and aggression, they are often let down by little errors whilst in possession.
The backline contains some exciting talent with plenty of speed, but they have also appeared somewhat disjointed in attack, with the last pass going astray far too often.
The team have strung together some exciting and effective rugby and could beat any of the other teams on their day, but consistency over the 70 minutes is an issue.
A mid-table finish is the most likely eventuality for Newington in 2018.
Players to watch
Angus Bell (1), Kaeo Weekes (12) and Tolu Koula (11).
Fearless prediction
5th – some good players, but have leaked too many points in the pre-season to be considered a genuine threat.
SHORE
Written by UpTheGuts
Shore came into the 2018 season with a rejuvenated rugby programme in part designed by former Wallabies Coach Rod Macqueen. However, with an emphasis placed on implementing schoolwide playing structures and developing younger players the programme is not likely to be a quick fix and Shore will still be up against it in a very strong 1st XV competition.
Shore's preseason trial form was relatively underwhelming, with heavy losses against Barker and Joeys raising questions about their competitiveness in the GPS competition. However, a spirited performance against a very strong Trinity side, that had beaten Joeys a week earlier, resulting in a very narrow loss certainly sparked some belief in the side and the team looked better in the remaining trials. Although going down reasonably heavily to King's in the final trial of the season, the score line did not reflect the good periods of play that Shore were able to string together.
James Harding (2) leads the side and is an intelligent footballer, showing his class scoring two tries in the near win over Trinity. Ben Wilkins returns for his second season of 1st XV Rugby and is extremely athletic for a lock and Shore will use him to contest kickoffs and graft metres in attack.
Shore's backrow will provide most of the go forward in attack with (6) Williams also returning for a second year in the 1st XV. Although injured in the opening trial against Waverly he carried very strongly against a strong King's pack in the final trial of the season. Ben Brownie at (8) will take the role of the side's enforcer, capable of some stinging shots in defence and outstanding leg drive in attack Brownie will not shy away from the physical battle against the bigger GPS packs.
In the backline, Hamish Cowan (9) returns for his second year of 1st XV, a revelation for Shore in 2017, Cowan's crisp service was missed in some of the earlier preseason trials that he missed through injury. Harry Moses at 10 will use his smarts to guide Shore around the park while Will Austin (12) makes his 1st XV debut despite being eligible for the under 16s, with plenty of size and athleticism Austin has the potential to be the big ball carrying back Shore needs.
In the outside backs, although making his way up from the 3rd XV, Jackson Wunderlich was always earmarked as a 1st XV player and runs very aggressively into contact showing his talent against very strong King's outside backs. Although currently injured, Jackson Thomas looks to be a very exciting prospect on the wing. Running a sub 11 second 100m Thomas was promoted after carving up a very strong Joeys 2nd XV side and can turn the game on its head with the ability to score end to end tries.
All in all, with some very high calibre opposition if Shore are to be a chance of competing this year they will have to outsmart their opposition Northern Hemisphere style by holding the ball for long periods, taking points when on offer, and playing territory. If they can manage to string some of the dominant periods they've had in many of their trials against high quality opposition then they may well be in with a chance of causing a few upsets.
Fearless prediction
6th – there are positive signs of a rebuilding program underway at Shore, but it will take a few years to gain some traction