Welcome one and all to G&GRs final countdown to the Big Dance! With minimal rugby on this weekend it gives us a chance to look at some of the other things going on, but also to part with our final thoughts and predictions leading into the kick-off in less than a week! Well, four and a half days to be more precise. We will also have a bit of a gander at the Barbarians (read Aus A) against the Northampton Saints game. Eddie Jones has also stuck the boot into his former employer the RFU! And Fiji are remaining focussed on the big prize, despite giving the Soap Dodgers a right royal touch up. So ladies and gents, and I use the term gents very loosely with you lot, let's dive in for a bit of fun!
Barbarians 48 defeat Northampton Saints 12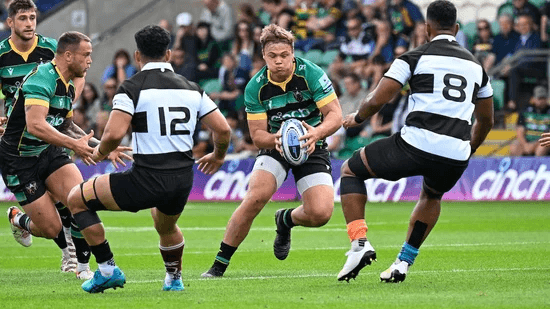 The Barbarians have handed UK Premiership Rugby club Northampton Saints an absolute bollocking in a 48-12 defeat. In what can only be described as the Wallabies World Cup 'Shadow Squad' the Baabaas played a dominant game that surely would have Dr. Evil paying close attention to some of his his backup players.
Tom 'John Denver' Wright had another 'rocks and diamonds' game with two tries and a try assist, but then he threw a 'Wright special' hospital pass that almost cost his team a 5 pointer. Queensland Reds Seru Uru played out of position at 7 but had a blinder of a game which will have hopefully bought him to Eddie Jone's attention. His Reds teamates Filipo Daungunu, Hunter Paisami and JOC 2.0 also had great games. For the interstaters Lachie Swinton and Lonergan had pretty good games as well.
The Barbarians will then turn their attention to a stoush with Welsh side the Scarlets on September 16.
Eddie Jones gives a 'serve' to his old employers at the RFU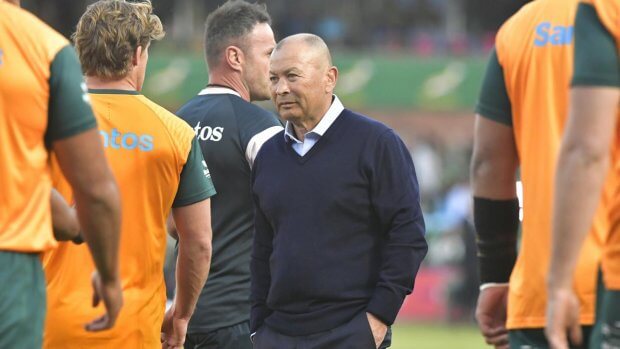 There is no doubt that poor old Steve Borthwick has been copping some pretty harsh criticism in the media and from pundits of late, but Dr. Evil, has pointed the middle finger at the English game's governing body for failing to develop the next generation of talent (sound familiar Wallabies fans).
"It's a difficult situation like you've got an ageing team," Jones stated. "Anyone who knows anything about sport can see that and then you've got new players coming in. "Some of them have come through and done really well, like a Freddie Steward, others are still finding their feet, like a Marcus Smith. You look at the results of England over the last five years but they're not producing quality players."So everyone looks at the head coach and let's blame the head coach. But the onus on producing quality players is the RFU and that hasn't happened. "
"You've got to look at why you're not bringing talent through, then you've got to look at why your talent development systems are not doing that – because the system's not right. "What needs to change? Where's the gap? That's the responsibility of the RFU and it's not for me to give them answers."
What's interesting though is that Eddie thinks after his experience there, he might be the last foreign coach that RFU will hire. "I had a fantastic run, seven years for an Australian coaching England," he reflected. "It'll never be done again. Maybe there'll never be a non-Englishman coaching England again."
What surprises me about these statements are, that they could apply directly to the Australian team and RA. Lets look over the years at the youth we have wasted and the talent we have let slide away overseas, due to poor structual set ups, and coaches that have lacked the ability to develop players, and played absolute favourites continually despite poor form. Can anyone say Bernard Foley? And in regards to coaching, what do you think the chances are of RA hiring a foreign coach again? These problems seem to ring true for a number of nations at the moment, but England and Australia spring to the front of mind for obvious reasons. For one I think that the RFU and RA need to think more about the game, the players, and the fans, rather than playing domestic politics and preaching to their own 'inbred' choirs!
Fiji keeping their 'Eyes on the Prize'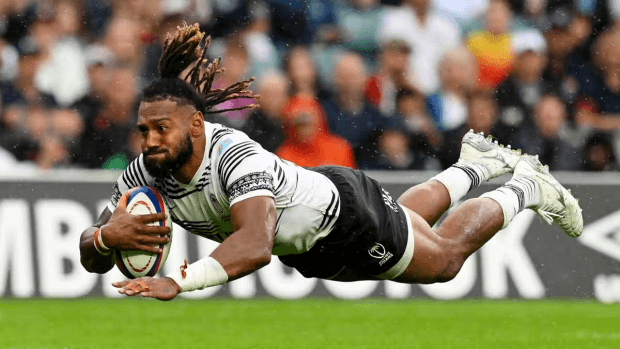 On Septemeber the 10th, the Flying Fijians will play their first pool match of the RWC against the Northern Hemisphere's 'sheep shaggers' (The Welsh). In what will be one of the most important and hotly contested clashes in the Wallabies pool C, and I think for the RWC in general. Coming off their rousing win against a bin juice England side, the Pacific avengers are now ranked No. 7 in the world, cementing their place as a Tier One team on the eve of the World Cup. And deservedly so!
"It changes nothing for us," Raiwalui the Fijian coach stated. "We haven't thought about the rankings. "We've been taking it one game at a time. Since the preparation started we had a goal of improving every week." "The objective and goal doesn't change," he added.
Simon Raiwalui's Fiji squad has taken advantage of the Super Rugby Pacific Fiji Drua team and has selected 18 of his 33 players from the Drua. The Drua had an excellent SRP 23 season reaching the quarter finals with stunning defeats of the Crusaders and the Hurricanes. "It's opened up 40-50 places within our professional pathways, players at the highest level, living at home and we've seen the results of them," Raiwalui said. "It's a huge benefit for Fiji Rugby," he added.
"We have a big history with Wales," Raiwalui said. "We've been in each other's pool a number of times but the teams change, mindsets change. "To the credit of the boys, they have really knuckled down, pushed themselves to put them in a good position against Wales. "We're really looking forward to the occasion, we'll be ready for September 10," he added.
As most G&GR readers will know, I have a real soft spot for the Flying Fijians having worked in Fiji on and off over the years. Also having served in the Australian Army alongside the Fijian military in many a conflict zone. The Fijian people, their warrior culture, their sense of humour and their love of all things rugby and singing. I 'd also like to see the Fijians come away from this RWC with a final four finish, if not the big prize even. Their style of game is amazing to watch, and with their improved set piece, courtesy of a couple of seasons in the SRP, I think they're a real chance. With each year they will improve. GO the Flying Fijians!
Not Long to go now G&GRs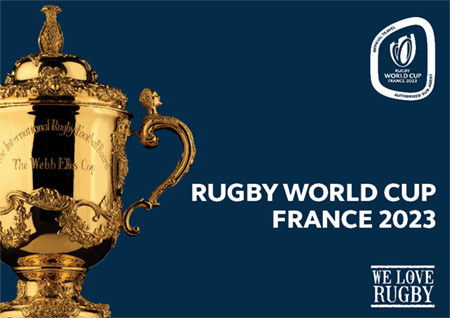 Well with four and half days til the whistle blows and the Bill gets underway, I don't know about the rest of you G&GRs but I am getting a tad excited. In what may seem like a little bit of disloyalty, I really don't care how the Wallabies go at this RWC, in fact I have pretty much written them off. But the rest of the field is another story.
In what is potentially the most open RWC ever, I believe there are a number of teams in with a pretty solid shot at the title. South Africa, France, Ireland and New Zealand for starters. But I'm not writing off Scotland and Fiji as dark horses either. Which ever way it goes, I think this year's RWC will be the most hotly contested ever played. There's going to be so much good rugby to watch, and like a little kid in a candy store, I just don't know what I want to sample first, but rest assured I'll have go at all of the games.
Don't forget to get involved with the G&GR RWC Fantasy League, you will find the link here.
Remember that G&GR is the number one rugby site for fans written by fans. So if you're keen, feel free to come along and write for us. We're always looking for more authors especially to cover the World Cup games. Just reach out to me or Big Hoss at bris@greenandgoldrugby.com.au or hoss@greenandgoldrugby.com.au
Over to you G&GRs, have a go at it!