Welcome to Brisneyland Local's Mad Monday post World Cup news. And after waiting patiently for four years, yet another World Cup has come and gone. What an RWC of excitement and drama it's been. Poor teams doing well, and good teams doing poorly. And then there were the Wallabies. For sure this World Cup will live on in infamy. But to quote Connor McLeod of the Clan McLeod, "There can be only one.", and this World Cup it's the South Africans. The only Team to win four World Cups, and they have done that by going back-to-back. Wow and what a game that was, it had everything in it: excitement, drama, controversy, and some actual rugby. Unlike one of the semi-finals.
We'll do a quick recap of the game, and then have a poke around at some of the other rugby issues that are front and centre. But to be honest, what else is there other than the Big Dance?
South Africa 12 defeated New Zealand 11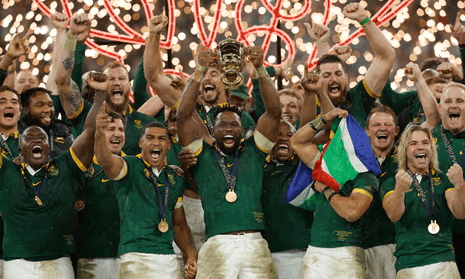 See Nutta's excellent G&GR Match Preview and Review here.
To be honest I wasn't going to get up to watch this game live. Was just going to wake up naturally and put it on without checking the news or my phone. But lo and behold, I woke up at exactly 04:00, went and had an old man wee-wee then brewed a strong coffee with a dash of brandy in it and settled down to watch the game. I'm so glad my old man's bladder got me up to see this great game live.
South Africa in the end has completed the successful defence of its Rugby World Cup crown with a nail-biting 12-11 victory over the All Blacks. The victory marked the Springboks' third straight one pointer nail-biters of the tournament. After a 29-28 quarter final victory against France, and a 16-15 win over the Soap Dodgers in the semis – nothing like living on the edge. As they always say, if you aren't living on the edge you're taking up too much space.
The weather certainly had an impact on the game, slowing it down to a bit of a slugfest although the Kiwis did desperately try hard to play some running rugby. As well as the weather, the cards certainly had an impact, with the Kiwis playing for 60 mins with only 14 players, and the Saffas getting two serves of cheddar. The cards were what they were all day long, it's just a pity that they had so much impact on the Rugby World Cup final. If only World Rugby had implemented the Super Rugby Pacific version of red cards, we may've seen a different version of the game. That being said I think Wayne Barnes had a pretty good game.
The only thing I wish WB had gone harder on, was the whinging of players directed at him. During this World Cup I was beginning to think that this is more of a Northern Hemisphere thing, looking at Johnny Sexton and Owen Farrell. But Jesus, did the Dutch Dirt Farmers take this to a new level? WB even had a bit of a chip at the Saffas number 11 (I think) during the game. But this is truly becoming a blight on our game. We're starting to look like jail ball and worst of all that round ball code that I can't mention by name (will henceforth be referred to as Voldemort). At every breakdown, through the pitch mikes and the referees' mike you could hear the South African players bleating like stuck pigs, remonstrating for penalties to be awarded. I don't know about the rest of you G&GRs but I found this to be annoying at the least, and utterly frustrating at the most, making me want to be Wayne Barnes and start dishing out the cards.
Now don't get me wrong, it wasn't only the South Africans doing it, the Kiwis were as well, but at a ratio of at least 4 to one. It was infuriating! Even Mrs. BL stated "Gee they whinge a lot don't they? Who do they think they are, Voldemort players?"
Anyway, the game is done and dusted, and the Bill has been awarded for another RWC cycle. And everything now is bragging rights! And prep for the next one. Which will be here in Aus, and that my loyal G&GR readers is a great segue into the next topic.
Eddie "Looking for an out' Jones
Well the shite show that is the Eddie Jones coaching of the Wallabies this year just goes from bad to worse. Every time you think it can't become more bizarre and more embarrassing, it does. Eddie recently did an interview with Peter 'I wear a bandana to make up for my shite personality' FitzSimons.
"I'm so pissed off with the situation now. I'm really pissed off with what has happened. Look, I take responsibility for the bad results," Jones said. "But I don't take responsibility for 20 years of decline of Australian rugby. And that's what's trying to be pinned on me: 20 years of decline; that I'm an unsavoury character, all these sorts of things, and anyone that knows me knows that's not the truth. Right?" (Well personally I have thought he was a bit of an arrogant, self-entitled, self-centred fruit loop, but maybe not unsavoury depending on the context). "That's what's trying to be pinned on me at the moment. So I don't really care what happens after this. But I want to make sure that we're leaving Australian rugby in a better place. And if there's a realisation that, yes, we need to change, then it'll be worth what I've done."
Jones was again asked about his decision to cast aside veteran players Quade Cooper, Bernard Foley and Michael Hooper for the doomed Cup campaign. "The situation reminded me of when Wayne Bennett let Wally Lewis go. No one could quite understand why, but Wally Lewis wasn't a great role model for the rest of the team," Jones said. "And for those guys, I don't think they were the right role models for the team going forward. Don't get me wrong. They're not bad guys. But you need guys – particularly when you've got a team like Australia has at the moment – you need guys who are obsessed with winning, obsessed with being good, and those three are past those stages." Wow, how to throw players under a bus. That really is unsavoury. I'll now officially accept that assessment of Eddie.
In the last few days, it has been announced that Eddie's agent and lawyers have contacted RA and stated that they would be open to discussing mutually acceptable ways for Eddie to leave his contract. RA, too, has stated that they have the ability to farewell Jones without paying him out in full should CEO Phil Waugh and chairman Hamish McLennan believe the coaching situation is untenable.
So just when things look bad, in this author's humble opinion, they're starting to look better. There are now, by the sounds of it, discussions being had to get Eddie the hell out of Dodge. The Wallabies and RA, can't move forward with Eddie at the coaching helm. In addition to this I'm truly of the belief that if Eddie goes, his sponsor (Hamish 'The Hammer' McLennan) has to go with him.
Break Break Break
As I was typing this, I've just received word that Eddie Jones has formally resigned as Wallabies coach. No official statement yes, but by the time you're reading this on Monday morning there probably will be. I, for one, am glad Eddie has gone. His tenure as Wallabies coach this time around won't be recalled with any good memories and outcomes attached to it. Good riddance Eddie, please don't come back to Australian rugby again in any capacity.
Over to you G&GRs, have at it!