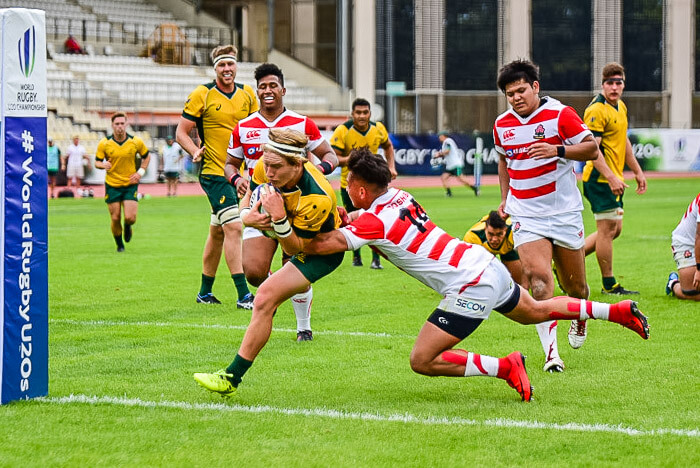 A run-in with a over-zealous security guard prevented our man on the ground in the South of France from filing a report on the first game of the Junior Wallabies U20 World Championship. Thankfully 'Anonymous Rugby Supporter' got himself media accreditation for Game 2 and was able to get these photos to us.
After a disappointing loss to Wales in their 1st Round Pool A game, the Junior Wallabies have bounced back with a good 54 – 19 win over the Japanese U20 team.
With only the top team from each of the 3 pools, plus the next best team on for and against, going through to the Finals, the Junior Wallabies' final pool game against New Zealand, is a must win game. No surprises (yet) in other pools (B & C), with England and South Africa looking most likely to progress to the finals.
Australia 54 (Tries: Lonergan 2, Tupou, Ma'afu, McDermott, Hansen, McTaggart, Wood; Conv: Lucas 4, Harrison 3) defeated Japan 19 (Tries: Yamasawa, Yamamoto, Vakalahi; Conv: Mamada, Mori)
Results
Round 1
Pool A
Wales 26 def Australia 21
New Zealand 67 def Japan 0
Pool B
England 39 def Argentina 18
Italy 27 def Scotland 26
Pool C
South Africa 33 def Georgia 27
France 26 def Ireland 24
Round 2
Pool A
Australia 54 def Japan 19
New Zealand 42 def Wales 10
Pool B
Argentina 29 def Scotland 13
England 43 def Italy 5
Pool C
France 24 def Georgia 12
South Africa 30 def Ireland 17
World Rugby is providing highlights packages on Youtube and worldrugby.org