The Intrust Super Shute Shield enters the thirteenth round, and the fight for the top of the table is looking close, with Warringah, Eastwood and Randwick all on equal points. Here's our preview for round 13.
The Table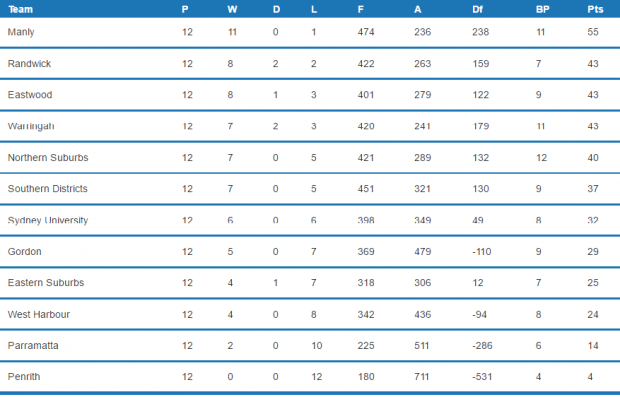 The Previews
FREE-TO-AIR BROADCAST MATCH: RANDWICK VS. WARRINGAH, COOGEE OVAL, KICK OFF: SATURDAY 3:10PM, LIVE ON 7TWO IN NSW AND THE ACT FROM 3:00PM, REPLAY IN QLD. 
Coogee Oval is one of the best rugby grounds in Australia, and it plays host to the latest edition of a legendary rivalry and a top of the table clash when Randwick host Warringah this weekend. Even better, it's set to be broadcast on 7TWO. The last time these two were scheduled to met, the game was cancelled due to the tragic death of Rat Lachlan Ward, so emotions will still be running high in both camps when they step out on the field tomorrow afternoon.
Both teams have been in flying form the last few weeks. The Galloping Greens are currently on a four match winning streak, and (also including a draw with Eastwood) haven't actually been beaten since their away loss to Manly in early May). That four match streak includes the likes of Northern Suburbs and Eastern Suburbs, so confidence is running high. At home, they are tough competition, so it will be a tough match for the men from Warringah.
The Rats have also been in great form, currently on a two match winning streak (including their big game changing win against Manly at the Battle of the Beach), and haven't been beaten since their loss to Sydney Uni, also back in May. However, the club has had to deal with the loss of one of their players, so it has been a tough time for the Rats. Their big win against Penrith last week will hopefully do them some good, this week is going to be a big step up.
Prediction: Oh god. This is a tough one to pick. Both teams are sitting on 43 points. This match will be crucial for both sides in their season. They will both turn up to play. The result could go either way. I'm gonna go with home advantage. Randwick by 2.
Here's a little pump up video for the game, courtesy of the lads over at 7TWO. 
WEST HARBOUR VS. EASTWOOD, Concord Oval, Kick Off: Saturday 3:00pm.
I think it's fair to say that Pirates have become the dark horses of the Shute Shield this year. After a three match losing streak, they roared back into life and plundered a cheeky away win against Sydney University last week, a result that has caught the attention of many of the teams higher up on the table to not take this Wests outfit lightly.
However, the Woodies are going to be a big step up for West Harbour. They don't currently sit in third on the table for no reason. They got absolutely demolished by Southern Districts last week, so I have a feeling the Woodies boys will be up to reinstate their premiership claim with a commanding performance here. That being said, you should never take Wests lightly.
Prediction: Wests Harbour are looking to string together some form here, so they will be up for this one. Eastwood will be looking to regain some form here, so they will be up for this one. I predict a tight arm wrestle, and it would be awesome to see Wests take the chocolates, but I reckon the Woodies should be able to get home. Eastwood by 4. 
PARRAMATTA VS. SOUTHERN DISTRICTS, Merrylands RSL Rugby Park, Kick Off: Saturday 3:00pm.
The Two Blues have had a tough time of it lately, with losses to Southern Districts and Gordon in the last fortnight. Their confidence does look to be shot with those two losses, and the fact they are coming up against an in-form Southern Districts side doesn't bode well. But, these guys can play. They have knocked over West Harbour and Penrith, so you never know what may happen.
I got to be honest that I have seriously underestimating the Rebels these last few weeks. To knock over Eastwood in such a comprehensive fashion is no mean feat, and now with three wins in a row to their name, it is hard to see them stopping here. These guys are timing their run perfectly, and will be looking for a good win here to build more confidence.
Prediction: I have twice gone against Southern Districts in the last fortnight. With Parra's current record, it would be unwise to do that again, especially with the continuity this Rebels outfit is building. Southern Districts by 15.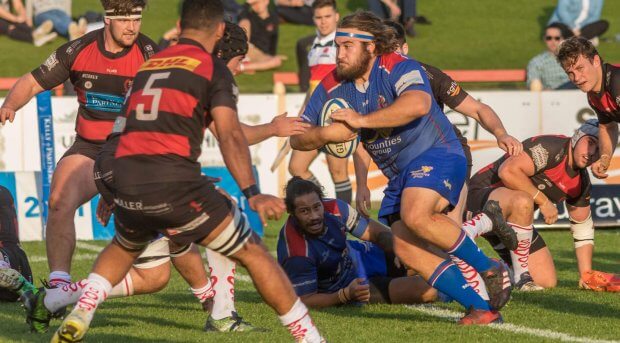 NORTHERN SUBURBS VS. SYDNEY UNIVERSITY, North Sydney Oval, Kick Off: Saturday 3:00pm.
Ahhh, the grand final rematch! And it couldn't come at a better time for two teams struggling to find form. The Shoreman have (aside from their victory against Penrith), been in very poor form, with five losses in the past six games. They did show they have some fight in them against the table toppers Manly last week, but it ultimately wasn't enough. A win against the Students though may be the kick in the teeth this outfit needs to get back to the legendary form of last year.
The Students have been able to pick up some decent scalps against Southern Districts and Warringah, but their form has also been extremely mixed, with their loss against Manly and West Harbour over the last fortnight a huge momentum killer. But, they have a lot of talent coming back from Super Rugby this weekend (but that didn't do much to help them last week). Likewise, a win here would be a positive boon for the Students in their campaign, especially against a side above them in the table.
Prediction: This, along with the Rats-Greens match, has the potential to be the match of the round. I expect another tight armwrestle, and while many may favour the Students, I'm going with my heart on this one and backing Norths to pull it out of the fire. Northern Suburbs by 5. 
EASTERN SUBURBS VS. MANLY, McKay Oval-Centennial Park, Kick Off: Saturday 3:00pm.
McKay Oval has not been a happy hunting ground for Eastern Suburbs over the last few weeks. With close losses to Southern Districts and Randwick, the Beasties have been able to play some good footy (including a stunning try last week), but they've also found themselves wanting in their ability to finish off games. Should they do that, they may have the potential to snap an upset here and get some much needed confidence.
But personally, against this Manly outfit, I don't see that happening. The Marlins are playing like freaks at the moment. Aside from one misstep at the Battle of the Beach, they have knocked over all in front of them. I don't see that stopping anytime soon.
Prediction: Sorry Beasties fans, but I don't see the bad run ending soon. Manly by 20.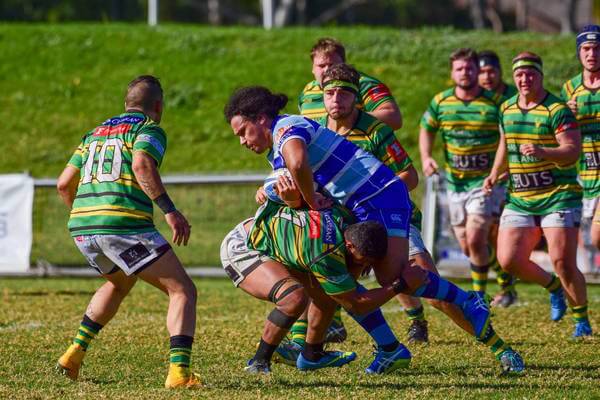 GORDON VS. PENRITH, Chatswood Oval, Kick Off: Saturday 3:30pm
The Highlanders have been great to watch the last few weeks. They've picked up some good scalps against Northern Suburbs and Parramatta, and also did push Eastwood away from home. They have quickly brought their season back to life on the cusp of this revival, and quite frankly, it's great to see from a club  that has so much talent. A big win here would be a further confidence builder, and (judging by the result over at North Sydney Oval) may see them overtake Sydney Uni to be just outside the top six.
It's been a long season for the Emus, but I really admire this battler club. Last weeks match against Warringah really was a summary of their season. The second half of that game they really took it to the Rats, and scored two really nice tries to nearly outscore them in that half. But the first half, they conceded 35 points. These guys can play, but it really comes down to their defence, which has been the Achilles heel of the club all year. They should take some confidence out of that second half last week, and this week try and focus on an eighty minute performance. I reckon, should they do that, we might have a much closer game on our hands.
Prediction: While the Emus may turn up for this one and show some fight, the Highlanders have been picking up big scalps for a reason and I don't see them losing here. Gordon by 25. 
Featured Image Credit: Gordon Highlanders Rugby Club