So who was the overall winner? Oh boy was it tight in the end.
Ironically both of the final contenders, in Scott Fardy and Quade Cooper, didn't play a minute of rugby for the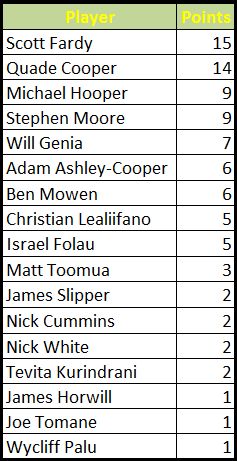 Wallabies in the Lions series. Fardy made his debut in the first Rugby Championship game against the Kiwis (turns out this was his first trip to a Wallabies Test!), while Quade returned to Test rugby from the bench.
After finding his way in his first Test, Fardy soon won our hearts and he was our Man of the Match in  four of the next five matches, with Quade breaking his run against the Boks in Newlands and then capping the domestic season with another MOTM against New Zealand in the shaky isles.
Moving to the tour of the northern hemisphere and the story of the trip was Quade's new-found consistency. Meanwhile, Fardy was still performing, though he didn't pick up any of our Man of the Match awards. In the end, the Welsh game would prove decisive with last year's winner, Micheal Hooper, the fan preference ahead of Cooper.
Fardy managed to scrape into third place, and his one point was enough to give him this prestigious award and follow in the footsteps and a trophy that has been dominated by Brumbies back rowers.
Ladies and Gentlemen, Scott Fardy is our Green and Gold Rugby Wallaby Player of the Year for 2013.
It wasn't that long ago that Australian Rugby fans were crying out for an abrasive back rower – a ruck monster I think we called it. Lo and behold Scott Fardy appears on the scene and like any number of Australian pub rock bands, he's an overnight success that has taken years to achieve his ultimate success.
Fardy now joins the roll of honour that includes George Smith (2009), David Pocock (2010), Will Genia (2011) and Michael Hooper (2012) as winners of this illustrious award.
Thanks to all who took the time to vote this year. We here at GAGR wish you a very merry holiday season. Stay safe and have a great time, and we look forward to seeing you all in 2014 in what will be a massive year for Australian Rugby.