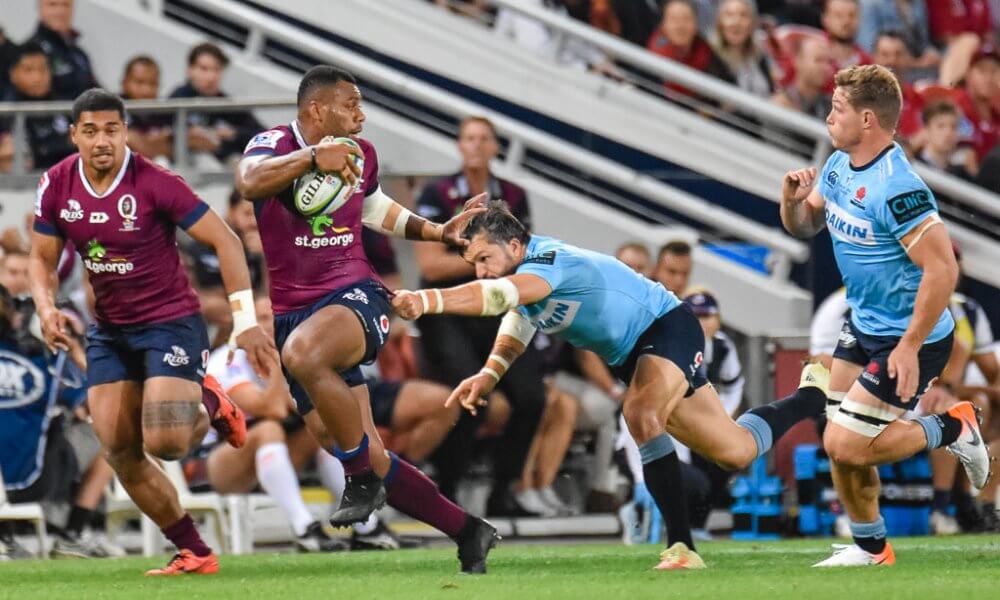 Friday's Rugby News sees Dan McKellar hopes for the future, WR upping their offer! Uelese found dark places, the Crusaders robbed and a random feature image from Stephen Tremain.
---
SUPER RUGBY ON FTA!
We've all said it and thought it for years but, finally, someone high up in the rugby community has said it.

SUPER RUGBY NEEDS TO BE ON FREE TO AIR.

Quick! Go set off the fireworks, let the church bells ring. say a prayer to your false idols. The truth will set us all free.

McKellar says the crucial next step is getting the game into every home in Australia and not just the 30 per cent which have subscriptions to Super Rugby broadcaster Foxtel.

The next television deal will be negotiated from 2021 onwards and McKellar said it was paramount to get games on a free-to-air network.

"Get it on free-to-air, definitely get it on free-to-air. Whoever is doing the next television deal, make sure that happens so that all the kids have access to see the best players running around," McKellar said.

"Your (David) Pocock's, your (Christian) Lealiifano's, your (Scott) Sio's, Quade Cooper, Henry Speight … all these sorts of players, we've got to make sure every little boy and girl in the country has access to them and aspires to play rugby union.

"At the moment we're sort of hidden away. Fox are tremendous in their support of the game but I think free-to-air would certainly be a real positive change."

The Brumbies came under criticism for their game style by former player Justin Harrison earlier this month and McKellar said it was time the rugby community banded together.

"Just talk positively about the game. We've got rugby union people that are bashing rugby union, like why are we doing that?" McKellar said.

"We're starting to see the benefits of four teams and two Australian sides might sneak into the finals. We've got a World Cup this year … let's start talking about the good things and the footy instead of worrying about beating ourselves up all the time.

"All we can do is perform well on weekends and put on a good product for our fans … then hopefully they'll come back and drag a few more people along.

"People love the game, it's the people that are sort of 50-50 that sit on the fence. At the moment they're on the other side of the fence and we have to bring them back."
WORLD RUGBY WILLING TO PAY MORE!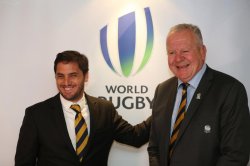 I guess that really means In-front Media has upped their offer and World Rugby are trying everything they can to get people interested.
This from Stuff.co.nz
World Rugby has upped the ante in an attempt to secure agreement for its controversial Nations Championship proposal by increasing the original offer of £5 billion ($9.7 billion) to the competing countries over the next 12 years.
It is understood that an increased offer was made during discussions at the World Rugby council meeting in Dublin on Wednesday
It is unclear whether the increased offer from In-front Media, the backers of World Rugby's proposal, will be enough to convince the sceptics within the Six Nations. The Rugby Football Union was thought to remain "open-minded" about the plan.
Discussions will continue and if progress can be made, a World Rugby council meeting will be convened at short notice next month to vote on whether it will be approved.
Frankly, there's a lot more than money to sort out than money to get the Nations Championship up. Travel issues and relegation have to be sorted before anything happens.
UELESE TALKS ABOUT DARK TIMES
Jordan Uelese has opened up in a great article by Iain Payten on rugby.com.au Uelese talks about his love of rugby from an incredibly young age, his knee injury and the dark places it took him. There's also the most adorable photo of a two-year-old Uelese in an under six team photo
In 2017 Uelese was a wallaby bolter playing two tests and a game against the Baa Baa's. He followed that up with a strong 2018 super rugby season and was again named for the Wallabies for the June tests against Ireland. But that was where disaster struck when Uelese tore his ACL the day before Wallaby camp.
What came next was eleven months of recovery and rehab.
"That (injury) was pretty tough, I won't lie. I was pretty heartbroken and I was in a pretty dark place for a long time," Uelese said.
After finally getting back on the paddock for Gordon in Sydney club rugby two weeks ago, Uelese returned for the Melbourne Rising in a curtain-raiser clash against the Japanese Wolfpack (alongside his brother Junior).
He has flown to Tokyo this week with the Rebels as one of three hookers, along with Anaru Rangi and Hugh Roach, and may make his long-awaited return to Super Rugby on Saturday; almost a year on from his injury.
Now seeing the "light at the end of the tunnel"  has allowed Uelese to let go of the devastation of last June.
"It's been a rollercoaster. I first did my knee the day before going into the June series, where I'd been named and was poised to play a couple of games there," he said.
"So coming off that real high, I was pretty shattered with your whole expectations of the year crashing to the ground. I was pretty grateful my parents where there for me pushing me through the tough times."
"I won't lie, there are times when I dropped my head and cut corners, and thought, 'I don't want to be here'," he said.
"In rehab, you are not really with the team. You are off at the gym, doing stuff with physios. You are by yourself and you are isolated. You are in a dark tunnel.
"But it is something I have learned how to deal with, and I wouldn't be here now probably without the support of my teammates and my family. It was hard but I am kind of grateful at the same time.
MARIUS ROBS THE CRUSADERS.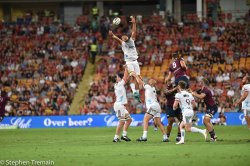 It's minutes to go in the Crusaders away game against the Stormers and the Kiwis are 19-16. Braydon Ennor pops out to the right and fires a pass to Sevu Reece who chips, chases and regathers to score a beautiful try in the corner. The try is awarded and the kicker lines up his shot when Jonkers pipes up and says "I'm going to show you a forward pass," 
About now I say to Mrs Sully, 'the Crusaders are about to get robbed.' She says something about lines and I launch into a physics and geometry lecture and suggest she looks at Ennor's hands when he passes the ball.
And then.
After a couple of replays – both from the same view – were shown, Jonker said: "So, we have a forward pass, it's clear and obvious evidence of a forward pass."
No, Marius, it wasn't clear or obvious! It was vague and murky.
Sanzaar's definition of a forward pass is as follows: When a player throws or passes the ball forward i.e. if the arms of the player passing the ball move forward.
As Sanzaar's confirmation to the Crusaders the decision was incorrect confirms, Ennor's hands were going backwards when he fired the pass wide to Reece.
"It's a momentum game. Look, they [Sanzaar] just cleared up that the ruling was wrong," Crusaders coach Scott Robertson said of the call late in the 19-19 draw with the Stormers. 
"It would be a pretty tough game of rugby [if you had] to stand still and pass backwards."