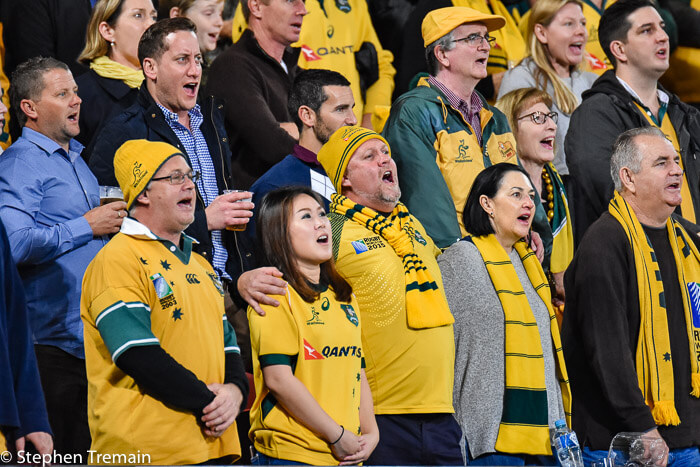 Friday's Rugby News sees the squad for this weekend, another edition of club corner, Cheika being disappointed and a contrast of grassroots.
---
Back in the ring (rose)!
Let's get ready to rumble! Ladies and gents, it's that time of the week again, so let's see what the go is for the weekend.
The Wallabies head into round two with the Irish, and Michael Cheika has named an unchanged squad for the first time in his forty-six games in charge of the green and gold.
The lads will be up against an Irish squad full of their strongest players, with Johnny Sexton, Rob Henshaw and Garry RRRRingrose (actual spelling) back into the mix.
The Wallabies however did hold many of these players off when they came on the field mid-way through the game last week. Either way, we're in for something special here.
Wallabies squad:
1 Scott Sio
2. Brandon Paenga-Amosa
3. Sekope Kepu
4. Izack Rodda
5. Adam Coleman
6. David Pocock
7. Michael Hooper (c)
8. Caleb Timu
9. Will Genia
10. Bernard Foley
11. Marika Koroibete
12. Kurtley Beale
13. Samu Kerevi
14. Dane Haylett-Petty
15. Israel Folau
Reserves
16. Tolu Latu
17. Tom Robertson
18. Taniela Tupou
19. Rob Simmons
20. Lukhan Tui
21. Pete Samu
22. Nick Phipps
23. Reece Hodge
The forecast is for heavy rain, so expect an old-school arm wrestle that'll go down to the wire. The Irish are a good chance here to take it, with their big guns ready to go after a week off. But I'm going for the Wallabies. That performance last week showed the potential we all know is there in this team, and I reckon if they channel that again it'll be enough to get them home. Wallabies by 2.
Check out our match details here, as well as Ireland's squad as well.
The Western Force have the weekend off, as they host the Crusaders on June 22nd. The men from the west will have a lot of homework to brush up on, after they went down to the Rebels 12-28 in a emotional clash at NIB last week.
The other matches on the international front see Tonga host against arch-rivals Samoa, while Fiji will come up against a dangerous Georgia outfit. Japan will look to win their second game in a row against the Azzuri, while New Zealand host France in what is set to be a fiery clash after incendiary comments earlier this week. 
Finishing up, the Springboks will look to wrap up their series against an underperforming England, while the Pumas will look to make up for their god-awful performance last week when they host Wales again in Santa Fe. Finishing off, Canada will host Russia while the USA will have their work cut out against the Scots.
Keep these fixtures comin.'
Club Corner
The Shute Shield, South Australia's Coopers Premier Grade and the Dewar Shield all enjoyed a bye last week, however the rugby gets back underway this weekend in all of those three states with the following fixtures:
Intrust Super Shute Shield Round Ten Fixtures:
Gordon v Eastwood
Manly v Parramatta
Northern Suburbs v Eastern Suburbs
Randwick v Southern Districts
Warringah v Sydney University
Coopers Premier Grade Round Seven Fixtures:
Onkaparinga v Souths Suburbs
Old Collegians v Burnside
Brighton v Woodville
BLK Dewar Shield Round Eight Fixtures:
Box Hill v Melbourne Uni
Harlequin v Footscray
Melbourne v Endeavour Hills
Power House v Moorabbin
The rugby did however continue in the other three major club competitions, and we'll start in the nation's capital this week.
Round Ten of the John I Dent Cup saw Queanbeyan, Gungahlin and Tuggeranong all enjoy a weekend off. However, Easts fell at home to a resurgent Uni-Norths 26-41, while Royals hammered the living daylights out of Wests, 43-0.
Round Eleven Fixtures:
Gungahlin v Royals
Queanbeyan v Wests
Tuggeranong  v Uni-Norths
Easts have the bye.
In Brisvegas, the Hospital Challenge Cup continued into round eleven last week, with a solid round serving as the perfect prelude to the first Wallaby test of the year. Uni of Queensland inflicted a 45-24 win over Brothers, Easts got pumped 7-41 at home by Souths, Bond University overcame a strong GPS outfit 46-31, and Sunnybank went down 24-55 to Wests.
Round Twelve Fixtures:
Brothers v Easts
Souths v Norths
Bond University v University of Queensland
GPS v Sunnybank
Wests will have the bye.
And finally, we head over to beautiful WA for the Fortescue Metals Group Premier Grade, which had round nine last weekend. Kalamunda travelled to Palmyra and thumped them 13-52, West Scarborough went down in a 10-16 thriller to Cottesloe, Nedlands grabbed an important 17-14 win over Associates, the Cavaliers could only manage one shot on goal in their 3-46 loss to UWA, the Southern Lions went down 19-36 to Perth Bayswater, and ARKs got the job done in their 58-27 win over Wanneroo.
Round Ten Fixtures:
Joondalup v Cottesloe
Perth Bayswater v Nedlands
Associates v UWA
ARKs v Kalamunda
Southern Lions v Palmyra
Wanneroo Districts v Wests Scarborough
Coastal Cavaliers will have the bye.
I never get sick of hearing about club rugby. Get down to your local club this weekend and remember: hugs not drugs.
Not very nice
Neil Francis has pissed off some folks again.
Writing for The Independent, the former Ireland international unloaded on David Pocock.
"I think David Pocock is a cancer on the game," he wrote.
"Yes, I do have grudging admiration for all his abilities and it is great when you have a player like that in your side… he had six legal turnovers and three illegal turnovers, and he and his buddy Michael Hooper managed to slow the ball down more than enough to stop any rhythm that Ireland looked like they were beginning to achieve.
"You have to make special preparations to counter Pocock."
Regardless of the grudging respect, Michael Cheika played a straight bat when asked about the comments by rugby.com.au. 
"That guy needs to choose his words a little better I think, to be honest," he said.
"It's not a very nice thing to say.
"I'm not worried about what he thinks about Poey's footy, I just think that's not a very nice term to use.
"There's people who are really sick out there. I'm not into that.
"He used to say a lot of stuff about us when I coached Leinster as well. Some unflattering words he would use for his own publicity. That's fine.
"[Poey] He'll wear it, he's a tough guy. I think it's been a bit overblown.
"He's just going to rucks and trying to make tackles and get up. That's football, that's rugby.
"I don't know why it's such a big deal. He's working real hard, he's got great work ethic, he's tough, he can take a battering and he can keep getting up.
"He's doing what he does, that's his contribution to the footy team."
Francis took aim at Poey for his role at the ruck at slowing the game down, but Cheika pointed out that Poey is watched closely at the ruck by the ref (especially since the rules changed last year), and that his skills go beyond just causing headaches for the opposition in the ruck.
"It's usually the combination of how the opposition team plays and how that lets him get into the game sometimes and sometimes it's not as open for him," he said.
"But he's got a lot of other skills apart from just the ruck.
"That's good, everyone should just keep watching him at the ruck and they'll forget about the other good stuff he does on the field."
A tale of two grassroots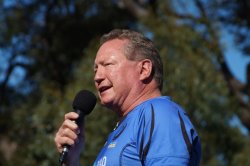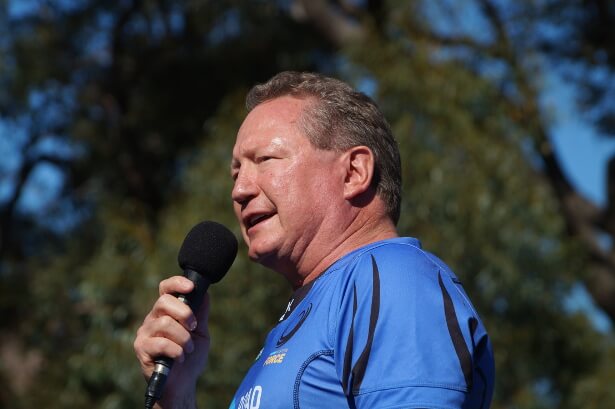 The Sydney Morning Herald took the time to have a chat to Twiggy ahead of the Force's game against the Rebels, to examine why he took it upon himself to save the game in the west.
"I was not a great rugby tragic, I was just a supporter of rugby," he said.
"But when I saw kids weeping on television and kids weeping at games that they'd lost the side they hoped to play for, I though 'oh I've got to step in here'."
The article tread over many of the points that we already know, that Twiggy put $50 million on the table to keep the Force in the competition, the ARU turned it down, and that the senate inquiry found the whole thing a bit dodgy.
However, despite the Force's loss things are looking up for rugby in WA. World Series Rugby is proving a smash with the WA rugby public, the Rugby Roos program is being rolled out across the state, and Twiggy is working on the IPRC for next year.
"Out of every setback comes the seed for success," he said.
"If you love Western Australia, you love the Western Force.
"I was saying to Tim [Sampson] right after the match that you've got the start of something special here.
"The Force boys are playing for each other."
However, he admitted he still has unfinished business with many in the east.
"I think there needs to be a reopening of that [Senate] inquiry – they were major allegations, which Rugby Australia has been silent on," he said.
"They have been silent, and I ask why?
"Now that a respectable media organisation has illuminated that what I was told by the very chairman of Rugby Australia – have illuminated in that media's view was allegedly false – the Senate needs to get to the bottom of that.
"I was assured by the chairman of Rugby Australia that he knew nothing about the switch between [Andrew] Cox and the VRU, that it surprised him, it took him off guard, but now that it was done, it couldn't unwind it.
"If those articles are true then senior members of Rugby Australia allegedly knew about the switch and the Senate should get to the bottom of it."
The Force clearly are onto something with what they are doing now, especially considering their attracting the Crusaders to come over next week and play a game.
"What a wicked opportunity to come up against a champion franchise in the Crusaders, obviously we've got a few things we can work on, but it's an unbelievable opportunity," Twiggy finished.
Meanwhile, the contrast couldn't be more different in Western Sydney.
In a damning article from The Daily Telegraph, rugby is reportedly at a crisis point as new data shows AFL junior numbers have risen dramatically across all of Sydney, including in rugby's traditional heartlands.
Add to that, that firstly the Penrith Emus and then the Greater Sydney Rams were cut from the Shute Shield and NRC respectively, it looks like some hope (like what is in abundance over in WA) could sure come in handy for those die hard fans in Sydney's west.