My apologies for the late column, but I have just spent the week-end in the Queensland country town of Goondawindi, on the border with NSW, about four hours drive west of Brisbane. With Chris "Buddha" Handy, ex-All Black captain, Wayne "Buck" Shelford and World Cup winning Wallaby centre, Daniel Herbert, I attended their fund-raising dinner to support their Under-12 team's upcoming tour of New Zealand.
A highlight for me was the short speeches delivered by two of the boys, who both spoke of their love of the game and the personal qualities that it develops in them and their team-mates. It was a great night and rugby is well and truly alive and kicking in Goondawindi.
Equally, the Aussie Super Rugby teams some encouraging signs this last week-end. Generally, I have been less than impressed with our teams so far this season and I have said so on a couple of occasions, but I saw considerable improvement, with the exception of the Queensland Reds, pretty much across the board.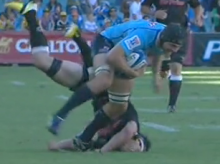 I constantly look for quality technique, with accurate execution under pressure – fundamental are passing, straight running, accurate support lines, leg drive in contact and alignment and realignment in both attack and defence. The NSW Waratahs, who have been on the receiving end of my criticism a couple of times already this season, really stepped up a couple of levels in these fundamentals. They ran much straighter and, although a long way from his best, Berrick Barnes must take some credit here.
Tom Carter followed Berrick's lead and surprised me – his role was significant. Subsequently, the forwards – with accurate and urgent support – were able to apply loads of pressure around the tackle contest. Cliffy Palu, Tatafu Polota-Nau, Sekope Kepu and, later on, the two Timani brothers, were major contributors. They had to come from behind on three occasions to win and against a South Africa team – they really know how to "close a game out" – this is no mean feat. McKibbin also surprised me and his man-of-the-match award was well earned. This bonus-point win was significant!
The Melbourne Rebels brought the Western Force crashing back down to earth, following the Force's win away in Sydney last week. Straight running again featured and accurate passing, with the ball always in front of the receiver, meant constant pressure on the Force defence. Accurate support allowed patience at the tackle but still urgent recycle, giving a runaway three excellent tries in the first 22 minutes, for a 21 – nil lead.
Unfortunately for both his team and their supporters, Danny Cipriani, who had been a significant contributor, particularly with the accuracy of his passing, had to leave the field. His absence saw a drop in the ambition of his team and the Force were able to get back into the game almost immediately. By half-time, they had added two tries of their own. This was a telling victory for the Rebels, who were without O'Connor, Beale, Kingi and Mortlock. Add Cipriani's departure at the 25 minute mark and that's a load of talent on the sideline.
The Brumbies have surprised us all and the efforts of Jake White and his support staff in assembling a group of almost "unknowns" have delighted the Brumbies faithful. Let's face it, they have been short on "delights" for a few years now. Their win at home against top-performer, the Highlanders, was full of merit. They have a simple formula, but, after all, rugby is about doing the simple things well, with accuracy and urgency. The Brumbies have both of these qualities. The "secret" of their success starts with their skipper, Ben Mowen, a genuine leader and a genuine bloke.
Subsequently, their rugby is the same – genuine. Subsequently, they don't waste opportunities. They keep the ball in hand from turnovers and always finish accurately. They remain the most consistent of the Aussie teams, and any team who want the points against them will have to beat them; they won't beat themselves. Other teams could do well to emulate all of these features. Michael Hooper, their young flanker – actually they are all pretty young – has pace, power and commitment and must surely have now cemented a starting spot.
The Reds, our showpiece team, are battered and bruised. Their fourth choice fly-half, Dallan Murphy, struggled under difficult circumstances. If he had had the choice, he probably not have chosen Loftus Versfeld Stadium, with a well under-strength Reds team, for his debut game. Nevertheless, the Reds will agonise over his selection for next week's game against the Force in Perth. Like the Bulls, the Force will not have forgotten last season's losses to the Reds, when they were close, and perhaps a little unlucky, on both occasions.
Their tackling was not up to standard – Murphy was a major offender – and they did not value possession highly enough. Jono Lance was an exception to this criticism and his play, including his defence, was promising. Unfortunately, a late injury – reported to be a broken leg – is the latest chapter in an horrific list. They will need to display tons of character next weekend. Fortunately, they have frequently shown that they have plenty of this.
It has been reported that Paddy O'Brien is soon to be removed from his position as IRB Referee supremo – at last! It appears that Wayne Barnes – a bit unlucky, I think – and Bryce Lawrence are also to be demoted. On the evidence of last weekend's games, there are a couple of others who could go with them. Bring back, Stu Dickinson!