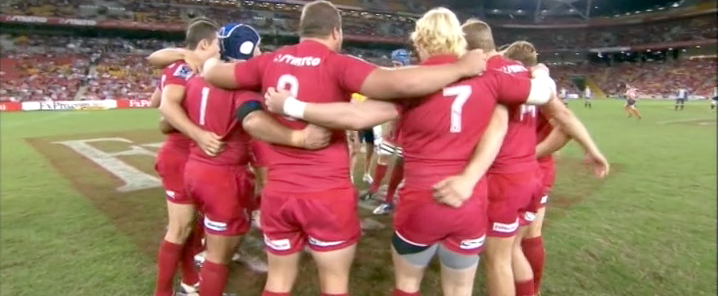 This was always going to be a very important week for the Aussie Super Rugby teams, with the Reds against the in-form Stormers, the Brumbies away in Pretoria to the Bulls and the derby between the Waratahs and the Force. All were important matches for different reasons and I, for one, got a lot from them.
The Reds were severely disrupted by early injuries to two mid-fielders, Lane and Tapuai — and for a short while played Radike Samo in the centres — but still battled gamely against the odds to stay in touch on the scoreboard. The Reds have never been short on courage and this was yet another example, but I'm still concerned with the lack of form of some of their name players.
I continue to believe that neither Higginbotham nor Horwill contribute enough in the tight stuff, especially in attack. Maybe Ewen McKenzie's decisions to sub both of them also indicate his concerns. Genia's passing is not good enough — he lifts the ball, winds up with a backswing and takes a skip step before releasing, far too often. This has very little to do with what's happening in front of him; it's simply poor technique.
On the plus side, the front row and Beau Robinson are definitely contributing. Rob Simmons is having more impact in his ball carries and his defensive hits — maybe a sign of his young body maturing. He's still got a way to go, but he's heading in the right direction.
The Brumbies gave some answers to the questions of – I'm sure – all of us, and they stood up and had a go. Technique under pressure was sound and execution of the fundamentals – catch and pass, straight running, realignment, ball in front, numbers and leg drive at the tackle, speed off the line in defence – was good. Well done, coaching staff. They had real courage and determination – the qualities of winners!
Their front row was also good and Fardy, Hooper, Mowen and Auelua all advanced their standing. I had wanted to see how they went against the big boys. Now I've seen them and they passed the examination. If they can do as well against the Stormers and the Crusaders, they should all get a call to the next level.  Nick White was excellent – fancy having a No. 9 who is always at the tackle and shifts the ball – either via the pass or the snipe – without delay! What a revelation! He is clearly the next best after Genia – who should have a good look over his shoulder.
Even McCabe is looking more complete and is gradually adding other qualities to his undoubted courage. I would not be forgetting Lealiifano, Speight, Tomane and Mogg either, if I were a selector. Carter has qualities also: to add to his two-metre height he has skill and courage and excellent genes – but it's too soon for him just yet.
The Waratahs continue to flatter to deceive. They looked fantastic at the start, with speed and numbers to the tackle, good body position and leg drive, no delay in the recycle. McKibbin was looking very good; Carter continued his (surprising) good lines, etc; then it all slowed down horribly. At the 21st minute, I wrote myself a note (for the Tahs), 'Keep up the pace of the game'. I should have shouted the message, because they didn't heed my note. '13 points in 13 minutes, that's obviously enough, let's switch off!' A stupid, lazy penalty from Dean Mumm and soon after a try to the Rebels.
They aren't great, the Rebels, but all teams are worthy of their opponents' respect, and for the Waratahs to expect to win without trying is disrespectful! No good! Then we had the weekly switch-off by the Tahs in the 50–70 minute period, this time after the soft try to TPN – well taken though it was!  Then, following Horne's try, they knocked on from the restart and gave away two successive penalties – try to Rebels! Our subsequent restart was short, then three successive penalties, Horne back on, more penalties, Beale great, another try! Meanwhile, Halangahu reminded us of his total lack of interest in tackling.
I was heartened when I looked at the bench and saw Rocky Elsom, Sitaleki Timani and Sarel Pretorious sitting together – fair bit of ability there – but we must use our bench more effectively. Other positives came from Berrick Barnes's kicking – he got excellent length to touch – and Elsom got a few minutes and looked confident. The Tahs should have been desperate for the bonus-point try; indeed, if they had secured it, they would now be top of the Aussie conference, but when they were awarded an easy penalty in the dying minutes, Alcock pointed at the posts. Then, McKibbin kicked aimlessly on turnover ball – again! What is going on inside some players' heads? The Waratahs' performances are nowhere near either the required standard or their potential.
Elsewhere, the Crusaders played fantastically well against the previously in-form Hurricanes. They have added a new level of intensity and physicality to their play and have certainly thrown down the gauntlet to all other teams, but I saw something entirely new in this game. I saw a try awarded, to the Crusaders, after three successive, blatantly obvious forward passes! Could this be one for the Guinness Book of Records?