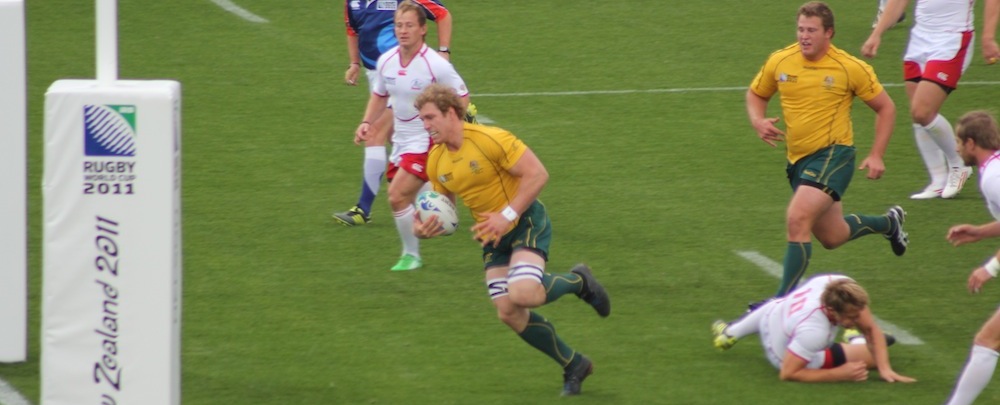 Australia played some quality rugby in the first 40 minutes against Russia on Saturday, then fell into something of a shambles when the (advisable) changes were made at the break. The tournament-ending injury to Drew Mitchell was heartbreaking, for him and for us, but the return of David Pocock, the quality of Berrick Barnes and the rejuvenation of Radike Samo — albeit selected on the wing — gave us a much-needed lift.
The Wallabies began at pace, full of intent and with loads of accuracy in their execution — hallelujah! Lines of running were almost straight, passes were in front of the receiver and, for the first time in memory, support was in behind the ball-carrier. Even Scott Higginbotham was supporting in depth and in behind on tight lines. I was so moved that I sent a text to Phil Kearns saying just this and adding that the coaches must have had a long chat to him.
Alas, I spoke too soon. He and a few of his teammates soon reverted to type and, once again, over-running the ball-carrier became the order of the day. Indeed, total over-run of Luke Burgess's second-half clean break gave him no viable options at all and allowed Russia's first try. We became loose, looking for the easy points (viz. Quade's hopeful cut-out pass) and our game virtually disappeared. One of my (many) suggestions to my teams is that they 'forget about the scoreboard'; I add that 'what was right at nil-all, is still right at 30-0 or 0-30'.
Anyway back to the positives! Berrick Barnes was great. He is exactly what we need in the team. He has a mature, clear understanding of the game and executes accurately. He can run, step, pass, tackle and kick — all accurately. If he is not selected for the run-on team, the humorous suggestion that Robbie Deans is actually a Kiwi plant will gain some distinct credibility.
David Pocock was also great, although the Russian tackling was less than committed, and his support play linking backs and forwards was excellent. Come to think of it, there's a great idea. Let's get the forwards to chase the ball, link with the backs and do something with it when they get there. During this period of Pocock's presence, even Burgess was playing close to his forwards and passing from the ground. It was all looking really good. If ever you want a picture of how attention to the simple detail of the attacking game will look, go no further than those 40 minutes!
Samo was playing with a smile on his face — take him to the hot baths each week! Even though he played winger, and pretty well at that, he made some forward-like contributions that he has not made since the Tri Nations finale. Hope springs eternal in the human breast.
Last week, I suggested my team for the Wallabies for the next phase of the tournament. Now that the injuries have been declared, I'll have another go. From 1 to 22: Alexander, Moore, Slipper, Sharpe, Vickerman, Horwill, Elsom, Pocock, Genia (c), Barnes, Ioane, Horne, Ashley-Cooper, O'Connor, Beale, Polota-Nau, Kepu, Samo, Hodgson, Burgess, Cooper, Turner.
The team that I think will be selected is: Kepu, Moore, Alexander, Horwill (c), Vickerman, Elsom, Samo, Pocock, Genia, Cooper, Ioane, Barnes, Ashley-Cooper, O'Connor, Beale. Polota-Nau, Slipper, Sharpe, Higginbotham, Hodgson, Burgess, Horne.
We are still in with a chance. We're a bit hit-or-miss, in fact a big bit hit-or-miss, maybe sometimes more miss than hit! But, if we hit, we're very good and then we're hard to beat. Indeed, World Cups are all about hitting at the right time.
Psychologically, we've shown at times that we can be up for it and, surely, we will be up for this. Technically we still have a long way to go, but we gave some indication against Russia that we could improve still further. Forget the standard and standing of our Russian opposition; accurate execution is entirely in our hands – outcomes will be effected by our opposition. Hope springs eternal in the human breast.
South Africa have looked good. In fact, pre-tournament I suggested a South Africa v. Australia final. This is no longer possible. Ireland continue to improve. I, unlike many others, was not super-impressed with their performance against Australia, but they were great in a difficult match against a committed Italy. Ronan O'Gara looked a different attacking player in this match – Alan Gaffney, take a bow!
Wales look a complete team, but I think that Ireland will prevail. England's hard-fought win over Scotland should not be underestimated either. They look a very mature side, with real strike power and an ability to play whatever game is required. France were horrible against Tonga, but perhaps that just signals an outstanding performance around the corner. Argentina remain in the top tier, but they are not the side of four years ago in France.
The minnows have all moved forward considerably, so some things are working. Maybe the IRB's initiatives are having an effect, but I would not jump to conclusions. The next RWC will surely throw up some new threats!
The favourites must still remain New Zealand. They have been dealt a horrible blow with the injury to Daniel Carter and we all are saddened by his absence. He is one of the truly great players and an ornament to the game. They nevertheless remain a complete team and can play a high-paced, high-power, high-impact game with real attention to detail.
I'm excited!