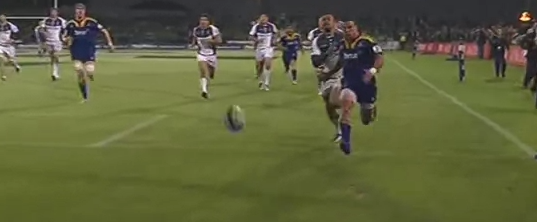 Last week, I was happy enough to write that "there were some encouraging signs for most Aussie teams". This week the results told a different story, and it was back to earth with a resounding thud. However, not all is lost, I reckon, because there were still some signs that the "Aussie game" is starting to heed some lessons – most of which, by the way, have long been obvious to most supporters, if I can judge by hundreds of comments from you guys, over that same period.
Let's start with the Rebels and get it over and done with. They were smashed – no two ways about it – by the Highlanders, but horrendous refereeing by Marius Jonker gave them a big leg up. The Highlanders first try, with the Force leading 9 points to nil, came from an obvious forward pass. The Rebels were always "just hanging on" and this took some wind out of their sails.  Another try later came from another forward pass, but, in truth, this would have only affected the margin. The Highlanders are a good side, but they play with total disregard for the laws of the game, particularly at the tackle. You need a firm ref if you're playing them and Jonker was light years from that. He should be demoted!
Still, the Rebels continue to look better to me. The fundamentals of their game are better – full marks to their coach, Damian Hill – but they need a few more high quality players.
The Force also look much better. Their attack asks some questions – and would ask a few more if Stannard could run straighter at fly-half. Cummins adds pace and footwork at centre. They get more forwards to the tackle than last year and subsequently can recycle the ball more quickly. This gave opportunity to Sheehan – which he took – and to their hardworking pack.
While the Force generally looked hungry – save for an early second-half period, when Mafu gave away a stupid, lazy penalty, leading to Van Humphries' try – the Reds looked positively dreadful. I know that they, like most teams, have a lot of injuries, but they are still permitted to play quality fundamentals. Genia continues to be ponderously slow with his pass and he dawdles across the field with the ball in hand. Higgenbottham should hand back his pay packet, given the amount of hard work – always the requirement of a No.6 – that he avoids.
Pretty much every wide play they execute comes from a (badly executed) second-line play. I don't like them although they can, if excellently executed, be sometimes beneficial. There are much more effective plays, which will, unlike second-line plays, ask better questions of the defence – and this is THE fundamental requirement of a quality attack. The Reds should stop feeling sorry for themselves and get stuck in!
The Waratahs also are looking better, despite their loss to a very good Chiefs side. I see some signs of Alan Gaffney's work coming into their game – for example, much better catch & pass and straighter running. Their support play is improving also and, especially in the first half, allowed for frequent off-loads and good quick recycled ball. Consistency needs to lift, but, if you're going in the right direction, you've got some chance of reaching your destination.
Barnes and Horne were way off the pace, but attention to detail will reap benefits – "Foley and Gaffney, front and centre!" Vickerman and Elsom would be useful, asap, but, in the meantime Sitaleki Timani could add some grunt. AAC remains one of Australia's best players and Tom Kingston is worth keeping in mind. The Waratahs supporters will reappear "out of the woodwork" if the team continues in this same direction.
The Chiefs had more firepower. From Barlow at scrum-half, through Cruden, SBW, Kahui, Nanai-Williams, Robinson they are all real threats to any defence. Add a genuine, hard-working forward pack and you've got a good side.
The Brumbies continue to impress. They allowed the Sharks to score a couple of runaway tries against the run of play – full marks to the Sharks – when better attention to detail, in terms of urgency and accuracy in support, would have prevented this. I mentioned Ben Mowen and Michael Hooper last week. You can add Jesse Mogg, who has talent, pace and ticker "to have a go." Andrew Smith may have found a home at outside-centre. He is ex-Waratahs Academy and Australia Under-21, but has floundered for a while. He has pace and, importantly, size – something clearly lacking in the Wallabies mid-field.
Not the greatest weekend for Aussie teams, but, for my money, some clear reasons for optimism.
P.S. The Stormers –Bulls game in Cape Town was a cracker. No absence of commitment here!