Welcome to Green & Gold Rugby's Day Three coverage of the 2018 Commonwealth Games Rugby Sevens.
The men, knocked out of medal contention with a 17-26 loss to England last night, will contest the 5th-6th playoff against Scotland at 1:33pm.
The women will battle either New Zealand or England for Gold at 2:42pm.
Australia (Women) vs New Zealand, Gold Medal Playoff, 2:59 pm
Two halves of football weren't enough to separate Australia and New Zealand in the Gold Medal playoff, requiring a lungbusting period of Golden Point to find the winner.
It was a battle of titanic proportions, boiling down ultimately to who conceded the fewest mistakes. Today, that was New Zealand.
The match stretched on for an eternity but in the end, a footrace between New Zealand winger Kelly Brazier and 20-year-old Dominique du Toit decided the match in New Zealand's favour, 17-12.
Sales of fingernail clippers in the greater Gold Coast area may never recover as CBus Super Stadium collectively chewed theirs down to the bone in a last gasp thriller that served a fitting conclusion to a wonderful tournament.
Neither side could find any continuity in the first half as nerves and urgency usurped calm decision-making. New Zealand made the most of their opportunities, crossing first through superstar Portia Woodman and again through Michaela Blyde to lead 12-0 at halftime.
Whatever departing coach Tim Walsh said in his last ever half-time chat with the team he took to Rio de Janeiro Olympic Gold must have worked.
The second half was Australia's. Emma Tonnegato was tackled within five metres of the goalline before turning it over in the face of ferocious defence.
New Zealand cleared the line, but failed to recoup their lineout throw, falling instead into the path of energiser bunny Evania Pelite.
Crabbing across field, Pelite beat just about the entire Kiwi side but left the try to senior player Emilee Cherry to score.
With less than a minute remaining, crowd favourite Ellia Green broke free of the black jersey's grasp to score, earning Australia a chance to seize the lead with a conversion 18 metres in from touch.
The kick sprayed wide, leaving both sides deadlocked upon 12 points apiece.
In final play, substitue Cassie Staples of Australia booted the ball into touch to send the team's to golden point extra time.
Chants of 'Kiwi!' were met by even louder chants of 'Aussie!' as the teams sucked in their last gasps of oxygen before battle resumed.
Australia went close on several occassions as teenager Emma Sykes broke the line, while Vani Pelite just couldn't connect with Tonnegato on an 80 metre run.
New Zealand, through Kelly Brazier, broke through the line and sprinted for the left corner. The stadium rose to their feet as Cherry and du Toit of Australia gave dogged chase.
Brazier got their first, with du Toit in hot pursuit.
All present rose and applauded a fine match worthy of deciding the 2018 Commonwealth Games Gold Medal. New Zealand's, by all rights, in a trans-tasman clash few will ever forget.
New Zealand 17 (Tries: Woodman, Blyde, Brazier; Cons: Willison (1/2) defeated Australia 12 (Tries: Cherry, Green; Cons: Sykes (1/2)
Australia (Men) vs Scotland, Playoff for 5th, 1:33 pm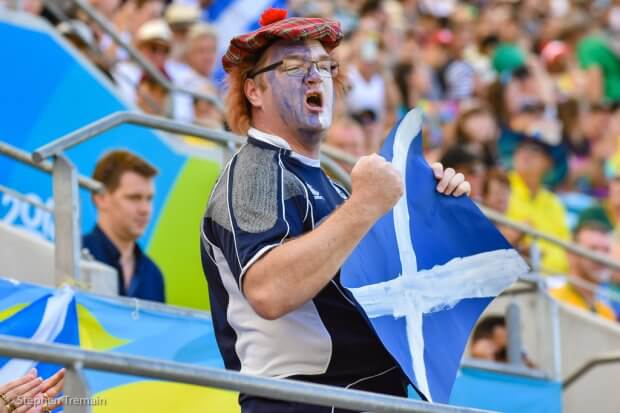 Australia have defeated Scotland 26-0 in the playoff for fifth place at the 2018 Commonwealth Games.
Though the Games have no official reward for a result that would have netted a Plate on the World Series, the team can instead take home an immense sense of pride in their accomplishment.
Losing three playmakers, coincidentally all Team Captains, forced the team to rely on depth in a competition where most, if not all, sides fielded full-strength outfits.
It is an admirable finish for a team that showcased fighting spirit in spades to bid farewell to popular coach Andy Friend after a period of astronomical growth in the Men's Rugby Sevens program.
The first half against Scotland was characterised more for the spectacular defensive shift put in by Man of the Match John Porch than any attacking spark, reeling off multiple try-saving efforts to hold out a determined Scottish outfit.
Maurice Longbottom would go on to create Australia's first try from out of thin air, beating four defenders with footwork before drawing a final man and releasing Jesse Parahi on the right wing.
Porch recorded his first try-saver seconds later, belting a runaway Scot into touch deep within Australia's defensive 22m zone.
Scotland were penalised for tackling 13th man Nicky Price off the ball with a yellow card, punished further by a second Parahi try through the guts of the Scottish defence.
Longbottom was soon in on the try-saving act, stopping a probing Scottish raid dead in its tracks with a dumping hit.
Not to be outdone, Porch snuffed out a certain try with a clutch intercept to preserve a 14-0 lead at the halftime break.
Longbottom's attacking vision created Australia's next strike, sending a grubber deep behind the Scottish line. Forward Lachie Anderson broke clear of the chasing pack to regather and score Australia's third.
Ben O'Donnell played the key hand in Australia's final try, weaving between tacklers before firing a peach of a cutout pass to find Boyd Killingworth on the left wing.
Porch kicked 3/3 conversions to score six points for the match, but saved as many as 21 points in his spectacular defensive performance.
Australia 26 (Tries: Parahi (2), Anderson, Killingworth; Cons: Porch (3/3), O'Donnell (0/1) defeated Scotland 0
Australia (Women) vs Canada, Medal semi-final, 10:59 am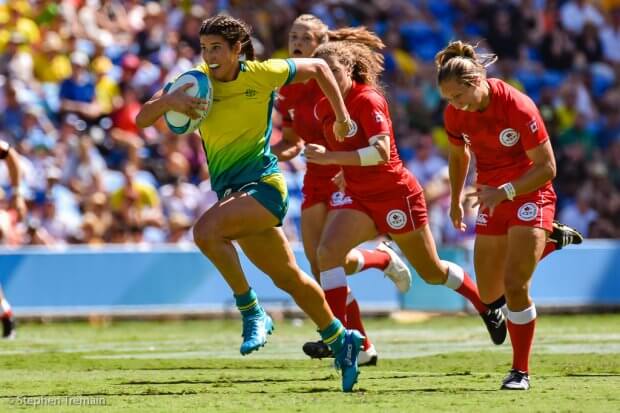 Australia are through to the Gold Medal playoff, handling Canada with ease to secure a 33-7 win in the semi-final clash.
New Zealand or England's women await at 2:42pm, but the Australians will enter that match will full confidence.
Canada threw a spanner in the works with an early try to inspirational skipper Ghislaine Landry, but the home side continued to accelerate the longer the match ran on.
Evania Pelite denied Canada a second try with a desperate try-saving tackle, setting the stage for Emilee Cherry to run 95m for Australia's first try from the resultant scrum.
Australia's newfound momentum showed no signs of disappearing as Charlotte Caslick drew her opposite number to unlock Emma Tonnegato down the right wing for her fourth try of the Games.
Canada forced a TMO ruling in the half's final play, but a grubber kick outraced all to the dead ball line, preserving Australia's 14-7 lead.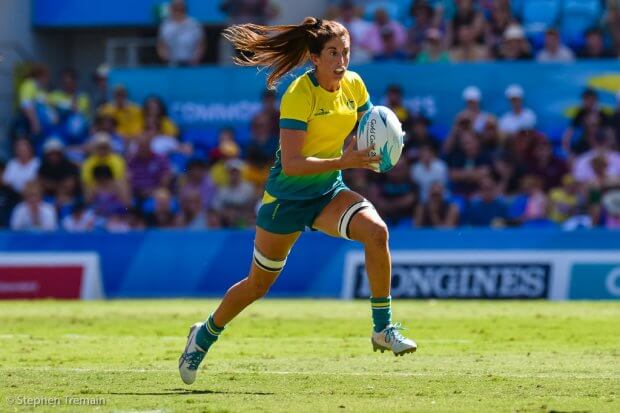 Tonnegato beat the defence around the corner to score Australia's third converted try to consolidate a promising lead, 21-7.
The NSW star was in for hat-trick a moment later, finding herself in space from a brilliant, flat Caslick cut-out pass.
Caslick would go in herself for Australia's fifth try, fending away from a defender and accelerating through to the tryline with 30 seconds remaining.
Canada launched one final raid but failed to crack the disciplined defence.
Australia 33 (Tries: Cherry, Tonnegato (3), Caslick; Cons: Sykes (4/5) defeated Canada 7 (Tries: Landry; Cons: Landry (1/1)
Australia (Men) vs Kenya, 5th-place semi-final, 10:15 am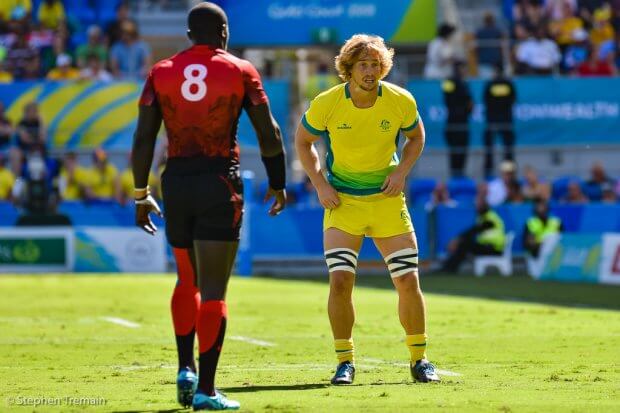 Australia, down three captains within three weeks, booked their place in the 5th-6th playoff against Scotland with a comfortable 33-5 win over Kenya.
Kenya were considered dark horses for medal contention at the Commonwealth Games after arriving with momentum from a successful Hong Kong campaign, but the fresh Aussies had too much in the tank.
Australian hooker John Porch led all scorers with 13 points from one try and four conversions, while Maurice Longbottom's star continued to rise in another scintillating performance.
Kenya opened the scoring with a blindside scoot from scrumhalf Billy Odhiambo, but that would prove their final hurrah for the match.
Ben O'Donnell collected an excellent John Porch offload to score on the right wing to equalise shortly afterwards, where Porch nailed the sideline conversion to scratch Australia ahead.
Kenya threatened to strike back as time sounded for the first half, but a spilled pass found its way into the hands of Longbottom with plenty of work left to do.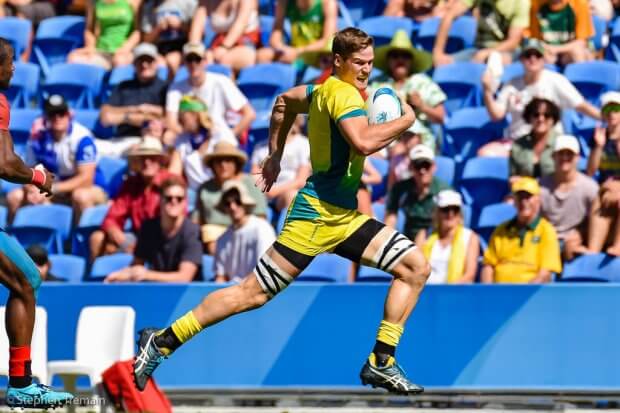 Longbottom beat several tacklers with his footwork before racing away for the corner, planting down as he dived out-of-bounds for his fifth try of the tournament.
Kenya opened the second half as they ended the first, with a long linebreak leaving a trail of bodies in their wake. John Porch saved the day with a key intercept and sent Australia into the the red zone, where Longbottom generously handed off what would have been his sixth Games try to Myers, forging a formidable 19-5 lead.
Porch scrambled over for Australia's fourth try through the absent Kenyan ruck defence, while Ben O'Donnell strolled over for his second try, made simple by the roaring hole ripped through the Kenyan line by a rampaging Sam Myers, soon after to close out the match.
Skipper Tom Lucas was ruled out for the day before kick-off and replaced by Queensland local Nicky Price, the squad's slated 13th man.
Australia 33 (Tries: O'Donnell (2), Longbottom, Myers, Porch (2); Cons: Porch (4/5) defeated Kenya 5 (Tries: Odhiambo; Cons: Agero (0/1)