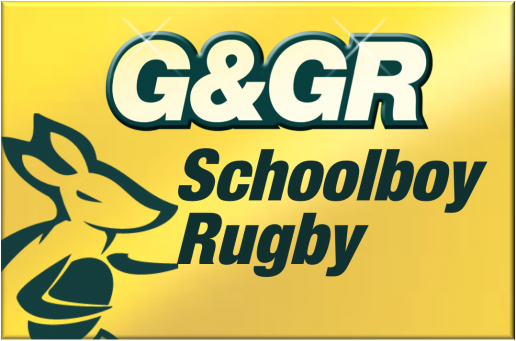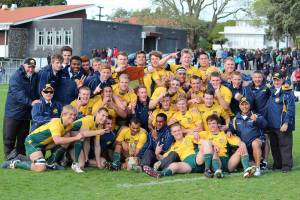 The young Aussie players and their travelling supporters were over the moon at Auckland Grammar School. With Australia ahead 16-14, time was up and the Kiwi lads had just been pinged for the second time in as many minutes a few metres from the Australian goal line.
Aus kicked the ball out and – game over.  It was the fourth time in the last six years that they had beaten their arch enemies and in doing so they retained the Novotel Trans-Tasman Trophy. But you might not have predicted that result a week before when Oz Schools arrived from Fiji.
NZ Barbarians 24 Australian Schools 5
It is necessary and desirable that all squad players start in one or two games on a Pacific schools tour. If the best players were to start in the three test matches on this trip it was certain that not many test starters would run on in the other two games against 'A' sides.
The "reserve team" had already lost to a Fiji President's XV 18-9 and with only four test starters against Fiji running on against the Barbarians, it was likely they could lose again.
They did. The Kiwis were too dynamic across the park and their support play was brilliant. Had they not blown a few more tries the score would have been uglier than it was.
Australian Schools 80 – Samoa Schools 7
With their best players starting the Aussies bounced back against Samoa schools (in Hamilton, NZ) as they had when they beat Fiji Schools after a loss. Skipper Whiteley was crocked but most of the starters against Fiji ran on.
It was festival rugby for the Aussies who scored twelve tries to one. It didn't mean a lot for the Kiwi test but if you wanted to hang you hat on anything it was that the Aussies beat Samoa by 17 more points than NZ had beaten them by a few days before.
Australian Schools 16 – New Zealand Schools 14
It wouldn't have mattered if Aussie Schools had won all their games on tour up to now, or lost them all, or won two and lost two, as was the case – this was the game that would define their tour.
8. Whiteley was back in the saddle but 12. Tuttle , though named, had tonsilitis, and Moeroa took his place.
First half
The Aus pick and go looked good from the start and after three minutes they marched up the park and forced a ruck flop. Wilson slotted the penalty in the strong wind—3-0.
In the 7th minute 8. Whiteley, who played shooter all game, forced Kiwi 10 Waaka to drop the ball. Placid got it and his pace convinced the Kiwi winger that his 8 and slow 9 had no chance to catch him. He moved inside just in time to see Placid pass outside to the admirable footie player 14. Robinson who hared upfield and beat a heavy legged fullback inside to score—8-0 Oz.
Then came a series of offside penalties which could have lost the game had the Kiwi kicker been on song. As it was NZ got two penalties over. 8-6 Austalia. Then, still in the dog box of their own half, a penalty was kicked to the corner and the Kiwis mauled it over the line. 11-8 NZ at oranges.
Second half
Placid sliced through once but after that came a poor period of Aussie play: pulling down mauls, a yellow card for repeated infringements, and lineout throws intercepted.
After penalties were swapped NZ was ahead 14-11 and that's how it was with five minutes to go.
Turning point.
Dempsey started it. He scarcely had a chance all day to go on a signature run through traffic, but he got the ball near halfway and drove himself at the tackle with legs pumping. His team mates latched on for a long gain. Scrummmie Pulver dished the ruck ball to Fakaosilea, thence it went to Kavapalu who dished deftly to Porch.
He ran further and went to ground and the ball was sitting there but Pulver, supporting inside, ran across to take out the fullback ( in front of the ball, but was this tiddlywinks?).
Thus Gunn ran with it and Pulver returned from his cleanout to pass therefore to McIntyre who saw NZ narrow; so kicked wide at Robinson near touch. The ball bounced and hit Robbo in the hands which he used to dish out to the lurking Stewart who popped the ball to Placid who rolled over and placed the hot potato on the grass as if to cool it down. Thus 16-14 Oz.
NZ had the ball after that but Oz had the vibe. Two raids were reeled back and Kiwis had to hold onto the ball and the vibe got them. Penalty to Australia Game over.
This was not a great Kiwi school side; nor was the one last year, but give credit to Oz for knowing how to beat them. Apart from indiscipline in the middle third of the game Oz showed good rugby awareness for attacking possibilities (as with the Placid try) and they were scarcely ever out thought on defence.
However the scrums were ropey in the first half and the lineouts were poor throughout the day.
Australia: 16 (Andrew Robinson , Jonah Placid tries; Tom Wilson 2 pen) New Zealand: 14 (Etimani Sului try, Broc Hooper 3 pen)
Star Aussie Players
Placid played like he did in the U/16 champs last year: running like Christian Cullen sometimes and thinking two moves ahead like a chess player. Let's all hope that he stays in our code. He still has to learn how to be a custodian at fullback and to kick from hand better, but his running is superb.
Whiteley was a penalty magnet playing shooter but he was the soul of the team. Staniforth was still good value even if you subtracted the penalty tax; he's a harder player than I thought.. Reserve players bakrower Fakaosilea and prop Kavapalu won't get a lot of mentions in the paper but I like the way they counter-rucked in the last 10 minutes and who could ever forget the forcing of the final penalty by that Big Faka? .
I have not given those players much praise before nor 12. Moeroa. He defended aggressively and even if the Kiwi commentators credited Gunn for one big hit, we know who it was big fella.
Well done lads—you did Australia proud.
.