A converted penalty by  fullback Adrian Henley in the last minute saw St. Peter's snatch victory away from Ashgrove in the last round of the AIC season.
In a tit-for-tat affair, Ashgrove managed to dictate periods of play through strong and disciplined performances by their forwards and were able to answer any points Peter's compiled with interest.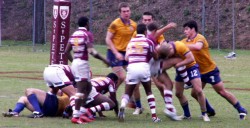 But Peters' electrifying backs proved to combustible to contain in the dying stages setting up a memorable win.
Both teams traded penalties early on through Ashgrove inside backs Mitch Treleaven and Henry Devine and Peters' Henley.
Further penalties were converted, however Peter's crossed the white line first after dragging defenders to the blindside, creating an overlap out wide which Narhyl Bennett exploited to put his centre counter-part Linton Enoch over.
But the Ashgrove pack managed to rumble over the advantage line with every run, and soon after lock Ryan Lancashire burrowed over.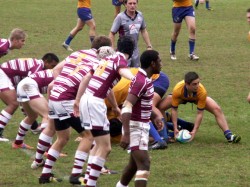 A strong tackle and consequent forced turnover by Devine gave Ashgrove another penalty which was converted by Treleaven  to lead them into half time with a 6 point buffer. The scores at halftime read Ash 17 SPLC 11. 
In the second half Peters' forwards began asserting themselves and pinned Ashgrove down in their own 22.
Off this defensive pressure winger Chris Hansen then smothered a clearance kick and regathered to score from five metres out.
Ashgrove replied, reclaiming the lead when prop Joe Cloake crashed over after more rumbling runs from their entire pack worked them deep into Peters' 22.
Momentum then swung Peters' way and much like their first try, they were able to drag defenders to one side freeing up space out-wide for Hansen to cross in the same corner for his second, putting them behind by one point with five minutes to go.
Peters' backs broke loose late on and Henley ran 60 metres, nearly crossing, but was dragged down five metres short of the white line.
In the same attacking play, desperate for the win, Peter's captain Shaun Laurie attempted a drop goal just outside the 22 but narrowly missed adding even more suspense to the game.
But Peters' moment came with 50 seconds to go and they were awarded a penalty just outside Ashgroves 22.
Henley calmly slotted the pivotal kick putting them 2 points ahead with no more time left on the clock, and despite some early celebrating from the crowd, Peter's survived the ensuing kick-off when Laurie took it on the fly and it was booted out emphatically off the next ruck to claim the major scalp.
Even though the premiership had already been wrapped up by Iona, Peter's managed to end their season on a high, echoing last years premiership deciding clash that saw them upset the traditionally dominant Ashgrove in much of the same way.
Although they led for most of the game and during the dying stages, Ashgrove will be disappointed with the result, slumping to their third loss this season and will be out to restore some pride in their once all conquering jersey next year.
St. Peter's 26 (tries: Hansen 2, Enoch, cons: Henley, pens: Henley 3) Ashgrove 24 (tries: Lancashire, Cloake, cons: Treleaven, pens: Treleaven 3, Devine)
Other Matches
Iona 95 def Padua 3
St. Patrick's 49 def Lauries 15
St. Edmund's 21 def Villanova 17
| School | Played | Won | Lost | Drawn | Points for | Points against | Points differential | Points |
| --- | --- | --- | --- | --- | --- | --- | --- | --- |
| Iona | 7 | 7 | 0 | 0 | 274 | 73 | 201 | 14 |
| Eddies | 7 | 5 | 2 | 0 | 218 | 120 | 98 | 10 |
| Peter's | 7 | 5 | 2 | 0 | 218 | 144 | 74 | 10 |
| Ashgrove | 7 | 4 | 3 | 0 | 254 | 153 | 101 | 8 |
| Pat's | 7 | 2 | 4 | 1 | 156 | 183 | -27 | 5 |
| Villa | 7 | 2 | 4 | 1 | 107 | 152 | -45 | 5 |
| Laurie's | 7 | 1 | 6 | 0 | 117 | 317 | -200 | 2 |
| Padua | 7 | 1 | 6 | 0 | 83 | 288 | -205 | 2 |