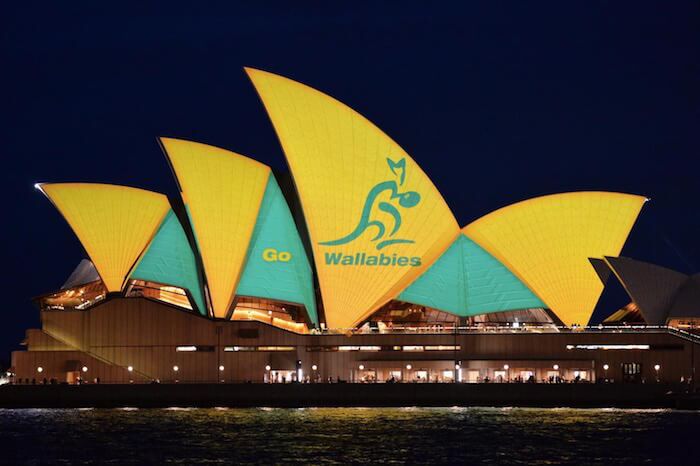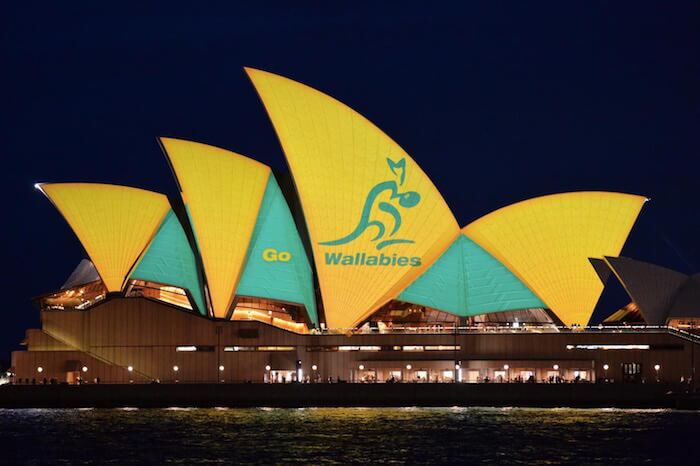 It's been a long, long road people so it's easy to lose your bearings along the way. Sure, New Zealand is no pushover, but here are five cold hard, undeniable reasons the Wallabies will win the 2015 Rugby World Cup final.
Get around it.
1. IT'S THE TRAJECTORY, STUPID
Everyone is pointing at New Zealand winning 9/10 (or whatever it is) of our last matches like it's some big deal.
Doesn't mean squat.
The bulk of those matches were lost when we were at our lowest ebb thanks to an unintelligible Kiwi coaching import who managed to make Eddie Jones' record against everyone look enviable. This was when the three Amigos hitting burger joints at 4am during the biggest test series for over a decade was "a learning experience".
Stuff that. What matters is where the Wallabies are NOW – 10 wins out of 11 matches this year and 1-all with New Zealand. The Kiwis? Well they've plateaued. As much as they'd like to shake off an arsey 2 point win over a Boks side that played in their own half for 80 minutes, that was no impressive victory.
Random idiots in the pub would say the All Blacks have experience on their side, jagging the last WorldCup. Experts will tell you however that in fact this only diminishes their hunger – "Yeah Bro, already got that medal eh?". Whereas clearly the Wallabies are hungrier than Joe Hockey on a diet.
For those of you who are mathematically minded (or on the spectrum), do this:
draw a horizontal black line.
draw a shimmering gold line coming from beneath it like an Exocet missile and slicing that black line clean in fucking two
admire chart of Wallabies trajectory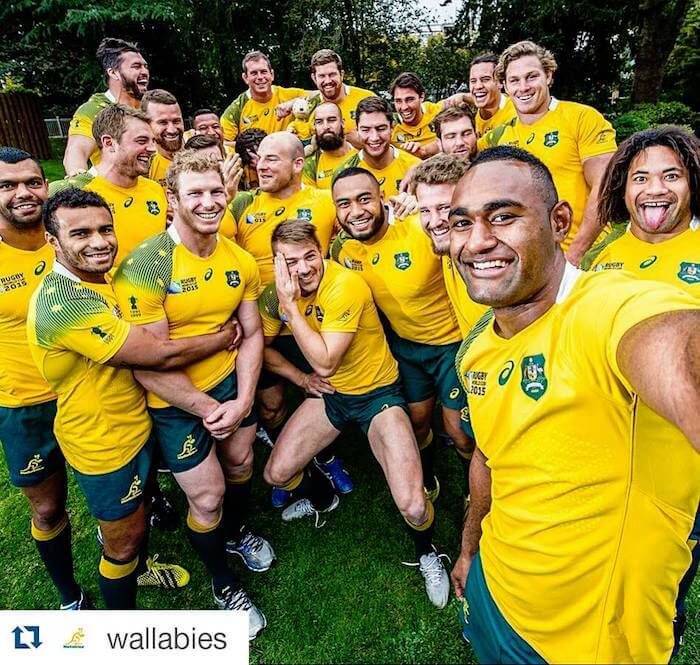 2. WE'RE A TOURNAMENT TYPE OF PEOPLE
Tournaments – namely the World Cup – make the Wallabies play better. Despite all this amazing 'All Black dominance' over the centuries, we've made it to and won the same number of World Cup finals as the Kiwis. We've played each other three times in World Cups – the Wallabies winning two of those.  Ours is a history of lifting, grinding, using our noodles. Theirs is a history of choking.
Don't be put off by a coupla close shaves here and there – it's not our tournament style to win big, never has been. The Wallabies just do what they need to do to get through; even the great teams of 91 and 99 did the same. In the meantime, New Zealand can run up cricket scores against the surrender monkeys if they want – that's TBAU (tournament business as usual).
3. CHEIKS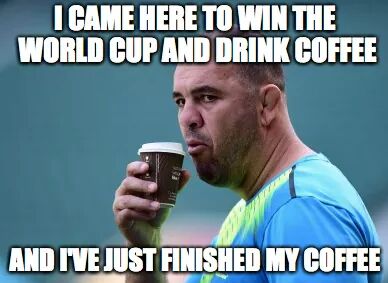 If you hadn't noticed by now, Michael Cheika has a knack of winning tournaments. This is because
he knows a bit about footy
and
he could take the CIA to a whole new level when it comes to mind control
Player mind control isn't new to the All Blacks; it's what has set them apart for decades. Getting them to focus, dig deep and play the full 80.  The difference is that while New Zealanders have herd a mentality and small town minds.  Australians have "nah, fuck that mate" minds.
So while Steve Hansen can just romp on in to All Black skulls and drop the team orders before grabbing a latte, it takes a super ninja level mix of intimidation, violence and love to do the same with the Wallabies. Note how spectacularly the last two coaches were undone by it.
What this boils down to is that Chieks is about to unleash on this world cup final a band of berserker Wallabies that will punch on until the job is done. Chieks will not allow the Wallabies to lose.
For shits and giggles, Chieks also uses his mind powers on the media. Notice how relieved they are when he cracks a gag in a presser rather than push them down to their deep dark unhappy place.
4. THE POOPER
FACT – New Zealand has never beaten the Pooper and that's exactly where we intend to take it to them.
This back row combination – with G&GR's own Scott Fardy to complete it – could quite likely become All Black kryptonite.  Think about it – those years when we had the Kiwis under the pump, we always had back row ascendency. We have it again now.
MORE FACTS – Richie McCaw is 34, Jerome Kaino is 32, Kieran Read is 30. Scott Fardy is 31, David Pocock is 27 and Michael Hooper is 24. Which of these lot do you back to go toe to toe for 80 mental paced minutes and then still be able to chug from the jug? There's no doubt here- the Fardy Pooper.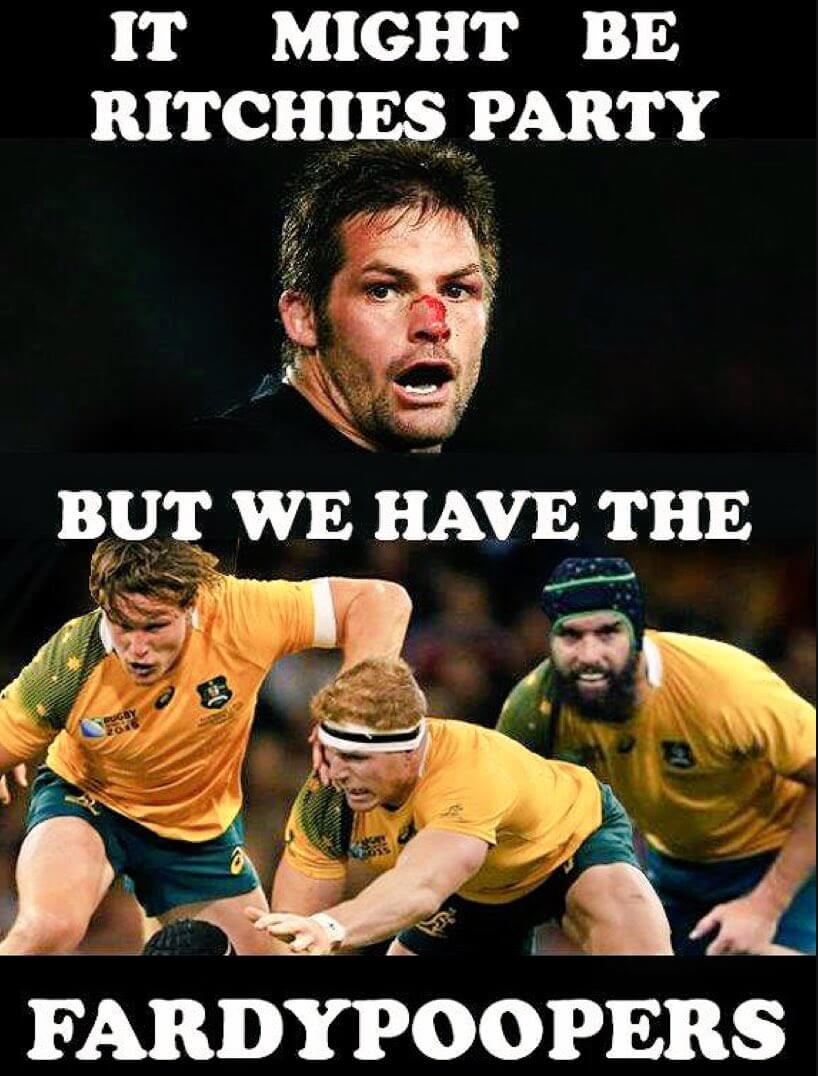 5. CHUCK NORRIS
Enough with all this ultra serious rugby strategy and analysis. Sometimes in these big occasions you just need Karma on your side, a spiritual force that no one can argue with.

Boom.