Queensland Premier Rugby is finished for yet another week and we've seen some seriously interesting results!
Sunnybank v Brothers
The Sunnybank boys have been boosted by the return of their Reds players after downing first-placed Brothers at Crosby Park. Here's my report: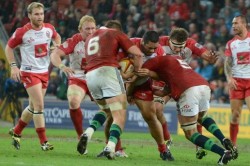 Dragons breathe fire on Brothers' streak
By Rebecca Thompson
Six-placed Sunnybank have caused a stunning upset at Crosby Park after defeating first-placed Brothers 24-14.
It was a physical and hard-fought game for the two teams and Sunnybank were able to further showcase their skills with the added boost of returning Queensland Reds players Ben Tapuai, Adam Wallace-Harrison and Albert Anae.
Sunnybank showed defensive flair in the opening minutes by dashing Brothers' first shot at a try after an intercept from Sunnybank flanker Nigel Ah Wong.
Sunnybank's speedy backline played a crucial role in the first half, scoring both tries against the run of play and contributing to Sunnybank's dominant possession and territory.
Brothers maintained good defence throughout the game and applied good pressure at Sunnybank's line at crucial times.
Despite the Brethren showcasing their characteristically good defence, Sunnybank was quick to capitalise on handling errors from Brothers and used these to their advantage to gain territory.
Sunnybank coach Rod Seib was happy with his team's efforts "I'm really proud of how the boys played today.
"To win against Brothers at their home ground is huge so I'm happy with that.
"We just have to work on a few things over the next few weeks so we can work our way into the finals".
After finishing the first half trailing 14-0, Brothers showed signs of a turnaround after Damon Murphy made a break down the field which was intercepted by Nathanuel Gendle who offloaded to Reds winger Dom Shipperley who made the eventual five-pointer.
Shipperley had a particularly good game for the Brethren, scoring both tries and utilising his speed and teamwork skills to gain much-needed territory.
Brothers looked close to scoring in final minutes in a bid to level the score but an intercept from skilful centre Alfonso Horomia once again brought the ball back into Sunnybank's territory.
The 78th minute saw a successful penalty kick converted by Tom Lucas which ultimately sealed the 24-14 margin.
Brothers and Sunnybank have a bye next week but will play Norths and the Gold Coast respectively the following week.
Uni v Gold Coast…. The Gold Coast were unable to cause another upset after their win against GPS last week, going down 24-50 to Uni. Uni's bonus point win has kept them in the Top Four, just ahead of Souths.
Souths v Easts…..This was always going to be a tough one to pick but the Magpies caused a slight upset, defeating Easts 36-22. It was Souths' Heritage Round so that win is definitely something to add to the history books. This win puts Souths just one point behind Uni on the ladder. This is resemblant of last year when Souths had a good end to their season and became known as the 'dark horse' of the comp. Watch this space!
Wests v Norths…. Wests have recovered from a few bad losses in previous weeks by defeating Norths 53-22. These two teams meet again next week in a make-up round so it'll be interesting to see what each side has taken away from this game.
Sunshine Coast v GPS…The Sunshine Coast has once again been brought down by one of the top sides, being defeated 49-12 to second-placed GPS. GPS are now just one point behind the Brethren on the ladder and, as a matter of fact, first and fourth place are just 8 points difference so the next few weeks are crucial for the top four if they want to retain their positions. With Souths and Sunnybank threatening to creep into the top four, we're set for an interesting next few weeks.
For all the full match reports and ladders, please visit http://www.redsrugby.com.au/PremierRugby.aspx
Next week is a bye week for Queensland Premier Rugby for all teams except Norths and Wests. See you all in two weeks!