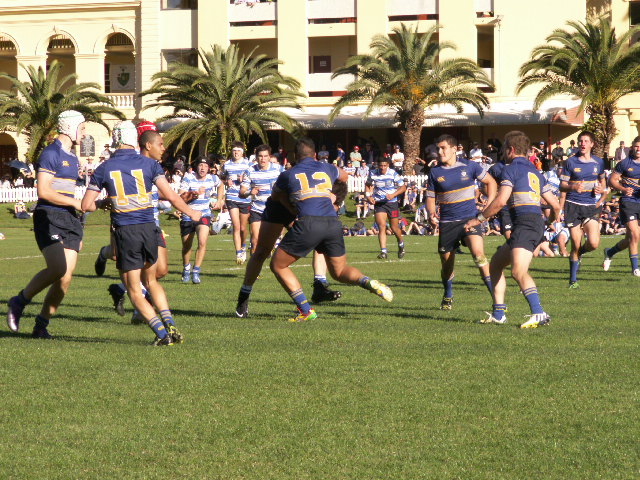 With the much-vaunted TSS out of action with their bye this week, the other schools faced off in a round of telling fixtures with some convincing and perhaps unexpected results.
Nudgee College v ACGS (Churchie)
Churchie upset title hopefuls Nudgee running in 5 tries to 1 on the back of a destructive performance by centres Nigel Tanuvasa and Izaia Perese – by Jordan Ayton.
Nudgee left 17 points unanswered in the second half and kept themselves out of the game with numerous handling errors when pressuring the Churchie tryline, in one of their biggest home losses in memory.
Nudgee opened the scoring after some expansive play got them into Churchie's 22 , with prop Gavin Luka crashed over from close range.
But Churchie hit back soon after when fly-half Mack Mason put Perese through a gap 15 metres out.
Both teams then tested each others' defence with Perese in particular making some destructive runs. Similarly, Nudgee fly-half James Tuttle put hooker Alex Mafi through a gap 20 metres out, only for him to be cut down and lose the ball on the line.
The combination of Perese and Tanuvasa proved a formidable challenge for the Nudgee line and a mere two phases after a Tanuvasa break hooker Josh Webb crossed in the corner to take the scores to 14-7 at the break.
Churchie came out on top in the second half, again scoring through Tanuvasa off a turnover and some quality and fast expansive play.
Soon after he added his second down the same wing, strongly palming off a would-be tackler to run 30 metres to the line.
With the game slipping out of reach, Nudgee's mobile forwards rumbled deep into Churchie's 22 and looked certain to score on numerous occasions but spilt the ball 4 times to provide their own undoing.
Off a dropped ball Churchie sent a booming punt down into Nudgee's 22 and Perese slotted an opportunistic drop goal to add further light between the scores.
Soon later, and to to rub salt into the wound in front of the stunned Nudgee crowd, Churchie scored a whole field try in the last play of the game after another Perese linebreak, with 5 players linking over 70 metres for scrum-half Harry Nucifora to dive over in the corner.
Nudgee 7 (tries: Luka, cons: Tuttle ) Churchie 34 (tries: Perese, Webb, Tanuvasa 2, Nucifora, cons: Nucifora 2, drop goals: Perese)
Brisbane Grammar v Toowoomba Grammar
by Nic Darveniza
The battle up the range of the Grammar Schools of Toowoomba and Brisbane got off to a late start on Saturday afternoon, and was well worth the wait as the unheralded Toowoomba side took down the defending champions in a stoic display of defensive pressure. Missing representative superstar 13. Liam Jurd proved no barrier for the mountain men as an early lead looked to sink Brisbane Grammar.
Despite displaying aggressive intent to start the match, Brisbane committed 25 costly turn-overs on the windy day that shut out their chances to seize the win. The spirited defence of Toowoomba was led by inspirational Captain 12. Harry Wathen at who ably shut down the wide ranging attacks from their cross state rivals, ultimately leading his team to a 28-10 victory.
Very little separated the two sides in the set piece battle. Spearheaded by Tighthead Prop Stuart McReight, Brisbane sought to gain early advantage in the scrum to no avail, as the representative duo of 2. Castor and 3. McColl gave just as good as they got from the powerful Brisbane pack.
The line-out was a different matter entirely, as the windy conditions played havoc with Brisbane Hooker Murray's usually solid throw. Toowoombean lock and lineout General Mitch O'Hara proved just as dangerous as the elements to Brisbane as he showed his worth in the air, plucking several throws out of the hands of the opposing jumpers before anchoring the lineout of his own side in a very strong performance, which was marred only in the final 10 minutes after he was shown red for a spear tackle on Brisbane 7. Trey Kemp.
In general play the much vaunted Brisbane physicality in the breakdown was ineffective against a well-drilled Toowoomba pack, which managed to supply Toowoomba's backline with generally very quick ball. The transfer from 9 to 10 to 12 to the outside was fast. Toowoomba so nearly scored in the first 3 minutes after going wide early inside the 22 only to be denied by a forward pass ruling.
12. Harry Wathen was excellent in both passing and running, frequently asking questions of the Grammar defence. TGS didn't play a particularly complex structure during the game, instead combining simplicity with near perfect execution to strangle Brisbane's attacking firepower and lock them out of the game. In the early phases of attack the Toowoomba pack attacked around the corner of the ruck looking to beat the folding of the defence, usually only one pass out with not a single tip on in a single direction for 3 or 4 phases. No linkage between the forwards and the backs made this simpler for the Brisbane defence, but the forwards ran hard and got over the advantage line, and did well enough in support play to maintain possession.
Once the forwards had battered their way up the pitch, 9. Gilbert would pass long and flat to 10. Kidston, who tore off across the pitch headed for the sideline. In some cases, 12. Wathen would drop inside for a short switch to slow down the sliding defence, and in others would stay wide (the drop option replaced by 13. Bender). When Wathen did stay wide he would stay back a bit deeper and encourage the defence to steal space, occasionally prompting a staggered d line.
When scattered, he used his size to draw the wing, creating space for his wing outside. If the line stayed strong, he would take the tackle himself or look inside for 10, 15, or 13. He played an excellent game decision making wise, and it was clear TGS built their attack off his strengths. While Wathen played undoubtedly a Man of the Match performance, replacement 13. Dean Bender was devastating with his few touches, scoring a great try after sprinting straight through the Grammar defence that impressed quite a number, even those sitting on the BGS side of the fence.
"Wooden Spoon Favourite" as I rashly claimed before the game tastes more than a bit sour on the tongue, but congratulations must go to Toowoomba on what was a spectacular upset sadly under shadowed by the other upsets of a tumultuous round 3 that well and truly blew the competition wide open.
Things are not all bad for Brisbane Grammar. 13. Lachi Lanskey looked dangerous whenever he ran direct, 15. Matt Marsden looked dangerous (and played dangerous too), but got few touches in his return to the wing after hamstring and facial injuries. Fergus Baker, son of Grammar legend Angus made a strong debut, leading the team with carries, 1. Tom Spencer made an impressive 14 tackles while 3. and 4. McReight and Cox were the pick of the Brisbane Grammar forwards, getting through a mountain of work, alongside Grade 11 Australian Cricket rep 8. Paddy Dooley.
Other Fixtures
In other fixtures, BBC pulled away from State High (after a 10-10 halftime scoreline) to win 35-25. The reinvigoration of the rugby program at BBC is slowing bearing more fruit, after running Nudgee close and solidly accounting for this State High outfit that itself had previously defeated and challenged Churchie and Brisbane Grammar respectively.
Gregory Terrace was able to pull away from Ipswich Grammar in an exciting fixture, winning 32-36 away from home.