The second half of the GPS home-and-away First XV Championship started and whilst there were no surprises in the results there was a standout match at Northbridge which had supporters of both sides buzzing about how good schoolboy rugby can be.
Joeys 32 — Shore 21
At Northbridge both teams had players missing and whereas Joeys had layers of strength below the main side, Shore's depth was thinner.
Shore would have to rise above adversity to be competitive and they did themselves proud in doing just that.
The scoring
Both sides had opportunities at the start but could not take them until Joeys attacked the Shore goal-line like commandos on a raid. 2. Tierney Glasson and 11. Luke Ryan were both held up over the line; then 9. Tevita Makasini started knocking guys over and burrowed over the line to score. No conversion; Joeys led 5-0 ten minutes in.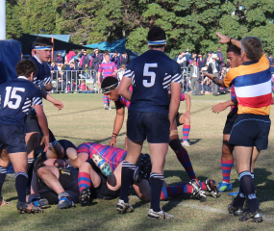 Fifteen minutes later there was no change to the score. This wasn't according to the script: Joeys were supposed to be scoring tries.
But then the floodgates opened.
Ryan went on a weaving run from a Joeys' scrum, drew his man in like he was lassoed, and passed to 13. Kurtis Bennett, who scored. The try was not converted but Joeys were ahead 10-0 at 22 minutes.
From the restart, Shore won the ball and headed for the Joeys goal-line and 12. Fred Eldridge went over. Conversion over: Joeys 10-7 at 24 minutes.
Musical chairs was in full gear as Joeys got their restart kick back, and fullback Brodie Bailey slipped around some tacklers before drawing one in and passed to Bennett, who scored again. Joeys couldn't buy a conversion but were in front 15-7 at 26 minutes.
Whose turn was it to score a try? – Shore; but they waited until just before oranges. Joeys were defending around their goal posts, but they couldn't stop 4. Angus Cooke from steaming over.
Joeys had scored three tries to two but 10. Jack Clancy had converted the Shore tries and they were only one point behind: 15-14 Joeys at half-time.
Second half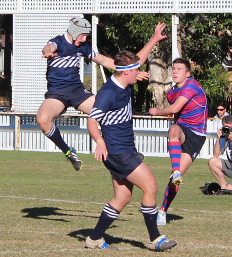 Not long after the break Joeys cleared their line and Shore put the ball through the hands from the lineout.  Joeys couldn't stop winger Matt Dowsett, who sauntered around under the posts.
The Shore crowd were on their feet: their team of battlers was ahead 21-15.
But Joeys raided again and eventually reserve Patrick Vaughan scored in the corner for Joeys to get back within one point at 16 minutes: Shore 21-20.
Shore were fading and winger Luke Ryan was too good for the defenders. He scored two tries for Joeys in the corner and they won 32-31.
In the end it was six tries to three which sounds convincing, but you had to be there.
---
The teams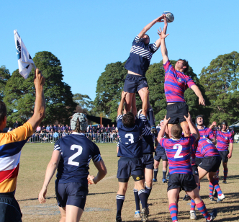 Shore had several players missing from their run-on team and lost more during the game. They had every reason to put up the white flag, but they honoured their school, their supporters and themselves the way they responded. They took the lead in the match after the break, and even when they lost it, they kept the result in doubt until deep into the game.
Well done those boys.
Joeys had nothing to be ashamed of either: they were missing two of their Oz Ones Schools players, Deegan and Hannigan, and the third one, skipper Sandell, went off mid-way through the second half. Other players had to go off also, as it was a game played with no quarter given. The Joeys' scrum was excellent also.
But as Joeys' co-coach, Mr Jeremy Ticehurst, said after the match:
It was a hard game: Shore showed a lot of energy and spirit. We knew we'd be in for a hard one here.

We had a few injuries […] and I know they did too. It's just the way the comp is at the moment: you've got to have a bit of depth, and depth certainly helped us today.
Indeed, the Joe boys who were left on the field in the last quarter seized the big moments better than the remaining Shore boys could stop them doing so.
---
The Players
Shore — 3. Jack Clancy, 2. Angus Cooke 1. Harry Emery
The experience and poise of 10. Clancy was key to an inexperienced side; 4. Cooke was the soul of the forwards' effort (though honourable mentions should go to 7. Jum Woodhill and 8. Will Lindsay as well); 9. Emery did well under pressure and an honourable mention should go to 13. Charlie Oldham who was hard to contain before he got injured and had to retire. Twos' scrumhalf Xander Jackman did well when he had to come on to play flyhalf
Joeys — 3. Tevita Makasini (MOTM), 2. Nick Pennisi, 1. Matt Sandell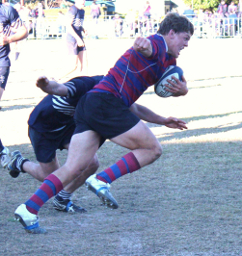 9. Makasini has had a good year since he has come into the main side but against Shore he added some mongrel as he bounced defenders away before scoring his try – and in counter-rucking, of all things. 7. Pennisi was omnipresent and Sandell made many of his trademark runs in traffic.
Honourable mention again to lock Koim Wingti for his tight/loose play, 10. Connor O'Shea (who stepped up from the Twos, but played like a One) fullback Brodie Bailey and winger Luke Ryan, who is finishing like Latrell Robinson, the injured GPS Ones' player he has replaced.
---
Wrap-up
Joeys will have to re-group from their injuries to confront Riverview in the return match next week (always the biggest game of the year whatever the standings of the two sides).
Based on the performance against Joeys, Shore will make opponents nervous in the next few weeks, especially if they can get some players back on the park.
---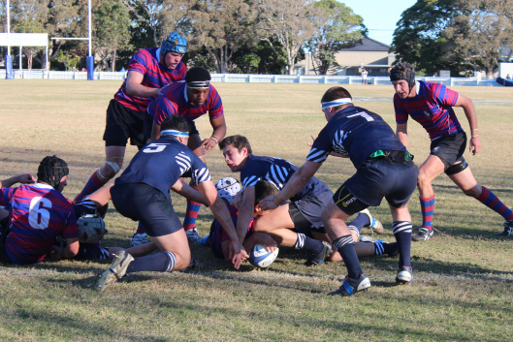 Scoring details:
Joeys — 32
Tries: Luke Ryan (2), Kurtis Bennett (2), Tevita Makasini, Patrick Vaughan.
Conversion: Vaughan.
Shore — 21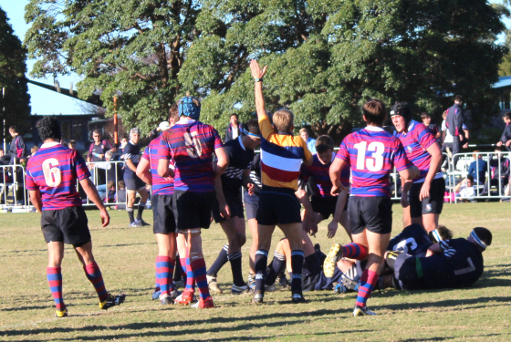 Tries: Fred Eldridge, Angus Cooke, Matt Dowsett
Conversions: Jack Clancy (3)
Referee:  Mr. M. Rolleston
---
Other results
2nd XV:  Joeys 31 – Shore 5
3rd XV: Joeys 19 – TAS 1st XV 17
16As:  Joeys 31 – Shore 0
---
Click on arrow for match report on Kings v. Scots by "Jasdec"