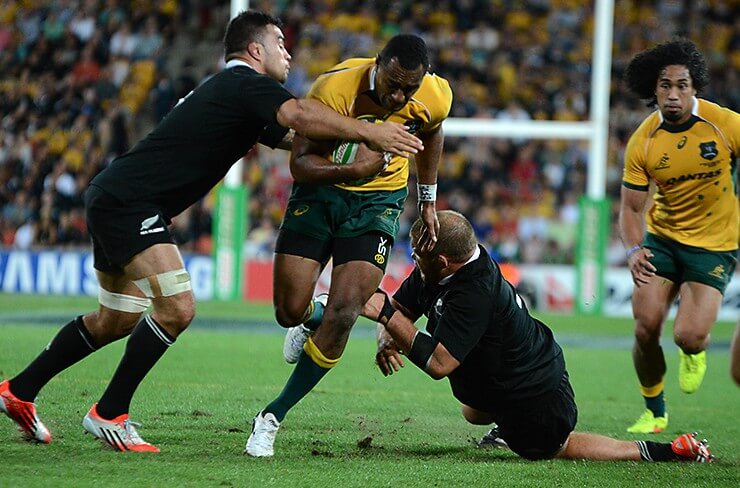 Two weeks ago in the aftermath of the Argentinian defeat I described the match and the preceding week as a shambles – little did we know then what sort of a shambles it would turn out to be! The subsequent period has been full of drama and accusations and denials, only to follow up with a match that was easily Australia's best display of the year.
I can't quite understand what transpired to transform a totally unimaginative and inaccurate attack into genuine quality. There are a couple of possibilities but all of them revolve around much more accurate execution within individual performances.
For sure Lealiifano runs much straighter than Toomua, which will make a fair bit of difference. That however doesn't explain some of the running lines of the forwards who haven't exhibited them in the past. All of a sudden I see footwork and yardage through the tackle line from Kepu and Carter – added to the usual good lines from Hooper, Slipper and Fardy which then gives the backline opportunity to attack against hastily retreating defence.
How that happened so quickly, I just don't know. I'm a stickler for the inclusion in player development programmes one that works on agility, balance and acceleration. One that I've used since 1996 is one called SAQ (Speed, Agility, Quickness) from the UK. I don't know why all coaches don't use it. There's no way that improvement could have effect in a week, but it was there. You have more potential to defeat a defender running straight – on either side – than cross field. You won't beat them for pace often at this level, and so running laterally closes down an option.
I thought that Australia were unlucky to lose. I couldn't say at all that NZ were lucky to win because they earned it. But I would have liked a few more angles on Cory Jane's try – to look behind down the touchline – and I would certainly liked to look at the restart where the ball got knocked towards the tryline and fielded by another New Zealand player who had overrun the kick. But it was never examined, which astonished me.
This was a much improved display and you would have to think that just while I've been critical of coaches not able to engender critical contributions under pressure, so we have to credit them when it works.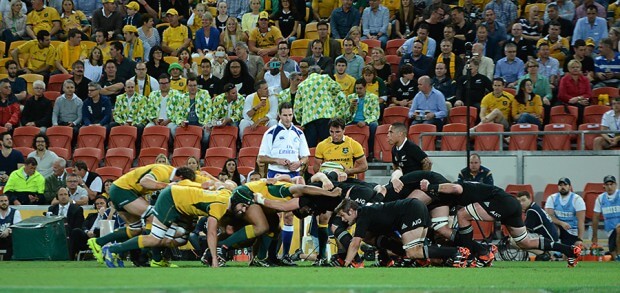 One of the things I've not had much experience of is the use of substitutions, because they didn't exist for most of my career. It was easier for me sitting at home watching the television to determine the wisdom of them. Nick Phipps was having a whale of a game – probably the best he's had for Australia. Given the anxiety levels of any player having to come on and save the game, the change in such a  crucial position was not wise.
On the other hand, Joe Tomane was one of the few players who played poorly from start to finish. When you think of the season Horne's had you have to think he could have made a crucial contribution. Tomane potentially cost a try in the first half when following Fardy he surrendered to the tackle rather than passing. And the number of times he raced up out of defence and got no one was amazing, again in the last minute of the game. He may not have stopped the try but he was in the perfect position to make a ball-and-all tackle. It was a mistake to leave him on.
For the most part all players played well. Slipper even better than he normally does. Kepu back to some form. Fainga'a was very good. It was the best Carter has played in this company and Simmons was good enough. Carter is not agile when it comes to defence, but drift defence has to be pushed from the inside not dragged from the outside. If AAC and the man outside of him had stayed closer together for the Coles' try then they had a hope. You can"t just leave it to Carter – how is a slow player going to pick up a fast player?
I got the impression that Higginbotham made a fair contributions – I'll have to have another look at the game. Fardy was back to form and all backs except Tomane made a contribution.
I don't know how much longer I can say that Kuridrani is an absolute walk up start 12. That sort of pressure on the inside shoulder of the defence close to the scrum will have to be able to make more space for our outside backs. I can see a backline with Kuridrani, AAC and Beale(??) on one wing and Speight, or with a burst of common sense then Cummins or Ioane on the other. We can start to put together a pretty fair side.
It was a most encouraging game and even thought it was a disappointing note for which Ewen to leave on, considering it was a very good display.
For the future, we have some policies in force in Australia – decisions we make for ourselves. One of them is that we won't consider for selection players playing outside of Australia. That is an arrogant and stupid decision. It's just us and New Zealand who do it – are we in their league in terms of depth? I think not. Sixty percent of the South African team must be playing outside of South Africa. Are we that much better than them?
The other question is what good reason should prevent coaches of a Super franchise coaching Australia? I can think of none at all. Not only does it enable the best coaches in the country to work with the national team, it allows the best coaches to work with half of the best players. Its clear to me that Cheika and Larkham are the best two coaches in the country and that Michael Foley is technically excellent. This would be a very potent coaching group and for the most part they aren't doing much else when Australia are playing.  Equally coaches alway know the strengths of their opponents and weaknesses of their own players. Very useful for selection.
Let's do this and get on with it. It will rejuvenate the whole team.
Let's not focus on the difficulties, but the opportunities.