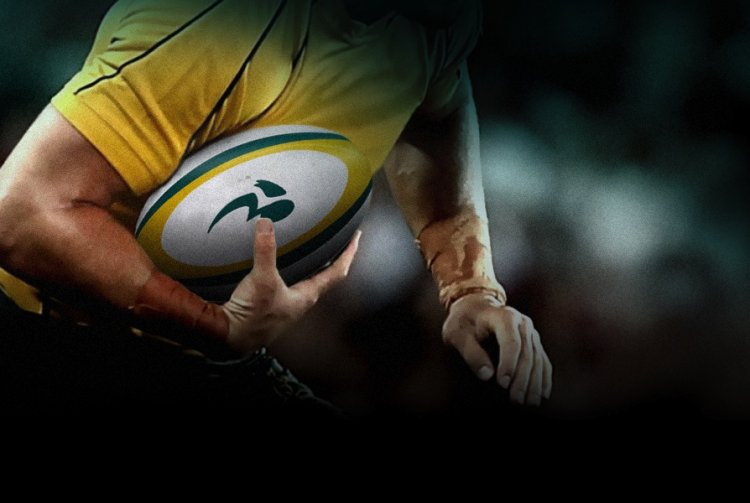 The Wallabies's comprehensive 21-6 win over the World Champion Springboks on the weekend is all the vindication needed to support coach Robbie Dean's tactic of "play  what's in front of you".  The Wallabies were superb in all aspects of play and many pundits about town have put the performance down to the team's ability to play more instinctively.
Whilst the Australians were able to make numerous line breaks, and were over the line at least five times, it was the defence of the team that really sealed the win. The  Wallabies were able put immense pressure on the Boks through repeated big hit as the South Africans were met with a gold wall of granite.  Tatafu Polata-Nau, David Pocock, Adam Ashley-Cooper, Berrick Barnes, Mark Chisholm, George Smith and Rocky Elsom were able to throw themselves at their opposition on instinct rather than abiding by previously used team structures.
The nature of the Wallaby win has caught the attention of many of Australian sports' most prominent identities and the ethos of 'play what's in front of you' is sure to be adopted in a variety of sports in the coming months.
In the NRL, the resurgent Bulldogs have turned their wooden spoon performance of last year around through the coach's adoption of Deans' "play what's in front of you" concept.  Utility forward Greg Eastwood has praised the approach of Bulldog's coach Kevin Moore.
"He's just a real relaxed coach. He wants the players to play their game and play what's in front of you instead of more structured," Eastwood said.
Similarly rookie Brisbane Lions AFL Coach, Michael Voss, had his players practise the approach in the lead-up to his debut season.
"It was great.  Under other coaches we've always been told where to run, how to run, where to kick, how to kick", experienced Lion Daniel Bradshaw declared recently. "All of a sudden Vossy had us looking up and forward and, low and behold, there's goals there!"
But it's not just the football codes who have adopted the approach. Australia's beleaguered cricket coach, Tim Nielson, controversially returned home early from the team's tour of England recently.  What wasn't announced was that Nielson had requested a meeting with Deans to discuss the "play what's in front of you" approach.
"Mate, it was enlightening to say the least", enthused Nielson. "I can't wait to get back to the boys and pass on my learnings.  I mean, how much better will Mitch (Johnson)  be if he is actually looking to where he wants to bowl – to the stumps. And (Mike) Hussey! Imagine if he actually played what was in front of him, namely JimmyAnderson, Freddy Flintoff and the others, rather than just, you know, guessing.  And don't even start me on how it's going to help Haddo's (Brad Haddin) keeping"!
Todd Woodbridge, the recently appointed Australian Davis Cup tennis coach, has also jumped on the bandwagon.
"This could be the one thing that changes the sport in this country. I can't believe how much potential there is to improve the play of, not just our elite players, but our juniors as well" Woodbridge stated.
"I've discussed it with Lleyton (Hewitt) already and it's fair to say that he's not totally 100% behind the idea, but he can see some benefits. I'll keep working on him, don't you worry about that".
If Hewitt does have concerns perhaps they will be allayed by Internationals captain Greg Norman's decision to select Japanese teenage wonderboy Ryo Ishakawa, as well as the out of form Adam Scott, for the upcoming President's Cup. "Ryo and Adam are both fine exponents of playing what's in front of you. Perhaps it's their generation? I know I could sometimes play an entire tournament and not remember a single hole.  I was focussing so much on the ball instead of what was in front of me".
However not every sport is racing to jump ship, so to speak. Australian Rowing CEO Andrew Dee fails to see the attraction.
"I think it's a ludicrous concept.  Play what's in front of you? What does it even mean? It has absolutely no relevance to our sport whatsoever.  We're facing backwards for Pete's sake!"
The Wallabies will next be playing what's in front of them, the All Blacks, in Wellington on Saturday week.  Asked as to how his team will be approaching the match, the last of the Tri-Nations, Deans responded "well I like to encourage the boys to play heads up rugby, and to play what's in front of them. I don't see how this match will be any different".