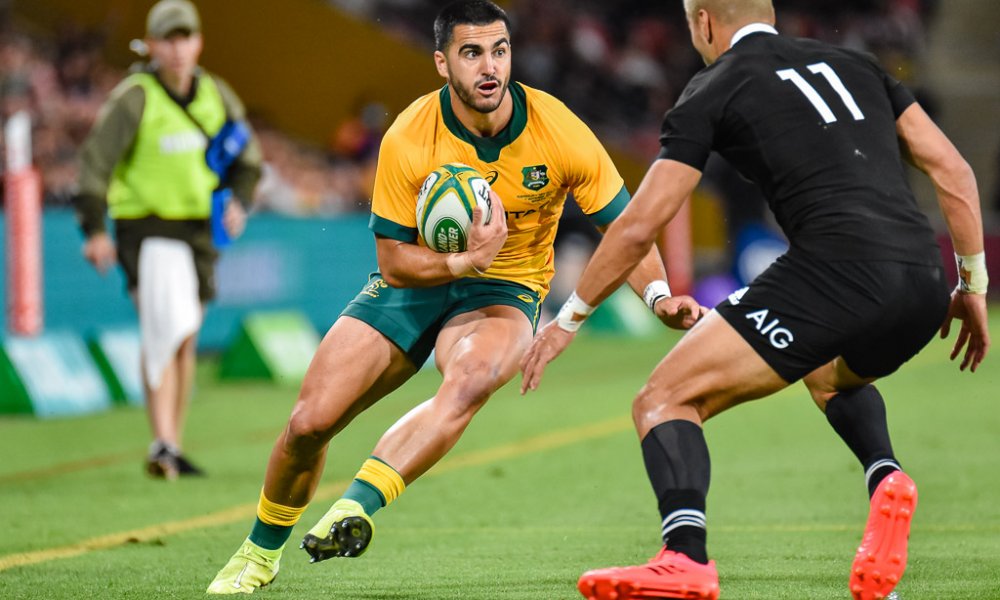 Thursday's Rugby news looks at the All Blacks on the war path, as the Wallabies look to bounce back after a disapointing draw, while Moana Pasifika names a strong side for their NZ Maori clash and some major changes for the Rugby World Cup.
---
Wounded All Blacks
The All Blacks are out for redemption at Newcastle's McDonald Jones Stadium for their rematch against the Pumas. The Argentinians beat the All Blacks for the first time ever two weeks ago in Sydney, handing the All Blacks their second consecutive defeat this year, not seen since 2011.
Since the match the New Zealand rugby media has been hammering the side, and the All Blacks are hungry to blow the Pumas away to secure the Tri-Nations.
New Zealand sit on top of the ladder due to two bonus points and a superior points-differential.
"For us as All Blacks, we always put ourselves under immense pressure, whether win, lose or draw and I think we always demand of ourselves that we go out and play really well," Sam Whitelock said.
"There is a bit of pressure there at the moment but the reality is that there's pressure every week and you have to embrace it."
In particular, new coach Ian Foster has been heavily scrutinised, and needs a win to relieve that pressure.
"As the coach he's always the face of the squad and if we lose two in a row (to Argentina) he's always going to get the blame," Patrick Tuipulotu said.
"In this day and age you're going to get a lot haters, as we call it, but we just move on.
"It's on us to get a result and perform well."
Looking for answers
The Wallabies are still reeling from a disapointing draw against the Pumas in Newcastle. A win could have put them in the box seat to win the Tri-Nations, but looked to have missed their opportunity.
All the chat is around "we're going to get better" and the team is only a few months into a "four-year" journey, but many of the Wallabies admit they blew it.
It was the same old story of the Wallabies creating chances but not being able to execute and close out the game.
"It's just the detail, the skill, the execution, taking your chances. That's what really, really good teams do," attack coach Scott Wisemantel said.
However, the team has made a strong statement, and are striving to improve, with Wisemantel setting this current team a challenge.
"We want to be the best team in the world. It's a bold statement, a really bold statement, but you have to aim high, set the standards high, set the bar high.
"We could go back and play kick and clap, sit in a corner, pump corners, all the rest of it and, look, you could make progress, maybe go up the world rankings a little bit, but it's not going to win you a World Cup."
Battle of the Pacific
A new Moana Pasifika side will take on the NZ Maori on 5 Decemeber at Waikato Stadium in Hamilton. The Moana Pasifika side is made up mostly of New Zealand Super Rugby players with Pacific Island heritage, but coach Tana Umuga is hopeful this invitational side is the stepping stone for getting an Islander side in Super Rugby for 2022.
Moana Pasifika is being looked at by NZRU as the team that could be included in the new competion going forward.
"We're very excited about (the match) and what could come after," Umaga told TVNZ.
"At this stage, it really is about this one-off game but it's something that I know means a lot to a lot of people, especially our young players and our players coming through.
"When I reached out to them and asked them if they're interested… everyone was straight in.
"This is, hopefully, the start of something bigger."
Umaga's 29-man squad includes 18 players with Super Rugby experience, with nine internationals.
More transparency
World Rugby has announced changes to its bidding process for the next Rugby World Cup. The governing body caught some flack following France's controversial victory over South Africa in 2017 to host the 2023 Rugby World Cup.
The World Rugby Council approved recommendations by its World Cup board that hosting rights for World Cups would be voted on following a risk-based technical evaluation, and World Rugby will no longer make a recommendation to council members after the risk-based evaluation has been completed.
 There will also be an open electronic vote that will be made public, meaning unions will be able to see who each country voted for.
Rugby Australia chairman Hamish McLennan has backed the new changes.
"Obviously we think the World Cup needs to come south and the more transparency the better," he told the Herald.
Australia are favourites to secure hosting rights for 2027.
"Sir Rod [Eddington] and I were chatting recently with the board and we're taking nothing for granted with our bid. Everyone is motivated, we're meeting regularly and we've got the money from the government, which is good. We're probably the most advanced bid so far."
 The host nation for the 2027 Rugby World Cup is not expected to be made until May 2022.