Wednesday's Rugby News sees some mid-week rugby, a Wallaby under an injury cloud, the RUPA ask for a 'please explain' over the Tui incident and Sonny Bill is set to fight again.
---
[one_half last="no"]
NSW derby boosted by returning Wallabies

Rugby fans have been treated with a rare mid-week fixture tonight with the Sydney Rays hosting NSW Country in an all NSW derby in the National Rugby Championship.
The mid-week clash serves as a catch-up match for both sides as the late finish time of Sydney grade competition ensured that they both started a week later than fellow teams.
Both teams have been winless throughout the competition and are eager to break their duck and win bragging rights over their fellow Waratah teammates.
"I think it's one of the biggest games of the year," Country flanker Will Miller said. "Outside of finals, it's a rivalry and something big that's a huge opportunity to give it to the City boys so all the Country boys should be excited."
This sentiment was shared by Rays outside back Curtis Rona who noted that trash talk between the two sides had reached a boiling point in the lead up to the match.
"It's going to be a massive occasion for us because all the boys are really pumped because we're versing each other," he said. "We've trained with each other all year and there's a bit of banter going on in the gym in the weights room, so we're looking forward to it.
There's not many texts (going around), there's just a lot of shouting. It's good – gets us motivated to play each other and test our skills."
Both sides are boosted by the return of their Wallaby contingent, with Ned Hanigan, Tolu Latu and Tom Robertson returning for the Country side whilst the Rays welcome back Rob Simmons for the clash.
Having covered both Rays games on this site, I think this will be closer than some people expect. Despite losing their first two matches, the Rays have shown their fight and class in both second hands and will go close if they start strongly.
However, I think the inclusions for NSW Country will be the difference in this clash, especially Robertson and Latu as the Rays main weakness this year has been at the set piece. Prediction: Country by 8.
The sides are as followed:
NSW Country
Alex Newsome, Jaline Graham, Apolosi Latunipulu, Will McDonnell, Alex Gibbon, Mack Mason, Jake Gordon, Sam Figg, Will Miller, Ned Hanigan, Emmanuel Meafou, Sam Thomson, Tom Robertson, Tolu Latu, Paddy Ryan, Reserves; Mahe Vailanu, Matt Gibbon, Chris Talakai, Sam Ward, Nicholas Champion De Crespigny, Mick Snowden, Rohan Saifoloi, Seb Wileman
Sydney Rays
Tyson Davis, Rob Buaserau, Curtis Rona, Harry Burey, Latu Latunipulu, Will Harrison, Mitch Short, Hugh Sinclair, Jack Hayson, Lachie Swinton, Ryan McCauley, Rob Simmons, Cam Betham, Damien Fitzpatrick (c), Matthew Sandell, Reserves; Rory O'Connor, JP Sauni, Shambeckler Vui, Connor Vest, Nick Palmer, Nick Duffy, Enoka Muliufi, Tim Clements
[/one_half][one_half last="yes"]
Samu cloud's Cheika's selection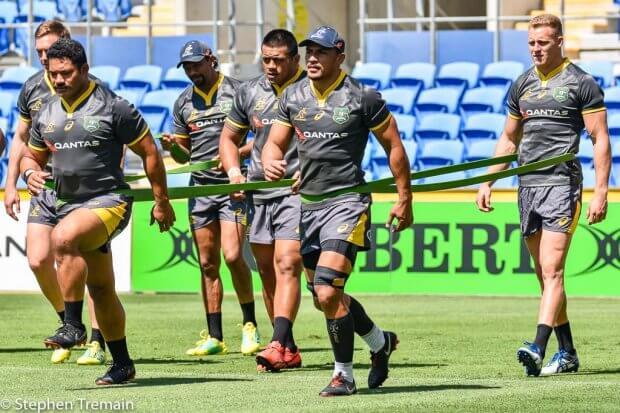 With Lurkham Tui still expected to miss the Wallabies brief tour to South Africa and Argentina, Michael Cheika faces selection dilemnas with fellow loose forward Pete Samu under an injury cloud.
Samu suffered a knee injury during the clash with Argentina last Saturday and has been waiting in Canberra for the results of scans on it. He came off holding his knee after 43 minutes against the Pumas, before being replaced by Ned Hanigan.
The flanker has started in the last two internationals for the Wallabies, having being called into the side to replace David Pocock (neck) and Michael Hooper (hamstring).
With the Wallabies squad set to be annouced on Friday, there are signficnat concerns around the fitness of our loose forwards, especially Samu before the tour.
Queensland's Caleb Timu is expected to be the next backrower to step into the team if Samu is absence, with the no. 8 being apart of Australia's squad in recent weeks.
However, Cheika could potentially call upon an abundance of options that have been firing during the early stages of the NRC competition to cover our injury plagued backrow.
Melbourne's Angus Cottrell was recognised for his strong form earlier in the year with inclusion in the Super Rugby player's team of the year and has carried it into the first couple of matches for the Rising.
Sydney flanker Jack Dempsey was one of Australia's breakout Test stars last year and made a very strong return from injury against Brisbane City. However, the 24-year-old is short on game time, having only featured in 31 minutes of action in the past 11 months and it's best to slowly bring him back through the NRC.
The wildcard option for this position should be Force flanker Chris Alcock. Alcock has been impressive throughout the NRC and World Series Rugby and would not put a foot wrong if selected, if Cheika remembers that players exist outside of the east coast.
Who do you think should be called up if Samu is unavailable?
[/one_half][one_half last="no"]
RUPA provide Rugby Australia with a 'please explain'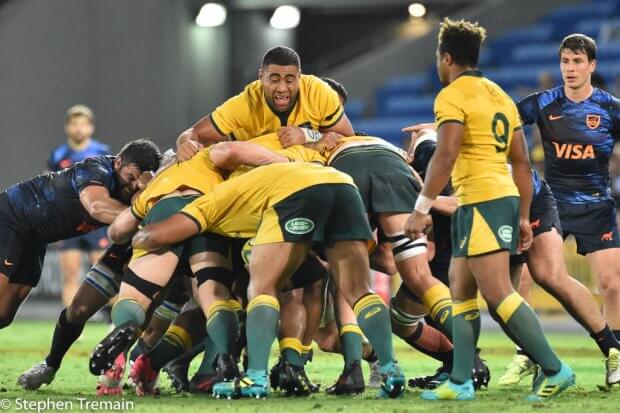 The Rugby Union Players Associaition have criticised the lack of a security presence which led to the confrontation between Lurkham Tui and a fan.
In a letter sent out to all Super Rugby and Sevens players, the RUPA criticised the security provided for the Wallabies whilst calling for the disgruntled fan to be educated about the incident.
This has come obviously come to light as a result of the well-publicised altercation between Lurkham Tui and a fan, in which Tui was heckled to "play with more heart" and he reacted after his sister was pushed during the incident.
In his letter to Australia's rugby professionals, RUPA's interim CEO Toby Duncan told the players their safety was paramount.
"On Saturday night, multiple Wallabies players were subjected to completely unacceptable levels of verbal abuse and physical intimidation from a member of the crowd.
"All players should feel rightly proud to represent their country on the world stage and deserve to have their physical and emotional wellbeing protected on international duty. Players set aside their time immediately after the conclusion of a match to interact with fans regardless of the result.
"It is completely unacceptable that security was not present to provide protection for players and their families. We understand that the identity of the fan has been established and trust that appropriate action will be taken to educate this person regarding their behaviour."
The fan should never have been this close to Tui in the state that he was in and security should have recognised the danger that he could have presented before the incident occurred. Hopefully, this review ensures that incidents such as this do not occur again and the player's safety remains paramount.
[/one_half][one_half last="yes"]
SBW's boxing dream turns into reality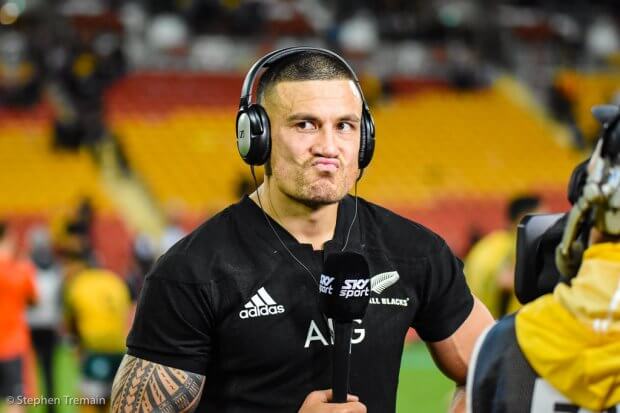 Sonny Bill Williams will continue to fulfil his boxing dream by taking on reality 'star' Stu Landry on December 1st.
Williams is foregoing the huge potential payday of fighting NRL star Paul Gallen to raise money for two charity foundations in a fight that's being promoted as the "Banger under the hanger" on Sydney Harbour.
The charity fight will see Williams take on Landry, who rose to D-list fame by winning the Bachelorette a week after the All Blacks are set to finish their European tour against Italy.
All Blacks coach Steve Hansen has stated that he sees no problem with Williams fighting so soon after he will potentially play three Tests for New Zealand overseas.
"Look, from my understanding I think it's a very, very low-key fight and it's about raising money for the homeless in Sydney and for the Auckland City Mission," Hansen said.
"He is pretty confident, I've spoken to Khoder [Williams' agent Khoder Nasser], and Khoder's confident that what's going to take place won't be of hindrance to him, so you've got to back their judgment and from what I understand it shouldn't be too much of a task."
His opponent has tried to light the fuse before he gets knocked out by Williams stating "All my wealthy mates better watch out because I'll be gunning for them…I've been throwing drunk guys out of pubs for 30 years. Sure some of them are drunk, but some of them are monsters"
Whilst this is clearly a publicity stunt, it's fascinating that Williams would commit to a fight so close to the end of the season since he's been injured for most of the Rugby Championship.
[/one_half]