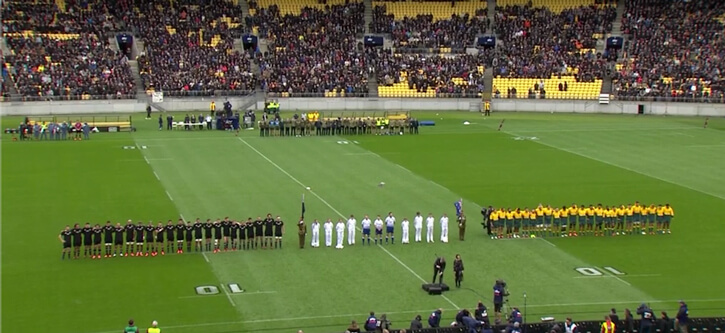 Tuesday's Rugby News has a gander at To'omua's groin,
---
To'omua's Injury Brings Selection Headache.
When Matt To'omua's troublesome groin flared up in Saturday's Bledisloe cup match it played havoc with the Wallabies attack and defence. But now while there has been no update on the injury that To'omua has carried all year it does leave a selection problem for the Wallaby selectors going forward.
Hunter Paisami wouldn't have imagined playing 50 minutes of test rugby before Saturday but given the chance to show off some of his distribution skills he didn't hesitate. While you wouldn't say Paisami is an out and out 12 in 13's clothing he did show enough to be considered a possibility of continuing there, all be it with a couple of weeks training under his belt.
Another option is Brumbies inside centre Irae Simone who had a stellar season in Super Rugby but has no test experience. Simone has plenty of experience at inside centre and would be a perfect, almost like for like fit for To'omua in the back line.
In his post-match press conference, Rennie also heaped praise on Paisami, but tellingly name-dropped Brumbies second playmaker Irae Simone as another candidate to wear the No.12 jersey.
"I think Hunter's going great. A young man who wasn't even sure he'd play Super Rugby at the start of the year, so he's started the first two Tests and I thought he made a pretty good fist of moving into 12," Rennie said.
"We do have some pretty good options, who didn't play today as well, Irae Simone being one fella who has spent a bit of time over here in New Zealand – a big part of the Brumbies set up – so we do have some options, but I thought Hunter was strong."
Other options could be moving James O'Connor to 12 and debuting Noah Loleso at fly-half and picking 2016 touring inside centre Reece Hodge to do the job.
If To'omua's groan doesn't heal I think the two Brumbies players would have the inside running.
RA's Broadcast Rights Deal
When Raelene Castle and the RA board decided to take there broadcast rights to the open market instead of taking Foxtel's reduced offer they unleashed a media attack of a size we rarely see in this country. Castle eventually caved and resigned but many of the wheels she helped set in motion are reaching very interesting stages.
The coaching team Scott Johnson and Castle coaxed into the Wallaby set up are showing signs of great things. And yes I watched every minute of Bledisloe 2 but I can see things improving is the Wallaby setup despite the scoreline. Remember our test side have only been together for weeks and we have a long way to go.
But more intriguing is the Broadcast rights situation. The good news is there are at least two bidders. Foxtel seems to have realised that they might need rugby to keep their subscriber base intact. Rumour has it that their offer is about what their last deal was so at worst Australian rugby would at least be where it is right now.
The other bidder is the nine network who are reportedly offering a slightly lower number but have the added carrot of a game each week on free to air television. Australian rugby supporters have long hoped for a vehicle to show Super Rugby to the vast majority of people not signed up to Foxtel's platform. Nin's bid, on face value, seems to give that opportunity. Where the one free to air game would be televised amongst Nine's Rugby League matches has not been discussed in the media. The remainder of the Super Rugby matches would be shown on Nine's streaming service, Stan, a cheaper option than both Foxtel and Kayo, where they're currently shown.
So RA's decision is to either take the cash or the broader platform.
I've done my best to keep Bledisloe 2 out of today's news because we've covered it, Mainstream media has covered, every man and his proverbial dog has got it on their feed and I just thought you guys might like a wee break. Unfortunately, I've had a look around and can't really find another two articles that seem interesting enough to chuck in and that we haven't covered already.
Instead, here's something I found on Reddit to hopefully give you a laugh.
https://en.reddit.com/r/rugbyunion/comments/jduejs/the_secret_ingredient_is_crime/?ref=share&ref_source=link