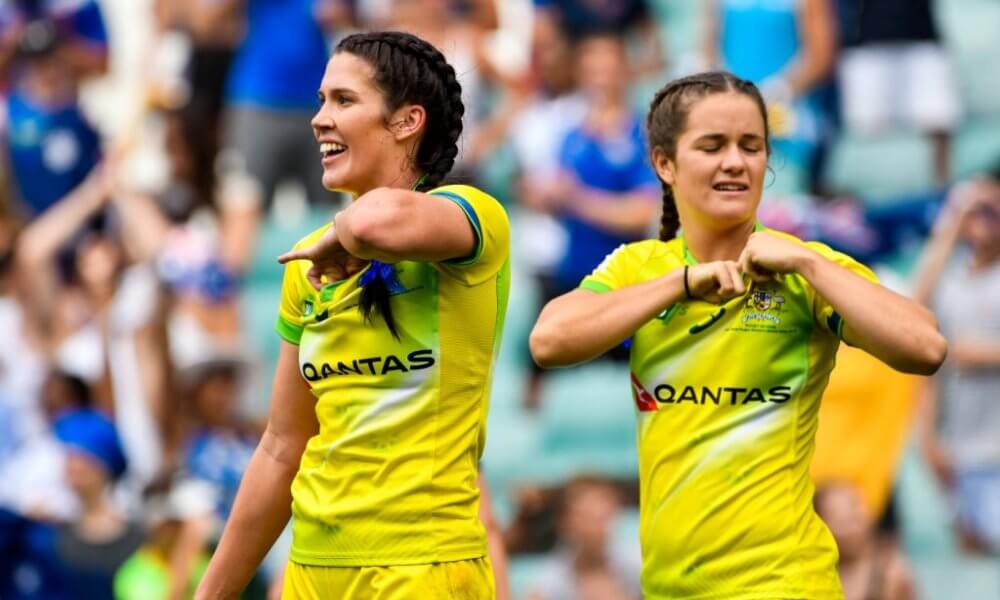 Thursdays Rugby News sees England fined, Sevens couple helping farmers, Hunt close to re-signing and Cape Town awarded 2022 Sevens World Cup
---
CROSS THE LINE GET A FINE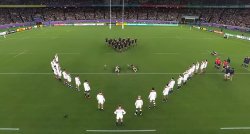 Englands Rugby team have been fined for their V Formation during the Haka ahead of their win against the All Blacks, not for cultural insensitivity though, but for crossing the halfway line.

To be clear they were not fined for forming the V, or even Owen Farrell winking at Aaron Smith, but for crossing the halfway line, which the World Rugby guidelines state that players must remain behind the halfway like whilst the Māori War Dance is being performed. 

Six English players can be seen crossing the halfway line with the referees telling them to get back.

It will likely be a four-figure payment, less than the £2,500 France paid in 2011 for the same thing. The "cultural ritual protocol" was brought in back in 2007 when France formed their flag, with players wearing red, white and blue shirts marching up to meet the Haka, coming nose to nose with the All Blacks. The law of not crossing halfway was introduced then.

The response to the English formation was well received around the world, with World Rugby even posted a video on their Youtube page titles "England's incredible response to intense New Zealand Haka" that has been view more that 4 million times. 

Many Haka experts and commentators in New Zealand appear to be praising Englands efforts to meet the challenge laid down by the All Backs, and that it was "in no way offensive to the All Blacks side, and did not violate Māori cultural protocol, known as tikanga."

Tapeta Wehi, a haka expert from Rotorua in the North Island, praised the move, calling it bold and even wishing to see more teams through down their own challenge to the All Blacks.

"A haka is laying down the challenge and they were challenging the All Blacks back – so no problem with that," he said.

"It's a regulation problem about whether they were allowed to cross that line but that's got nothing to do with our culture. Whatever England did, that's what it's all about. The Irish did it too, that was great. For me it's all good, no problem at all."

"Most Māori love it when the challenge is met – I love it," said Wehi. "People have to understand more what the haka is about. People think what they are doing is disrespectful. But if you ask Māori, they'll tell you that's what it's all about. It's laying a challenge and if the other team want to challenge you back – then it's all good. That's what it is all about."
SEVENS COUPLE HELPING FARMERS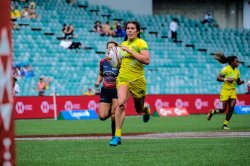 Australian Rugby's it couple Charlotte Caslick and Lewis Holland are using their high profile status to help Aussie farmers in their plights with droughts, floods and fires.
Recently the couple partnered with country outfitters Ringers Western to raise funds for Drought Angels, raising over $50,000 from their melon work shirts.
The young couple has their own property that has been affected by the droughts, with many of the people in their lives also being affected. Holland comes from a farming background, with his family owning cattle. Many of Caslick's extended family are also farmers.
"We've been in a  drought for the last 12 months, we're out of dam water, we've sunk a bore just after the end of the season in our holidays and we were lucky enough to get water," Holland said.
"We just bought a truckload of hay and half a truckload of cotton seeds so our cattle get fed now up until Christmas  because they're calving and they'll be on a fulltime feed ration to make sure they calve down and keep weight."
"We'll make a decision around Christmas time, what's the best to do there (depending on) whether we get any rain or not, or move the cattle on and just wait for it to rain," Holland said.
The drought has hit very close to hope for the pair, with Caslick telling of how her family have been unable to grow crops, or even being forced from their land.
"Since we've bought our own place as well, you start to appreciate that playing rugby for a living is not so hard and there's people going through things that are a lot bigger than losing a grand final," she said.
"It really makes you understand the real pressures of life. Nothing compares to waiting for rain."
Along with their Melon Work Shirts, the couple have been involved in several other efforts to support Aussie farmers, including a Ringers Western cap that raised $20,000, whilst starting Fencing for Farmers, partnering with BlazeAid and Drought Angels to assist farmers replacing fences damaged due to natural disasters.
"Charlotte and I started Fencing for Farmers back when the droughts went through northwest Queensland, just to raise a little bit of awareness and obviously some funds to help those guys and support those guys through a bit of a hard time up there – they went through and drought and also a flood, so they got the worst of both worlds at once," Holland said.
"Then going on from that, the drought that's going on at the moment on the East Coast, with my family down south and our little farm up north, a lot of families that you meet are all going through that.
"So we linked with Ringers Western and those guys were kind enough to jump on board and release a hat with 100 per cent of the proceeds going to Drought Angels, with the money distributed back into the local community to be spent there so that money stays within the towns.
"We're just trying to raise a bit of awareness and some funds and just help those guys do it a little bit easier because it is getting pretty tough out there and the forecast for this summer doesn't look like it's going to ease up."
Caslick said she and Holland enjoyed giving back as much as they could.
"We've tried to support all of those causes as much as possible and use my profile to raise awareness," she said.
"Being in Sydney there's people that have no idea what people are going through out in the bush and they don't have an understanding or awareness.
"So having quite a big following (on social media), I'm just trying to use it to promote something that I'm passionate about and raise a bit of awareness."
STILL IN THE HUNT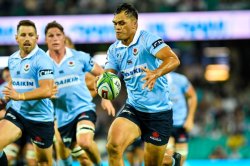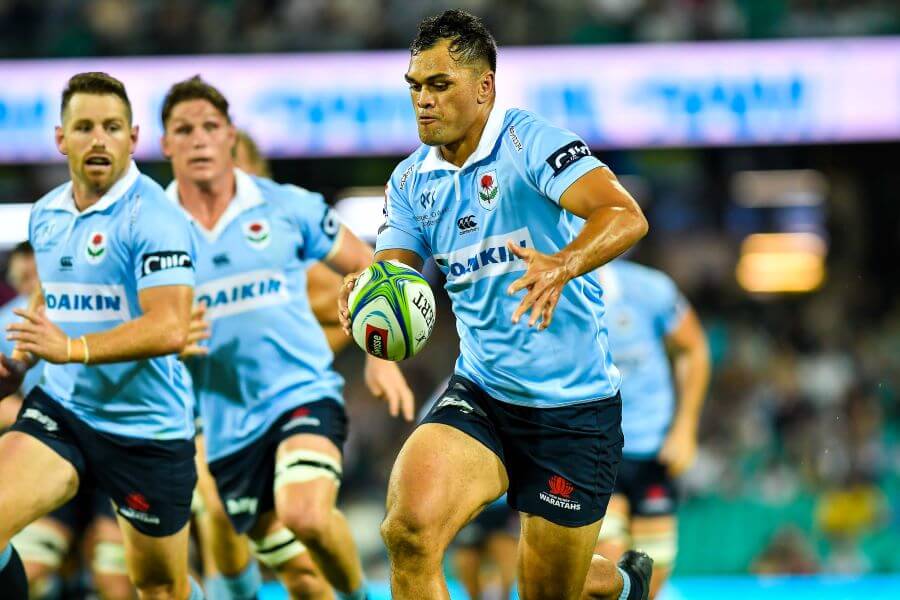 Whilst neither party has put pen to paper it appears that Karmichael Hunt will be at the Waratahs in 2020, with the club releasing a 2020 membership promotional image with Hunt included. 
Hunt had an injury riddled first season with NSW but despite all the set backs still went on to win their best back award.
the 32 year old utility back was thrown a lifeline by the Waratahs after losing his contract in Queensland due to multiple drug infringements.
Hunt expressed interest to stay at the Tahs on multiple occasions.
"I have been chatting with the Tahs and that's ongoing, we'll see where we can get to in terms of the deal," Hunt said.
"I think there is a mutual interest there. It just comes down to what terms we can agree on, that's the manager's job and they're doing that now."
NSW will be looking for experienced players like Hunt to lead the young playing group, with a large number of Waratahs veterans leaving in 2019 Sekope Kepu (London Irish), Tolu Latu (Stade Francais), Bernard Foley (Kubota), Nick Phipps (London Irish) and Curtis Rona (London Irish).
With preseason expected to get underway soon, it is expected the Waratahs will make an announcement shortly.
 CAPE TOWN TO HOST SEVENS WORLD CUP
On the eve of their World Cup match against England, South African rugby has received a piece of great news, with Cape Town being announced as the home of the 2022 Rugby Sevens World Cup.
World Rugby Chairman Bill Beaumont praised South Africa's efforts in hosting the Sevens tournament in recent years, stating the thoroughness of their proposal won them the bid.
"Congratulations to South Africa on being elected Rugby World Cup Sevens 2022 hosts," he said.
"We were impressed with South Africa's detailed and comprehensive bid and we look forward to working in partnership with them on another inspiring and record-breaking tournament.
"South Africa have a proven track record of delivering a sell-out event in the HSBC Cape Town Sevens, which is an esteemed tournament on the world series and will be of huge value to the planning and execution of Rugby World Cup Sevens 2022.
"About to make its second appearance on the Olympic Games programme at Tokyo 2020, rugby sevens is an innovative and thriving format of the game that has enormous appeal, and we are excited about the positive impact that another successful Rugby World Cup Sevens will have on our sport.
"We would like to thank all of the unions who expressed an interest in hosting this growing event and hope to welcome them back to bid for future events as rugby sevens continues to go from strength to strength."
SA Rugby CEO Jurie Roux siad he was looking forward to Rugby Sevens being the first World Cup in South Africa since the FIFA World Cup 2010, whilst being keen for his country to host more international events.
"We're delighted that South Africa and Cape Town has been confirmed as hosts for Rugby World Cup Sevens 2022," he said in a statement.
"We have been eager to host global rugby tournaments for a number of years and to have the flagship event in the growing sport of sevens come to South Africa is exciting.
"We saw how the sport engaged the audience in San Francisco last year and we are certain that it will be just as big a success in Cape Town.
"The HSBC Cape Town Sevens has established itself as a rugby bucket-list tournament in the past few years and we're sure that international visitors to the event will experience a great tournament at an ideal rugby venue in a fantastic city."