Thursday's Rugby News sees Rugby Australia phasing out foreign players, Folau not rushing himself, the Rebels reining themselves in, and the Brumbies naming their first Super W squad.
---
[one_half last="no"]
Downsizing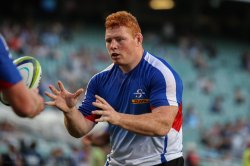 Over the last decade, Australian rugby grew with the inclusion of the Force and Rebels in Super Rugby, and with them came an influx of marquee players from overseas, here to get fans to games and to make the teams more competitive.
Well, after years of having a foreign marquee player policy, Rugby Australia has announced plans to focus more on Australian players, with less player contracts up for grabs.
With the Force being removed from the competition, the focus seems to be more on retaining current and future Wallabies in the Australian system instead of losing them to overseas clubs, which is where the marquee reduction plan comes in.
"Going to four teams means we will work on the foreign talent eligibility because we feel that there's limited (contracts available)," RA's high performance manager Ben Whitaker said on Wednesday to Fox Sports. 
"We don't think that there's as much need to bring in talent (from overseas) that can play and potentially influence whether you win Super or not because we can back our talent in four teams to do that."
This comes after RA announced it's new talent ID program last week, which will aim to focus on making sure there is a constant stream of local players coming through in parts of the game.
RA didn't speak of completely ruling out foreign players in squads, but specified that players themselves would have to commit to completing the residency requirements introduced by World Rugby (of living within a new country for five years), as well as commit to playing for the Wallabies.
Taniela Tupou was one such player who did this recently, while Fijian Isi Naisarani is also reportedly in line to complete his eligibility selection soon.
"The number — I won't say it will be zero just yet because we've still got some work to do — but the number of ineligible foreign players is certainly dropping and that's part of the strategy," Whitaker added.
"But I wouldn't rule it out altogether because we might end up in a competition where you can jag someone of note that can do a whole of things — support you winning footy games, support the development of the young player and thirdly maybe even grow commercial interests.
"We won't say never now, but you can see what the strategy is now.
"The other category is developing foreign players, which right now aren't eligible to play but they haven't been capped by another nation."
[/one_half]
[one_half last="yes"]
Don't Rush Me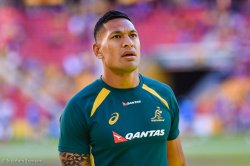 It seems like yesterday that Israel Folau make his debut in the first test of the British & Irish Lions series, scoring a double on debut.
Now, with 62 Wallaby Caps under his belt and over seventy playing for the Tahs, Izzy could be eyeing off another switch to somewhere new when his contract finishes at the end of this year.
While multiple clubs and codes will be clamouring for his signature, the 28 year old told rugby.com.au that he won't be making any rash decisions in regards to his future.
"I'm pretty comfortable in terms of my position and everything that's going on," Folau admitted.
"There's no rush from my end, my management are always doing a lot of work in the background and I haven't really thought about it too much.
"My job is obviously solely here and what I can do with the team here."
Folau is an important part of both the Waratahs and Aussie rugby's brand as a whole, and he admitted that he would be excited by the prospect of sticking around a little while longer and potentially going to another World Cup. 
"It's something I enjoyed last time around but in saying that there are plenty of options on the line," he said.
"When the time comes I will make that decision, when I'm ready.
"There's no rush.
"I want to make sure everything is set in position, that I feel comfortable and then I will come out and make that announcement."
While the buzz around his future continues, Folau also took time out to speak about the upcoming Rebels derby, and confided that the Tahs haven't been at their best so far this season.
"There were plenty of individual errors in that part of our game – our defence – but we have had a review of the game and look forward now to what is ahead on Sunday arvo against the Rebels.
"There's no excuse for us being away for a couple of weeks now, coming back for this game.
"The Hurricanes did it well last weekend so for us, it's a matter of getting ourselves right, getting our preparation right when we get out here on the field and make sure we put in the work."
Speaking of the Rebels…
[/one_half]
[one_half last="no"]
Blood reins in the boys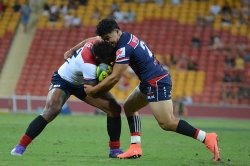 The Rebels are in a unique position in the club's short history that, after four rounds, they lead the entire competition.
Many had questioned as to whether the team, with a huge influx of Force players and the original squad, could gel properly in time for the season to be a cohesive outfit.
So much so that chief executive Baden Stephenson was shitting himself about it. But, as the pre-season went on, he admitted that there was something different about the preparations compared to previous seasons.
"It was a little bit of an unknown but I just know that I've seen a lot of pre-seasons and I think Dave and the coaching staff, they work particularly hard to maximise every session available," Stephenson said to rugby.com.au. 
While Stephenson admitted that the club has a long way to go in terms of improving crowd numbers, commercial partnerships and connections with the community, winning more consistently on the paddock is a great place to start. It's only three games in, but the signs are promising.
"I had a feeling that we'd start well but possibly slightly surprised that we've been as clinical as we have. But the quality of the players and the way Dave wants to play, we've had complete buy-in and I think the guys are enjoying their football."
The Rebels could make their own piece of history if they beat the Tahs this weekend, as it would mark the first time the club would clean-sweep the entire conference. (When was the last time an Aussie team actually did that?)
It would also give them a massive lead in the conference and on the overall leader board, as they head into the more difficult games of the latter half of the season.
"They will be our biggest challenge with four of the top players in the country in their [The Waratahs] side," Stephenson said.
"It would be huge in regards to getting through the first four rounds and our Australian conference if we can somehow manage a win and would set our season up well."
[/one_half]
[one_half last="yes"]
The Fillies are named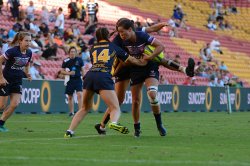 And finally, the Brumbies Womens team have named their first ever squad for round two of the Super W, which will kick off again this weekend.
The Brumbies will be playing against Queensland on Saturday at Canberra Stadium, serving as the curtain raiser to the Mens game against the Shorkies, so Canberra fans should get along and check this match out beforehand.
Coach Tony Doherty has brought out the big guns, with ACT legend Louise Burrows at hooker and Kiwi legend and Womens World Cup winner Charlene Gubb at lock.
They will be up against an angry Queensland side that will still be hurting from their loss to NSW last week at Suncorp.
The other match of the round will see NSW Women host the Western Force Women, which looks like it'll be a thriller with both teams getting up last week. That match will serve as the curtain raiser to the Waratahs-Rebels match at Allianz Stadium.
Brumbies Womens Squad: 1. Anna Korovata, 2. Louise Burrows, 3. Peta Cox, 4. Charlene Gubb, 5. Michaela Leonard, 6. Shellie Milward, 7. Georgia O'Neill, 8. Tayla Stanford, 9. Jane Garraway, 10. Ashley Kara, 11. Kiahan Bellchambers, 12. Samantha Wood, 13. Paremo Marsh, 14. Talei Wilson, 15. Michelle Perry. Reserves: 16. Emerena Aviga, 17. Brittney-Lee Bedford, 18. Merrin Starr, 19. Jessica Howard, 20. Skye Churchill, 21. Remi Wilton, 22. Cecilia Smith, 23. Kiara Meredith-Brown.
[/one_half]