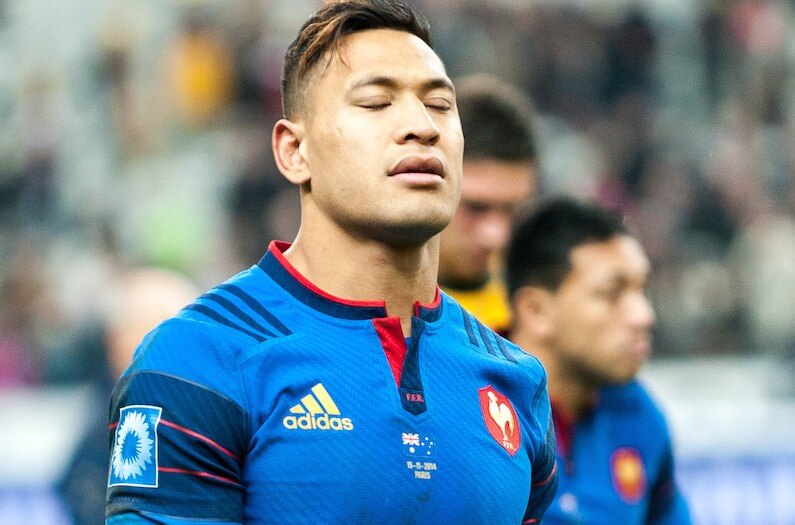 At first viewing my total impression was that the Wallabies were terrible and that was the cause for our loss. But on second viewing I have to give a lot more credit to France.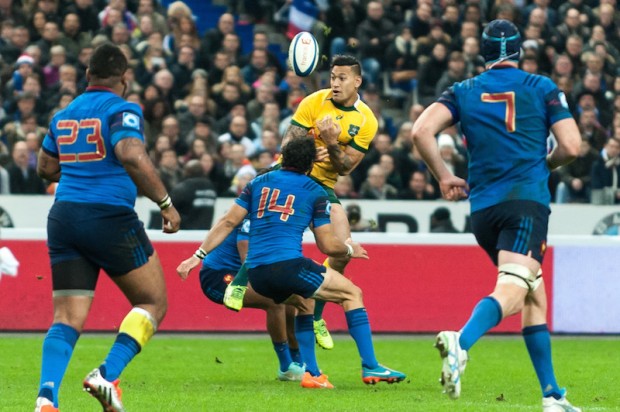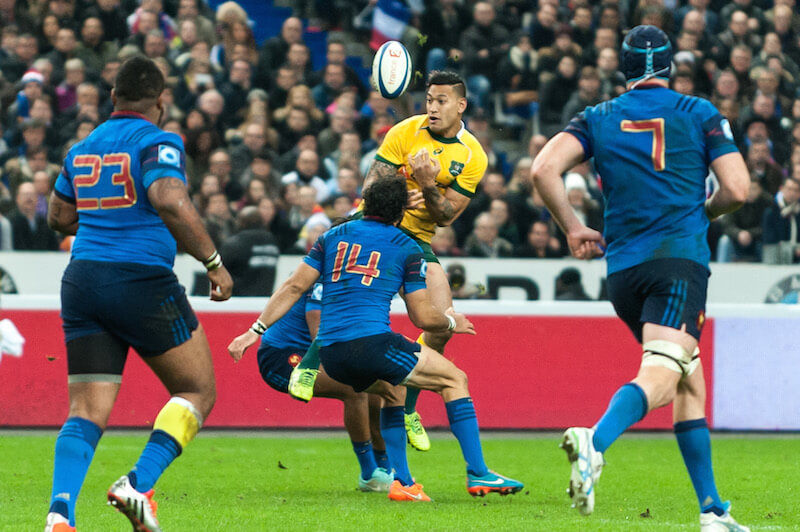 Certainly we made a lot of unforced errors, but one of the major contributors to our loss was that were were virtually never able to make the gain line due to very committed French defence: fast off the mark, making the initial contact on our side of the gain line. We weren't able to match the power of their defence and leg drive in contact.
I mention leg drive in contact with real intent – it was present in pretty much all of the French performance and absent in pretty much all of the Wallaby performance. Even in people who normally have very good leg drive in contact – like Hooper – it wasn't prominent. In some of our players who don't have leg drive in contact – like Horwill and Simmons – in this game they were absent.
I thought what helped the French defence was that very little of our attack had enough options available to it to ask serious questions of them. All they had to do was get off the line fast with numbers and nine out of ten times they were going to not only halt us, but do it on our side of gain line. Add to that the number of errors we came up with  – straight drop passes or kick receipts – then it minimised any opportunity that we had to get across the try line.
Given that we didn't do too much right for the entire night, we were still in the game virtually up to the 79th minute – which makes you think if we'd done just a few things right we'd have won it. In the first few minutes we dropped two balls and lost two line outs – it's amazing we stayed in the game for so long.
Added to our lack of handling skills was our unbelievably poor tackling. I don't say 'defence' because that would be talking about the structure and it was impossible to determine if this was a problem or not because we just missed so many straight up tackles.
The major problem is that we had no commitment, 'shoulder' or leg drive in our contact. Nearly all of them were arm and grab tackles in an upright position, enabling the French to step straight around us.
I'm not sure that France did a massive amount to win the game. They certainly performed well on occasion individually. Thomas' try was excellent, but aided by some absent defence – starting by Leali'ifano not just missing Thomas but knocking Ashley-Cooper out of the way as well. Leali'ifano, Hooper, Foley, and Phipps were all ordinary and they're all usually very good. What about those drop passes and high balls from Folau?
It was all out of the blue and has me puzzled. Was it poor preparation or playing at 9 o'clock at night perhaps?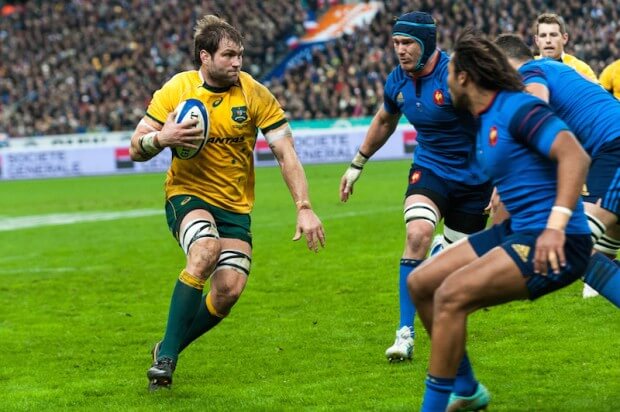 It's hard to pick a good individual performance. I suppose, McCalman, Slipper and Kepu worked hard and had some moments.
However, our line out struggled hugely, and these were supposedly our best two jumpers and strategy man in Simmons. It was made more difficult by the referee's total neglect of the gap in between the lines, but that's up to us to sort out.
We had consistently slow ball at the tackle, not helped at all by lack of leg drive past the ball on the ground from the forwards. It also wasn't helped by the 5th, 6th and 7th forwards running past the ball laterally in order to take up their positions to run in the midfield. The threat and the opportunity is the ball – you have to continue to send people to the ball until that phase of winning the ball at the tackle is over.
If you get eight forwards at the ball to win it, no problem – because the last few there can pick up the slow ball and go again. You saw a number of occasions where forwards were dawdling across the park to pick up positions where they'd get smashed again behind the gainline.
I've said leg drive was missing in our performance – but this was even in our 'driving' maul! If you look at our individual players with the mauls you'll see almost no effort, as if they were all saying "there's no use trying". We should be seeing all forwards in driving mauls working their very hardest with legs and bums to strive forward.
I don't understand this performance at all, I'm hoping the coaching staff do. To stand a chance against Ireland and England we'll have to move ahead smartly. Cheika is talking about changing the team up and they certainly couldn't do any worse than last weekend's lot.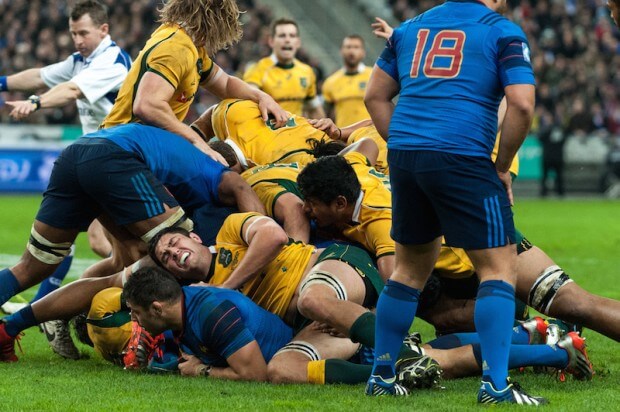 There's a tendency however for coaching staff to examine performances and say "this part of our game wasn't up to standard, we better work on it this week". I take a different tack and say there are six or seven aspects that must be up to scratch if we're going to succeed and we're going to have to work on them every week at least, if not every session.
If we say the scrum is going OK we don't need to work on it, then I guarantee that your next scrum performance will be below par. For the most part we should work on scrum, line out, support play, realignment in attack and defence, tackle contest options, body position and leg drive in both attack and defence as well as defensive structure. If our performance in an aspect was 90 last week it should be 92 next and if it was 60 last week we want it to be 70 the next, and so on.
You would have to think we need an option 'B'. It may be – let's get quicker ball and find some holes inside the first defender. Option B doesn't have to be a kicking game, although a good kicking strategy can force up to three players back out of the first defensive line giving you some room to move. On the weekend though the French open side winger was never back, perhaps there was just one man and the scrum half.
We also need to do more with attack from first phase – we're not questioning the defence from it at all. What influences that hugely is how well we win first phase ball; if we can't get a right shoulder then that's a problem and our scrum ball was barely acceptable. Our line-out ball was unacceptable.
Overall I'm left asking whether we were psychologically and or physically ready for that match and if not, why not?
PS – I got quite excited at one stage when they started to ring the changes when they brought Rob Horne on and I thought Kuridrani could have gone to 12! But its wasn't to be.
Photos by Tim Anger