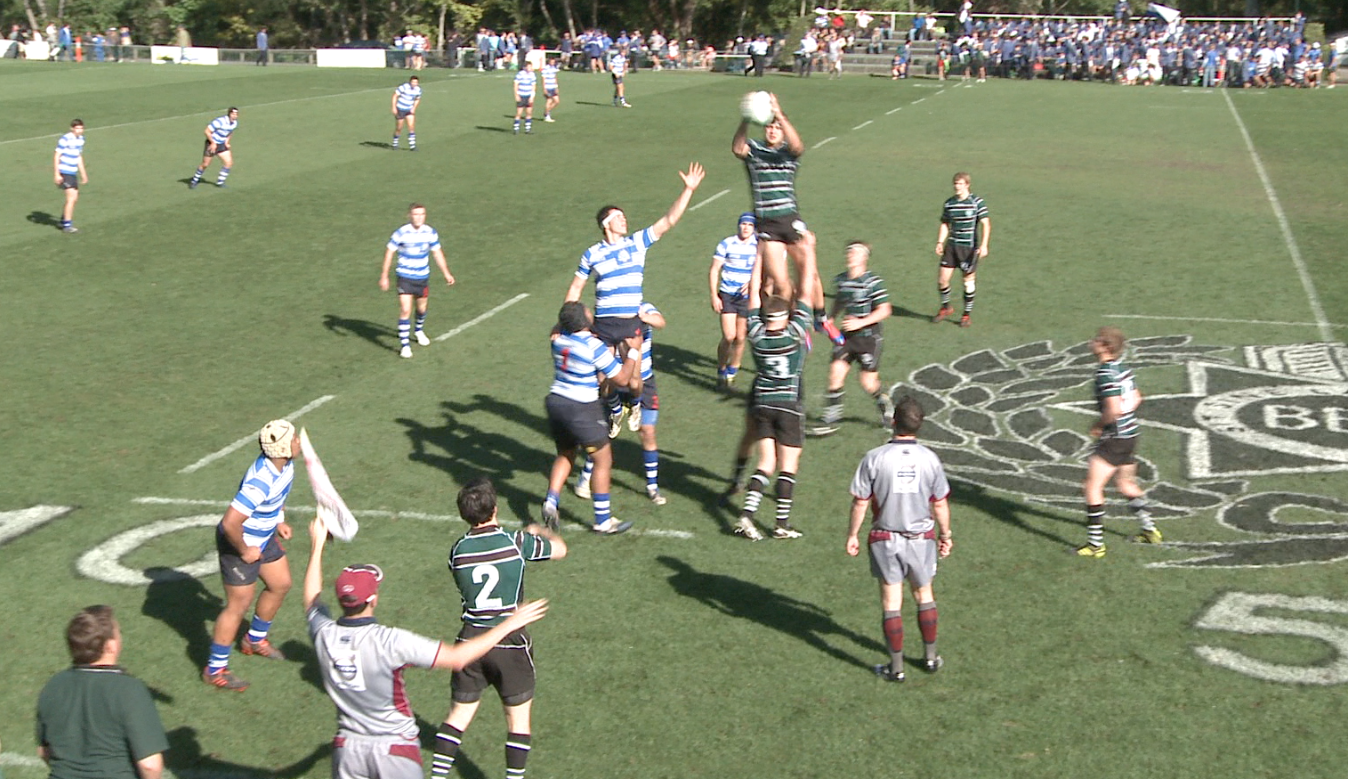 The trials are done and it's time to get this season underway, with round one this Saturday, 20 July. Some old heavyweights are bringing another solid team to the table, while some schools that may have been also-rans front with able and competitive teams. Accordingly, this season of the Queensland schoolboy GPS 1st XV comp promises to be a belter.
Jordan Ayton, Sam Phillips and I have run our eyes over the sides.
Anglican Church Grammar School (Churchie)
After promising so much last season but failing to deliver Churchie will be looking to rebuild its reputation as a leading school in the competition. Having again recruited well to challenge strongly for the premiership, Churchie has a squad on paper to do some damage, in spite of a reported cruel blow that captain and star forward Macmillan's season has been cut short with injury before it could begin. Nevertheless, they maintain a quality forward pack with frontrowers Bailey and Brusasco and bruising lock Scott-Young backed up and by a quality backrow featuring Schafer and Eddies import Fox at the back of the scrum.
They also feature some star power in the backs, with flyhalf Mason having invaluable experience against 1st XV GPS sides, having featured in the Downlands first XV since grade 9. He will be looking to unloack the destructive running games of another Eddies import in Perese and Tanuvasa outside him – the latter returning from a cruel ACL injury in Round 2 2012.
Again touted for a podium finish, the injury to Macmillan could be costly. Nonetheless, the pedigree of coach Jason Gilmore and some imposing pre-season form with victories over 2012 Premiers Brisbane Grammar and a dominant display against the Sunshine Coast Stingrays will rightly see this side fancied early.
Brisbane Boys' College
College have recruited a fair few new names during the off season strengthening the squad after huge losses such as Fakaosilea, Kallel and Collins, however their pre-season form has been hampered by injuries and the absence of a few key men.
Captain Tauakipulu will lead his large forward pack from the back at no. 8 and along with rumbling front rower Sala won't shy away in physical matches. The two dominated in a midweek pre-season fixture against the reputable Harrow School, touring from England. College's backs, directed by Russell, will test the best defences with the elusive Bowen and lightning fast McLean, Quick and New Zealand import Wilkins to be running some good lines.
College will certainly test their early opponents, but with little depth and existing injuries in many key positions and a large contingent of players drawn from younger grades, it's likely that this will be a year of building for the men in green. That said though, one should never count out a side coached by veteran Tom Barker and with Australian Schoolboys coach Steve Phillpotts in the wings.
Brisbane Grammar School
The defending champions come into the season without 2012 superstars Greene, Cornelson, Birch, Starr-Thomas and Blackhurst, but still boast a side of quality players and experience with 8 players backing up from last year's premiership-winning side. A number of last year's backs, including Aiono, Laud and Kemp have added some brain cells and lost the hair gell, moving into the forwards for 2013. Accordingly it seems that Grammar will be looking to play a fast game with mobile forwards while not compensating in size or strength, with Morrey, McReight and Cox also packing down.
Despite some uncertainty around the fly-half position, Grammar look to have recruited well with centre Lansky and winger Sly coming from tough confrontational league backgrounds while retaining star flyer Marsden who will pose an enormous threat from either wing or fullback.
Grammar can proudly boast a strong team over most of the park but their star seems to have waned compared to last years side and could well get a podium finish but will struggle against the likes of TSS and Nudgee. However, this team was written off last year and managed to surprise everyone combining admirable and well-drilled teamwork with individual brilliance to take the premiership, under the leadership of coach Damon Emtage. Their first round clash against Nudgee at Northgate – a replay of last year's 'grand final' – will allow for a much more astute assessment of both sides.
Brisbane State High School
The once-powerhouse State High have seriously slipped in the wake of their golden decade which produced players such as Matt Toomua, Chris Feauai-Sautia, Curtis Browning and Peter Hynes and this season look headed for the wooden spoon.
Despite having one of the hardest workers in the competition at flanker in Woods, State High seem destined to struggle unless they can seriously slow some opposition ball and build a platform for their capable backs. Fly-half Strachan is more than capable of leading a backline and will look to utilise talent out-wide with quality finishers Panichini, Iosefa and Southorn.
Gregory Terrace
Terrace showed some signs of improvement last year after a horrific 2011 and will be again looking to make strides up the ladder. Whether they have put together a side capable of this is another matter.
Lead by halves whiz Angus Fowler, Terrace will be hoping to cause a few upsets but will be realistic with their chances. A finish in the top half of the competition is a realistic goal but would require them to show improvement in leaps and bounds. They have trialled reasonably well and have shown improvements in their set piece but struggle when it comes to finishing out wide.
Some forwards within the side can also be found wanting when it comes to getting through the work required. It could still be a few years yet before we see a side in the black and red charge up the ladder, reigniting the rivalry with Nudgee. They will certainly give some sides a good scare but will struggle to beat the sides with talent across the park.
Ipswich Grammar School
Ippy Grammar have always produced top class individual players, however have not always been able to string together strong performances that reflect the strength of the team. As always the boys from Ipswich will field a big forward pack, and the likes of Fa'anana-Schultz, Vui and Rodda will be hard to keep out near the line. With Australian reps Anderson, Todd and Hayes out back, opposing teams will have to think twice about kicking the ball away to a potent back three.
Ippy have the talent to cause some upsets and could well finish near the top, but the ever-present questions over squad depth linger raising questions as to whether they can stay strong through to season's end.
Nudgee College
Year after year, powerhouse incubator Nudgee College put up a 1st XV with at very least the potential of conquering all before them. This year is no different. After falling at the final hurdle last year, the boys in blue and white butcher stripes will be looking to go one better in 2013.
There is certainly no lack of talent in the side, as they will by lead by Australian Schoolboys hooker Alex Mafi and Australian A Schoolboys Maclean Jones, James Tuttle and Matt Gibbon. They will again fare well at set-piece time as every Nudgee side does, especially packing a punch with a dominant scrum. Perhaps their biggest competition will be traditional rivals The Southport School, and the match-up between the sides in Round Four could decide who is left standing on top of the pile. In saying this, last year's competition evidenced that anyone can get beaten on their day and reigning premiers Brisbane Grammar will be looking to pull an upset home this weekend.
Toowoomba Grammar School
TGS come into the season as dark horses with little information flowing down from up the range.
Missing coach Jason Gilmore, who guided his side to the pointy end of the 2012 season before setting up shop at Churchie for 2013, TGS could be anywhere this year. They will run out some quality, hard-working forwards in McColl, O'Hara, O'Kane, Martin and Slade and have some serious firepower in centres with Wathen and Australia A rep Jurd, both with skilled finisher in Whyte outside them.
TGS always defend their home turf well against teams who've slogged it up the range, but we will have to see how they perform when travelling themselves.
The Southport School
Having 7 players backing up from last years 1st XV and a staggering 13 players selected in the Queensland schoolboys trials last month the boys from the coast come into the season as firm favourites with a level of depth the school has not seen since the infamous 2006-07 seasons.
TSS are a side with considerable size that's complemented by an esteemed strength and conditioning program that should see them outmuscle and outlast most opponents. They've a strong front row in Guttenbiel, the mobile and talented Lyon and captain Clifton, along with other uncompromising forwards Upfield, Papworth, Van den Berg and Brown.
The halves combination of Fines-Leleiwasa and Third is the strongest in the competition, and with wrecking-ball centre Fielea and speedster Nathan outside them they should pile on plenty of points through their backline this season. Their round four match against Nudgee at Southport may well decide the premiership.
Simply, TSS have put up another formidable outfit this year and will dominate any understrength teams.
So…
There you have it – our take on the teams, based on all the sneaky spy reports we can gather. Do you have any tip-offs? What's your take on the sides? Let us know…