Fridays Rugby News sees NSW v Qld, Rocket on the big stage, PI's forgotten, and SA laying down the law
---
The State Of The Union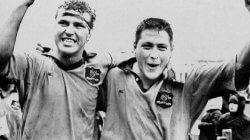 Is what they called it back before those pesky Brumbies materialised out of the scraps the Sky Blues and Reds discarded. Somewhere along the line, someone, I'm guessing they were born north of the border, decided to call it the festival of hate. It kind of took off up here and for better or worse we seem to be stuck with it. In the week preceding the game legends of Reds rugby tour the lunches and dinners telling stories of the dastardly men south of the border and how we vanquished them.

So why am I going on about it? Well, it's on Saturday night. Here are the teams.

WARATAHS (15-1): Kurtley Beale, Israel Folau, Adam Ashley-Cooper, Karmichael Hunt, Curtis Rona, Bernard Foley, Jake Gordon, Jack Dempsey, Michael Hooper (c), Ned Hanigan, Rob Simmons, Jed Holloway, Sekope Kepu, Damien Fitzpatrick, Harry Johnson-Holmes

Reserves: Tatafu Polota-Nau, Rory O'Connor, Chris Talakai, Lachlan Swinton, Will Miller, Mitch Short, Mack Mason, Alex Newsome

REDS (15-1): Isaac Lucas, Chris Feauai-Sautia, Samu Kerevi (c), Duncan Paia'aua, Sefa Naivalu, Bryce Hegarty, Moses Sorovi, Scott Higginbotham, Liam Wright, Lukhan Salakaia-Loto, Harry Hockings, Izack Rodda, Taniela Tupou, Brandon Paenga-Amosa, JP Smith

Reserves: Alex Mafi, Harry Hoopert, Ruan Smith, Caleb Timu, Angus Scott-Young, Tate McDermott, Hamish Stewart, Jack Hardy

Here's Darryl Gibson from the Tahs press release.

Gibson said his side had plenty to work on after their narrow one-point win in round two with his team eager to deliver a strong performance in front of a passionate New South Wales crowd.

"We are facing our oldest rival this week and we want to put out the strongest team we can.

"The Reds are a very competitive unit, we saw that last weekend and saw that in their first game.  We know what we're in for.

"We know how important these derbies are from a conference standing, so there is plenty to play for," he said.

Brad Thorn talked himself to a standstill about this game.

Reds head coach Brad Thorn said: "No matter what code or sport, Queensland v New South Wales are always good games. It's a historic rivalry and I know our men will wear the maroon jersey with pride.

Queensland will be looking to end a nine-game losing streak against their southern rivals, with their last victory over New South Wales back in 2013.

The Reds play the Waratahs at the iconic Sydney Cricket Ground on Saturday evening at 6:45pm AEST
Rocket Back In Gold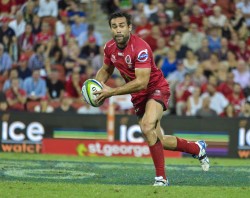 This just landed in my inbox! Here's the unfiltered press relaese.
Former Vodafone Super Rugby Champion Rod Davies will join the Qantas Australian Men's Sevens team in Vancouver for the Canada Sevens this weekend.
Davies, who is now a squad member with the Western Force, won the 2011 Super Rugby title with the Queensland Reds before earning his sole Wallabies cap against Samoa the same year.
Known as "Rocket Rod", the 29-year old recently joined the Australia Sevens squad to train with the team before competing at the Kiama Sevens.
The Aussie 7s will meet New Zealand, Spain and France in Pool C at the Canada Sevens in Vancouver this coming weekend.
Qantas Australian Men's Sevens Head Coach, Tim Walsh said: "Vancouver marks the second half of the season and we need to be smarter, faster and mentally stronger on the home stretch.
"Acquiring Rocket (Davies) has been a fortuitous bonus and enabled the Sevens program and Rugby Australia to build relationships with the Western Force.
"Rod is one of the fastest players in Australian Rugby and the strategy will be to get him into space to showcase his speed."
Australia remains in sixth position on the HSBC Sevens World Series ladder, trailing South Africa (67) and England (68).
The USA leads the overall series, having won the USA 7s on Monday on 98 points with New Zealand (93) and Fiji (84) rounding out the top three places.
1. Nick Malouf (vc), University of Queensland, 33 caps
2. Jesse Parahi (vc), Norths (Sydney), 42 caps
3. Michael Wells, Norths (Sydney), 6 caps
4. Simon Kennewell, Randwick, 14 caps
5. Jeral Skelton, Brothers, 9 caps
6. Henry Hutchison, Randwick, 21 caps
7. Liam McNamara, Sunnybank, 11 caps
8. Brandon Quinn, Gordon, 13 caps
9. Rod Davies*, Western Force
10. Lewis Holland (c), Queanbeyan, 42 caps
11. John Porch, Norths (Sydney), 22 caps
12. Ben O'Donnell, Randwick, 14 caps
13th Dylan Pietsch
*Uncapped
Pacific Islands' uproar is justified.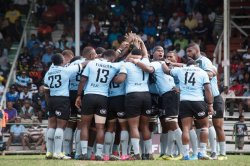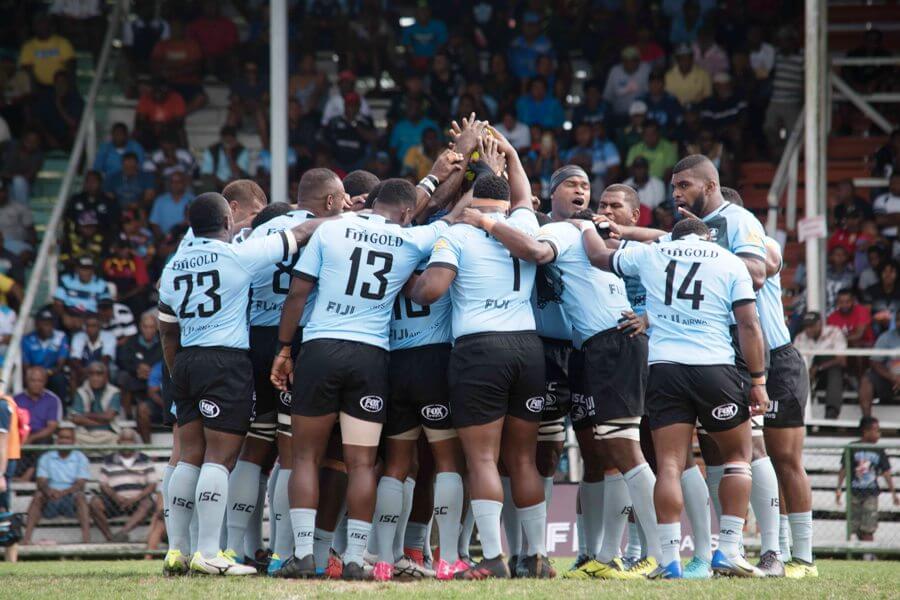 So what about their Super Rugby exclusion? Screamed the rest of Bret Harris's article over at the Guardian.
And as usual, he makes a lot of sense.m It's no point screaming about our Pacific Island brothers missing out on a gig in the World League set up when for 23 years we've ignored them in Super Rugby!
This from Bret's article.
Each time Sanzaar re-negotiates its broadcast deal and considers new competition structures, there is talk of one of Fiji, Samoa or Tonga (or a combined Pacific Islands team) gaining admission to Super Rugby. Yet nothing has eventuated to date. Instead, over the 23-year history of the competition, Sanzaar has expanded to include teams from Perth (the Western Force have since been axed), Melbourne, Port Elizabeth (the Southern Kings have since been re-located to Europe), Japan and Argentina.
The Pacific Islands have been overlooked by Sanzaar for the same reason they were reportedly overlooked by World Rugby – commercialism. The three Pacific Island nations have a combined population of just over one million – Fiji (905,502); Samoa (196,440); Tonga (108,020) – which is too small to generate the revenue demanded by elite professional rugby, particularly all-important broadcast monies.
He goes on to point out that although Fiji, Samoa and Tonga only have a population of 1.1 million but 20% of rugby players worldwide are of Pacific island heritage. Just let that sink in for a second. It's a big number.
Since the leaking of World Rugby's plan to bypass the islands for the massive Japanese and American markets they've promised to considers the tiny nations in the proposal and that's great but I still have to wonder where's the money coming from?
I'll let Bret finish this one.
Maybe the Pacific Islanders will not offer much in terms of domestic broadcast rights, but they would potentially add significant value to foreign broadcast rights, particularly in the northern hemisphere, which is under-pinning the finances southern hemisphere rugby.
And, of course, Pacific Islanders offer the world in terms of their talent, skill and passion for the game. And if Sanzaar was truly concerned about the Pacific Islands, it would admit them or a combined Pacific Islands team to Super Rugby when it re-negotiates its next broadcast deal.
 SA Rugby to be strict with overseas clubs over players
Springbok coach RassieEramus has put European clubs on notice saying South Africa will be enforcing World Rugby's regulation 9 that makes players available for their countries for 14 weeks a year, making them available for all South Africa's Tests in June, the Rugby Championship and November Internationals.
There are currently 36 South African players at Gallagher Premiership clubs in England, and 42 in France's Top 14.
Others, such as C.J. Stander and Quinn Roux (Ireland), and Willem Nel and Josh Strauss (Scotland), have gone on to play for the national teams of their adopted countries.
Regulation 9 is there to make sure that all countries can compete and stay relevant on the world stage, and unfortunately with our exchange rate we are one of those countries now," Erasmus said at a press conference in Cape Town on Tuesday.
"Up until now, we have had give-and-take because there are players' lives that are affected.
South Africa recently scrapped the 30 test minimum required before an overseas player was eligible to be picked for the springbok and this just seems to be Eramus letting everyone know that he's just going to pick whoever he damned well wants.
"We are now saying that from 2020 we are going to enforce Regulation 9 because we can't pay people at that level [to compete with overseas contracts]."
"It is not about playing hardball."
"It is about being proactive and explaining to the clubs what we are doing."
"It gives the club who wants to sign a player the option to consider whether they want to go ahead. It gives the player the chance to decide whether he wants to go over there.
"Does he want to retire from international rugby and pick money now over playing for the Springboks? It is not a threat; it is a reality."
I've got to say I'm not in favour of the same thing happening here. While Our rules could be tweaked to include Super Rugby games I don't think opening the floodgates will help our Super Rugby clubs one bit.