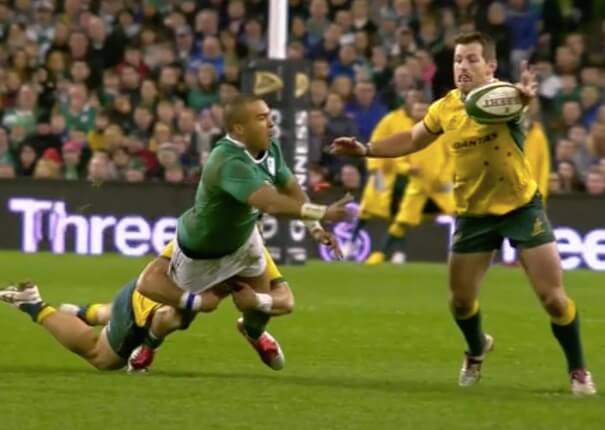 This was a lot better. OK, we didn't win the game and that's a little disappointing but Ireland are in a lot better form than France, as perhaps indicated by France's lost to Argentina. Ireland are also a tough opponent at home.
We did score three tries to two and had Foley kicked those two sitters we would have won the game. Perhaps the foolishness of long passes might start to sink in to individual players, given the 14 point turn around caused by Phipps' long pass when we had a four on one. I am strong in the belief that long passes are a cover for poor handling and support skills. Short passes with the addition of a loop play where necessary are a much smarter and more secure way of playing the game.
One of Nick Phipps' tries – in short space down the right side – indicated just how close support play in depth added to straight running and short passing can bring rewards. I would outlaw all miss-passes from the team until we learn how to catch and pass, run straight and support accurately. People will say that miss passes bring tries sometimes (true). But until we can play the fundamentals I wouldn't allow them.
There were definitely some positives. I thought that Luke Jones  – although with a flawed performance – indicated what he can add and the more experience he has at the level the better he will get. Will Skelton gave confidence that he will continue to develop. He's still got a way to go but what I like is that if we get him to his potential he will be a valuable member of a top class team. Whereas with some players, even when we get them to their potential, they couldn't be a member of a RWC winning team.
Cooper and Genia continue to work back to their best form. There's a way to go for both, but it wouldn't surprise me at all to see them start against England.
This time last year we were getting towards the end of an extremely successful tour of the northern hemisphere where we were unlucky not to come away with a 100% record. However, we did come down hill quickly and our play fell away.
This tour is achieving a number of things and one of the most important is that it's exposing players to a different way of playing the game with much less structure. It takes a little while for them to develop the right mindset. The general feeling around the community is one of more confidence despite the score board and I think that reading of the teams' current and developing position is accurate.
We continued to make mistakes, but they were entirely different. Mistakes were made by players pushing to fit into the style Cheika wants to play. When the reserves came on things were hurried and perhaps they hadn't had the time on the practice pitch. I don't mind mistakes made with positive intent – they indicate intent, commitment to that style and tell us that all we need to do now is rub off a few edges (I remember a loop play with Robinson that had it come off would have paid dividends) in order to get where we want to go.
I think there's definitely encouragement. We're trying some players who have been world class in the past and are coming back. We're trying others with real potential, like Luke Jones, and that's a positive. The commentators kept saying that there was more balance with Jones in the back row and that was true. Big guys who are good are really important in a team.
Kurtley Beale on the wing. One of the commentators even said how having him on the wing gave Beale the opportunity to 'bob up' where he sees the opportunity. He can be very effective there. Get Kuridrani and Ashley-Cooper in mid field and we have a team that can play all sort of ways.
I say this when Toomua had a great game – his commitment to defence is probably the best in the team. But he doesn't have the attacking capability of the aforementioned two.
One of the important things for the team to develop is that we can continue to play this way, at this pace, for the whole game using the short side, or mid field, or open side, or pick and drive or kick and chase. We can let our players choose what's needed.
I hate the phrase 'play what's in front of you', but if people play with respect to where the ball is at any one time – either as a primary support player, secondary support player, or realigning player – then after a longer period of time it's almost impossible not to fit into a position that the ball and players around it indicate. If we practice and play this way all the time, it becomes instinctive.
There are principles of play that you can practice and if they're adhered to accurately the game shapes itself for you and your individual role becomes so obvious that you get dragged into it. This is what Cheika is trying to get and we've made great strides in it.
By the way, I thought both the penalties that brought Ireland back should have gone to the Wallabies. In one instance, the Ireland 13 was so far offside entering the maul that it didn't register, and the ref was right there! He must have been two or three metres coming offside coming into our maul and we got penalised for going to ground, even though it wasn't over the ball. With those two penalties, a 14 point turn around and those two sitters missed,  you'd have to think we would have been deserved winners, had we won.