The balance of the backrow is often discussed, but what about the balance of the back three? With the Wallabies likely to face a lot of tactical kicking this year, is there a role for playing two genuine fullbacks in the back three?
So first of all – what is a genuine fullback? Here are four key critera:
1) Safety under the high ball.
2) Ability to kick long, and accurately.
3) Ability to counter attack from depth with ball in hand, and create opportunities.
4) Last line of defence, with ability and pace to close down a breakout.
Advantages of two fullbacks
Playing with two genuine fullbacks allows flexibility in numbers dropping back to cover tactical kicks. If your 15 (the one with that actual number on his back) counters, and is in the line or otherwise out of position, the secondary gives full coverage.
Disadvantages
Losing a genuine winger, left or right, which are specialist positions. The Wallabies, under Deans, have tended to use 15 as the second play-maker position to allow playing two "bash and barge" centres, so the specialist fullback is, to a degree, lost already. Trying to fit all your best play-makers on the field, can leave fewer specialists and more all-rounders.
I believe the Wallabies haven't used a specialist 15 since the retirement of Latham, and the first injury to Gerrard. Possibly, no player has dominated as a specialist 15, and demanded selection. I believe it is more about an overall theme in selection of the Wallabies under Deans. I contend none of the players selected at 15 under Deans fill the four criteria that make a specialist 15. Using those criteria, let's look at the candidates, except Mike Harris, who has hardly played this year:-

Beale
1. Can be very hit and miss. Percentage of safety under the high ball is average.
2. Has a better than average kick distance but execution can be problematic, especially under pressure.
3. At his best, he is a potent individual returner of the ball, perhaps the best in Australia.
4. He can defend, there is no doubt, but he often gets caught out.

O'Connor
1. A 50:50 proposition at best – high kicks to him are a good tactic if pressure is applied. He is far from safe.
2. Average kick distance and execution.
3. A gifted counter attacking player, I actually feel he is best suited to counter attack in traffic, rather than in the open.
4. Without a doubt a great defender in the line or one on one.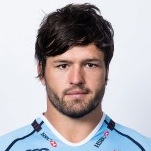 Ashley-Cooper
1. A 50:50 proposition.
2. Average at distance and execution.
3. He isn't actually that quick or that elusive. He has well noted passing difficulties to the right, and a marked preference for fending with the left. He has great versatility, but I don't regard him as anywhere near 1st choice.
4. A great defender in close and one on one, but again outright pace could let him down, and has done in the past in this position.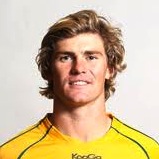 Barnes
1. A 50:50 proposition
2. Average distance and execution.
3. Counter attack from depth is not a strength. His previous selection at 15 was more about filling the second play-maker role, rather than at 12.
4. Technically very good positionally and in execution, but, like AAC, he isn't that quick.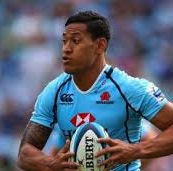 Folau
1. Excellent. The best player under the high ball I have seen since M. Burke.
2. Here is his great weakness and why he can't be selected at 15 for the Wallabies – his kicking game is virtually non-existent at the moment.
3. He isn't making the breaks against other teams that some were expecting but attracts defenders, opening up options for a side able to generate quick ball.
4. I have been surprised at how quickly he has picked up the defence requirements positionally and in execution. Very good.
Mogg
1. Above average.
2. The biggest, and most accurate boot of any Australian 15 currently.
3. Mogg continues to surprise with his loping, elusive running style – he gained over 70 metres for the Brumbies against the Reds alone.
4. A very good defensive player, I am concerned he may be carrying a weakness in his shoulders.
In both 1991, and 1999, the Wallabies had two 15s in their back three.
1991 – Campese and Roebuck. Many would say that Campese was not a specialist 15, but that is where he started his career and he filled all the requirements. You will also note that Campo was commonly the player who dropped back to make a kick return, not only because sides feared him running it back, but because he had one of the biggest boots in World Rugby. Roebuck was the Mr Reliable at 15 for 1991 side, and he filled all the skills well.
1999 – Burke and Roff. Burke was the best 15 in Australia throughout the professional era. Many here would argue for Latham, but I believe he just was never as reliable as Burke. Roff was a specialist 15 for the Brumbies, and played a similar role to Campese for the Wallabies.
Who would I select as the back three for the Wallabies, with a two 15s structure in mind?
11. Ioane
15. Mogg
14. Folau
I know I have said Folau's kicking game is non-existent, but I wonder if that is by direction? He has to be able to kick to some degree after his time in AFL. Intensive concentration on this skill should be able to fix any issue to at least make him a passable kicker.
Of course this approach to the game is all for naught if the Wallabies continue with the bash and barge player at 12 assuming also that two 10s are wanted on the field, though that is another argument altogether….
Vote Up Your Selection for Wallaby Back Three