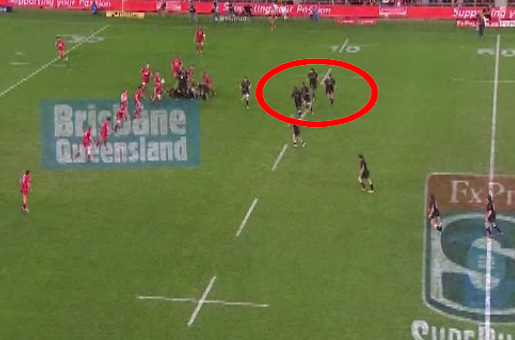 Last week I picked the Reds to win by 10 but I didn't factor in the Sharks coming out with a brilliant game plan that threw the Reds off balance (or the Reds' Number 10 curse returning).
As I showed you in my preview video, the Sharks' attack is usually built on pods of forwards punching the ball at the line without a lot of width. They concentrate on getting numbers in support so that once the ball carrier is brought to ground they can dominate the ruck and ensure quick ball for the next phase.
Once the forwards get the opposition going backwards they have the option to move the ball wide. It might seem simple but as with most things in rugby, the simple things done really well are the most effective.
Given the way the Reds set up to defend in last weekend's game, they obviously planned to stop the Sharks' forward pods getting on a roll by using multiple defenders in pods of their own to try to bring the ball carrier down early, and then throw numbers into the ruck to slow the ball.
Committing numbers against the Sharks' forward pods leaves space in other areas, and the Sharks exploited that space by having their forwards offloading the ball to extend each phase. And whenever they saw the Reds committing numbers to defend the next forward pod, they moved the ball wider outside the defensive pods.
The execution of both of those elements was exceptional and it left the Reds scrambling to get their defensive line re-organised, and then keep it organised for more than a phase at a time. In a very clinical display, every time space opened up in the Reds' defensive line the Sharks identified the opportunity and took advantage of it.
To demonstrate this, I've picked out two clips from within the first 10 minutes that show the pressure the Sharks were applying to the Reds' defensive line.
[youtube id="vYVm34uYyag" width="600″ height="350″]