Welcome to the best Social Pages of all time. If you thought it was good when Quade tweeted the pics of him and the fellas hanging out in a spa after rubbing lotion on each other was good, you're in for a real treat this week.
Taken by Force
Very occasionally in life, the stars align, the world tilts a little on its axis, and for a few minutes you are overwhelmed by the sheer joy of being alive. Colours seem brighter, chocolate tastes richer, and the easy listening radio station plays Air Supply's "Making Love Out Of Nothing At All". Last Thursday night, David Pocock decided to make my world a brighter place. And Social Pagers, I'm here to share it with you now.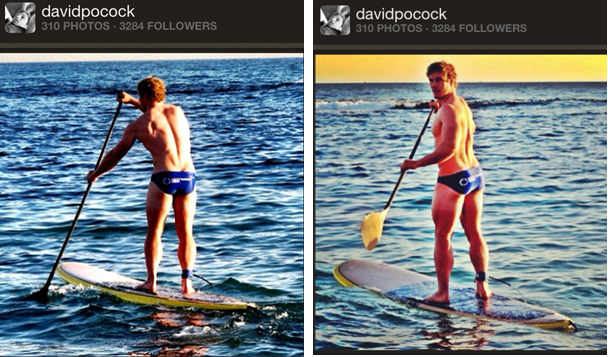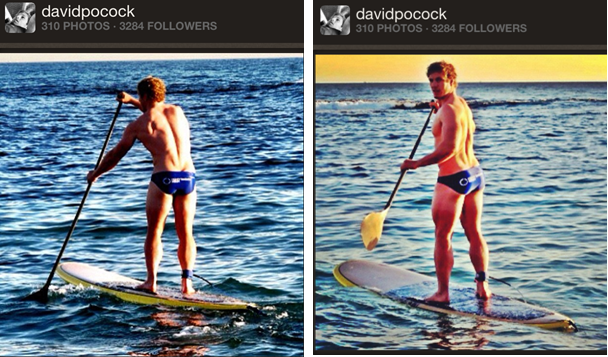 Now that I have your attention: he's selling the smugglers to raise money for his charity 8020Vision. You can buy a pair here. If you don't think you can look like that in a pair, or even fit a pair, no problems – just donate your $25 here (that's how much they get from the sale of swimwear). If you decide to open this page on your iPhone, then click on the image, save it, then go into settings and make it your wallpaper and screensaver, and then go around telling your non-rugby watching mates that it's your boyfriend, then you really should give them some money.
Acceding to the demands of the women of Australia – who, let's face it, were growing restless in their hunger for a new beefcake – Nick Cummins also gave us a great reason to support the Force.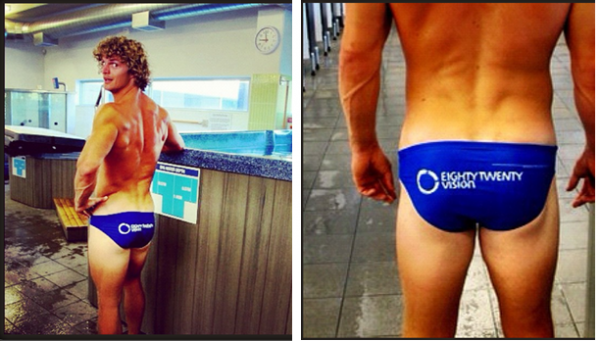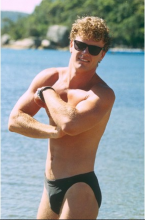 If you're using a Blackberry device (and hello to the Wallabies reading this with their new toys!) it's not weird to email the picture to yourself, then open it, save it and use this one as your wallpaper. People may wonder why you have a picture of Craig McLachlan on your phone, so here is a picture you can compare him to, showing that they really look NOTHING ALIKE!
Raunchy Reds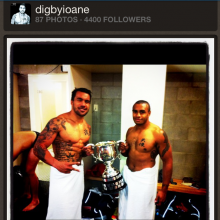 Digby Ioane, one of our favourite tweeters and semi-professional photographers at the Social Pages, is BACK. Here he is with Will Genia. Many people may not realise how long these guys spend on the field after the games signing autographs and talking to the fans, and generally being awesome.
What you may not know is that they did this for so long in freezing cold Canberra that by the time Digby got back to the dressing sheds his jersey was icing up and it was dangerous for him to keep any of his clothes on. Because he is always looking out for his teammates, he also tackled Will to the ground and tore his off too.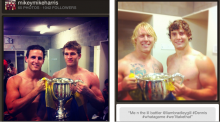 The wrestling and unintentional homoeroticism that is so often present in dressing sheds was quite the spectacle. Some of the other boys were able to overcome the pseudosexual undertones of this behaviour and reconstruct it as a masculine bonding activity.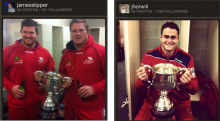 Still, there were some holdouts who instead had their photos taken wearing fleecy garments that obscured their manly pectorals and god-like deltoids. We call them the tight 5.

Quade was unwilling to stand beside Digby in a photo until he'd confirmed his skinfolds were low enough that his abs showed through. We've received photographic confirmation – he's good to go.
Mild Rebellion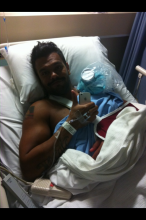 Firstly, a big Social Pages BUGGER! and GET BETTER SOON! to KB who went in for shoulder surgery instead of going to Wallaby camp on the weekend. Here's hoping he's back on the field with no complications or hold-ups.
The Rebel flag for quality tweeting this week would normally go to the Lipdogg himself for being willing to write for us (and talk about it on twitter!), but there's a better-than-even chance we're biased.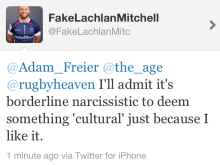 So @FakeLachlanMitc wins for this self-aware gem! He doesn't tweet much, but what he tweets is GOLD!
Waratweets
Unsurprisingly, when a team has as much pressure on them to perform as the Tahs do, then lose by one point, there isn't a lot of frivolity and merriment on twitter. Just as I'm sure it sucks to be a Tahs supporter at times like this, it would be a hundred times worse for the players. So no Waratweet this week. Yes, I'm going soft, but I did give you a LOT of men showing their ornamental (yet not truly functional) nipples this week.
Interview Bingo
Is it just me, or have our players really not been trying very hard to check off their phrases? I mean, I'm sure they're trying the best they can, but in the grand traditions of rugby, although the players are the ones actually on the screen, I blame the coaches producers (yes, I'm looking at you Maloney! And you Patches!). So this week I'm going with something those guys can't influence: the man of the match!