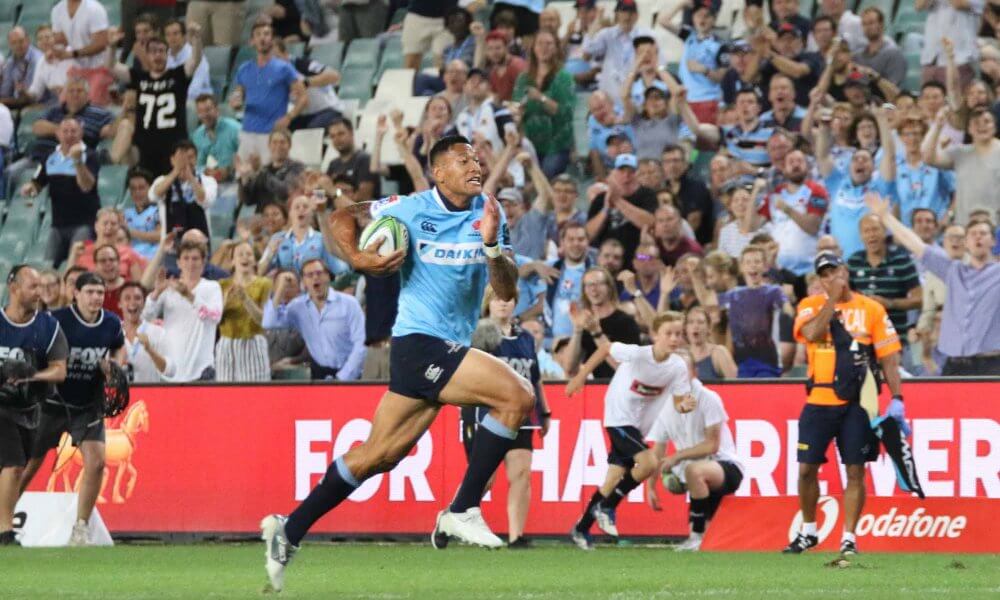 Monday's Rugby News sees the results from the weekend, the Rebels Super W squad finally announced, the latest from the Waratahs, and some brutally savage irony.
---
In case you missed it…
Super Rugby is finally back, and it was a refreshingly happy weekend of rugby for Aussie fans (except if you're from Queensland).
The Waratahs and the Brumbies grabbed gritty wins against the Stormers and Sunwolves respectively, and the Rebels showed a whole lot of class in dispatching an ill-disciplined Reds outfit down at AAMI Park.
Here's a fact for you: the last time Aussie teams won two matches against opposition in one round was back in round 14 of 2016, when the Waratahs defeated the Chiefs 45-25 and the Brumbies demolished the Sunwolves by a record margin, 66-5.
That was also the last time that an Aussie team beat a Kiwi Super Rugby side. We actually start against the Kiwi sides quite late this season, with the first Trans-Tasman match between the Rebels and the Hurricanes kicking off in Round 7.
But hey, at least we're off a better start than where we were twelve months ago.
It was actually a pretty disappointing round for the Kiwis. While the South Island teams in the Crusaders and the Highlanders got up pretty convincingly over their northern rivals, the Hurricanes got their season off with a surprise loss to the Bulls, who look to be a different beast after last years lacklustre performance.
In other matches, the Lions continued their dominance with a win over fellow big cat team the Jaguares, with the Sharks having the bye.
The other big rugby results this weekend came from the Six Nations.
France snapped an eight match losing streak with a 34-17 win over Italy in Marseilles. It is the first win for their new coach Jacques Brunel, the former coach of the Azzuri. It was a much needed morale boost for French rugby, which they will hopefully build on when they face England next week in Paris. Italy will head to Cardiff to face Wales.
Speaking of Wales, they had an absolute banger of a match against Ireland in Dublin, with the final result not decided until Jacob Stockdale intercepting a Welsh pass to wrap the game up for the home side in the final minute. Ireland prevailed 37-27, but this match will serve as a much-needed wake up call as they face the two toughest teams in the competition in the last two weeks, starting with Scotland at home.
The Ireland-Wales match was a solid contender for match of the round, but the Scotland-England match proved to be just as intense. With this performance, Scotland proved that they are no longer a pushover team, especially at home. With the Murrayfield faithful behind them, they ended a ten year losing streak to their southern rivals, running out 25-13 victors to win back the Calcutta Cup.
England will need a big win against France to keep their Six Nations aspirations alive, while Scotland could take the lead with a surprise victory over Ireland next week.
Super W Squads, Part 3…
Finally, we have the last Super W squad. And what a squad it is!
Melbourne Rebels coach Alana Thomas announced a 30 player squad over the weekend, with Aussie veteran Ashley Masters and Samoan international Sharlene Fagalilo spearheading a young Melbourne squad.
The Melbourne Womens team had a tough time of it at the Sevens, coming away winless. However, Thomas believes that the team can turn it around and really take the fight up to NSW, ACT, Queensland and WA.
"It's a really good and exciting mix of girls, who I think will grow and develop over the course of the season and hopefully flow into the seasons to come," Thomas said to the Rebels. 
"We've got some really experienced girls with Sharlene (Fagalilo) and Ashley (Masters), who have played international rugby before and then you mix in there an 18-year-old girl in Janita (Kareta), who's played 7s rugby for the first time last year and is a pure athlete.
"I really want to see them get out there for that first game and have a crack."
"There's going to be a lot of people watching women's rugby that are going to be intruiged and appreciate the skills," she added.
"It's not like the men, our players don't have the same tactical kicking strength so they play more running rugby.
"It's a lot more entertaining brand of rugby to watch."
Considering how great the AON Uni Sevens was to watch last year, along with the Brisbane Tens, there are high hopes that the Super W can really turn on the goods and give fans a real taste of the future of Aussie Women's Rugby.
"We had over 50 players training over the trial period so it was definitely hard to get down to the 30 players for the final squad but it was a nice selection headache to have," Thomas said.
"They're excited about it, they're working hard and really embracing it all so I'm excited to see how the 30 players that we've picked go in the competition.
"It's all going to be about that journey we go through over the course of the season and giving them the opportunity to play."
Check out the Rebels squad here. 
The Super W competition will kick off next month.
Gamblin' Gibson
It was a good weekend for Waratahs fans, to finally start the season on a high note with a gutsy performance.
It's a long way to go to win back many disgruntled fans, but the Tahs will go a long way to achieving that if they have a successful South American/African tour. But Daryl Gibson looks to be taking a gamble by taking on several rookie players on tour, as opposed to Wallaby Sekope Kepu. 
Kepu has to miss the next match away in South Africa due to being suspended for a shoulder charge in the Scotland match last year, however Gibson has told Kepu to work on his fitness for the round 4 match against the Rebels, meaning he'll miss the round three match against the Jaguares.
It will be a tough assignment for a Tahs pack to go up against some of the strongest scrums in Super Rugby, even more so considering that Stormers tried to target the Tahs scrum on Saturday night. But Gibson thinks his men are up to the task.
"We made a decision we're going to leave him [Kepu] behind, let him work on his fitness. We believe he's still not going to be physically able to really be effective," said Gibson to rugby.com.au. 
"We'd prefer to leave him at home, so he's ready for that Rebels game.
"We know we had our troubles [against the Stormers], but we're going to back the guys who are in there and look at the drawing board and look how we can compete.
"We've got the guys who can back it up and do it and I've seen that at training.
"The Stormers are so strong, they're squatting us, a couple of those guys are so big in that front row.
"We got a bit of false security there getting forward a bit and they're go back and bring it forward and caught us off guard a bit there, so it's a good little roll in for what we'll probably see next week."
The Tahs front pack will also be without Rob Simmons, who suffered a quad injury on Saturday night. Youngster Lachie Swinton will replace Simmons, and Simon Cron is hopeful the youngster can step up.
"Lachie has the flexibility to cover both lock and loose forward and with Ned likely to play in the second row, Lachie was our best choice replacement."
The Tahs 27-man squad flew out on Sunday to South Africa. You can check out their squad here.  
Oh the irony…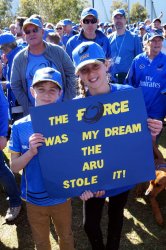 Many rugby fans in the last few days have started to receive emails from Rugby Australia, advertising the Wallabies upcoming test series against Ireland. It's a great opportunity to encourage people to go to games, to show youngsters cheering on their heroes. You know, stuff that makes you feel positive about rugby.
There's no way in hell that RA could stuff this up, right?
Well, the governing administration is in hot water (yet again) for picking 11-year-old Sam Harding as the poster child for the upcoming series. So why was picking Sam a bad decision?
Well, because Sam doesn't have a Super Rugby team anymore. He's a die-hard Western Force supporter.
Sam's father Steve made an official complaint to RA after the email went out, saying that it was pretty poor taste for them to choose a WA kid to sell tickets after the Force removal caused so much anger, on top of the fact that the Ireland Series that won't even go to Perth.
"It's typical of the ARU's maladministration that they would use Sam's image," Mr Harding said to The Australian. 
"As a kid in WA, Sam doesn't have the opportunity to see live rugby. The Force have been scrapped and the Wallabies aren't even coming here for this series."
Sam himself found the whole debacle to be quite upsetting, as it reminded him of when the Force were cut.
"Rugby used to be my absolute favourite sport and I went to every Force game," he said.
"But now cricket, soccer and (Australian rules) football have gone up in the rankings."
An RA spokesperson commented yesterday that RA had contacted the Harding family to apologise.
"We have attempted to reach the family of the young Wallabies fan to apologise for any upset caused by his image appearing in the email," the spokesperson said.
Head up mate. Hopefully Sam can be inspired again when the Force eventually do return to the field in June this year.