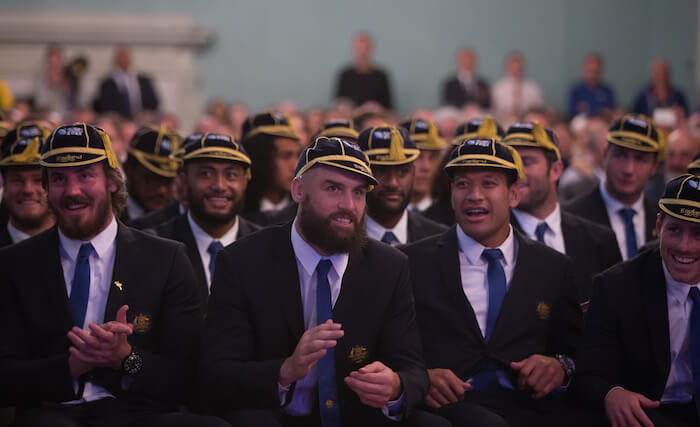 I'm excited to be going to the Rugby World Cup and it certainly brings back memories of 1991. It's really not like any other rugby tour  – the feeling when you arrive in the place is that the whole country is alive with anticipation. All of the towns and cities where the teams are based have that feeling of excitement and it gets picked up by the squads.
If you approach it in the right way – to have the 'on/off' switch – you can really enjoy yourself (sensibly of course). It's like nothing else and you shouldn't miss out on the occasion.
Having said that you also have as a team squad member to understand that every team there is going to put on its absolutely best performance; having prepared with 28 years of experience (since 1987) of how you prepare for such a tournament. Normally the Wallabies wouldn't be that concerned about playing Fiji – they have ability but over 80 minutes of a test match we can handle them – but we certainly won't be going into the first match that way. Fiji are better prepared than ever before. I'll be keen to see them against England and then on the 23rd.
I've got great expectations for our team. Sure they can win it (theoretically any team can), but to really do so you need high class players at their best, team-work at its best and you can't afford an off day. What I can say is that personally I'm confident that the coaching staff and team admin understand their roles very, very well. I'm impressed with the whole coaching staff – it's as good as anyone is going to have.
Cheika has also shown that he's very good at tournament rugby. He gets them to their best when the best is needed- as shown at Leinster. I'm also encouraged that over the last 12 months he's been gradually refining the squad to where it is now.
If there's anything that's had me a little concerned is that I don't see that either of our 9s are playing at their technical best. Both have a backswing and move sideways – Phipps does more the former and Genia more the latter. I hope that Steve Larkham has noted it and removed it from the game of two potentially very good players; it's critically important that we don't give anyone the chance to disrupt us in the the transition zone from tight to wide.
Outside of that I have no great concerns about the team. The scrum is first class – better than anyone in our pool. If reffed properly, we'll have no problem. With Douglas, Simmons, Fardy – even Hooper or Pocock taking a ball – our line-out will be in good shape as well.
I remember well in 1991 we always said that as a team going into the tournament "we believe if we play to the best of our ability we can give any team a shake" and we can genuinely say that now. All we have to do is play to the best of our ability .
Some people think our pool is a difficult assignment, but succeeding it leaves us in great shape. If we're going to go anywhere in the tournament we've got to be able to beat Fiji and it gives us a good lead up into England and Wales. It's an exciting time for us and we've got reason to be able to hope our team can play to their best of their ability.
As for competition should we progress, over the last few years England have improved, but then in the last few months gone backwards. Can they turn it around?
One of the traditionally great tournament teams has certainly been South Africa who can lift, but they haven't looked good in the lead up. In 1995 New Zealand looked far and away the best team in the comp, but then South Africa played over New Zealand for the whole of the final. In 2007 they managed to beat one team after another to win (what was a lacklustre tournament to be fair). They haven't looked great this season but will  be there or there abouts.
France struggled totally in 2011 losing two games along the way but then were very unlucky to not be champions, save for a couple of refereeing decisions.
Wales have been consistently good but always the bridesmaid and it's hard to think they can overcome the loss of Halfpenny and Webb. Halfpenny is surely the world's number 1 fullback with his goal kicking. Webb has risen to being a world class scrum half. How can they survive the loss of both?
It's down to the usual suspects – the three southern hemisphere teams, England and France. I've left Ireland out because I haven't been impressed with their trials at all. They'r really struggling to re-build a three-quarter line bar Rob Kearney. I can't see who's going to come through there. How do you win a world cup without one?
Shocks? I can see Fiji producing one. I'm not sure of anyone else.
Above all the rugby world cup is a celebration of the game and we should approach the tournament that way. Some people say they're not sure how far Australian can go, should they buy finals tickets? But it's about the world game and the excitement for all the countries. It's not just about your team winning, but them all doing their best – otherwise there's no point in 60% of the teams going at all.
Just enjoy it for what it is – a special tournament indeed.