We had two super rugby semi finals on the weekend and the imbalance in terms of possession and field position was quite pronounced and similar in each game.
The Crusaders enjoyed a huge territory and possession advantage over the Sharks and managed to win quite handsomely. The Brumbies enjoyed similar advantages over the Waratahs, but managed to lose decisively. So there's got to be a story in there somewhere. It's fair to say also that the Brumbies played pretty well, but the Sharks played poorly.
Where all this analysis leads us is that the Waratahs were able to overcome some serious disadvantages that would have put paid to most teams. I've said before that the Waratahs have made good teams look ordinary at times this season – this wasn't one of these occasions because the Brumbies didn't look ordinary. Certainly though, the Waratahs managed to convert the smallest opportunity into scores.
It's stating the obvious but this was certainly a win based on defence. You would have to say that Nathan Grey has to take a bow not only for this game but the whole season.
There were many heroes in defence for the Tahs but surely none bigger than Nick Phipps. Two try saving tackles in the space of 20 seconds on either touch line! While some if his half back play wasn't up to standard, he could have even got my man of the match with the huge amount of work that he did.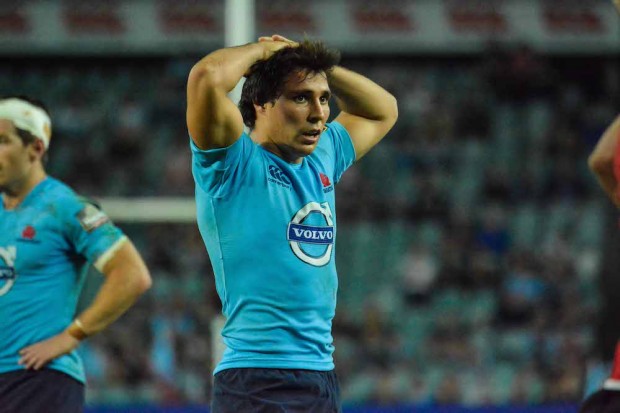 I was a bit concerned when I saw Jaco Peyper had ben assigned the match. He is seriously not a good referee. Does he suffer from faulty eyesight? Even the most obvious things he missed until an assistant referee alerted him. Skelton's high tackle, the decision to penalise Bernard Foley for not releasing Jessie Mogg was nothing short of ludicrous – the penalty should have been the other way. That decision and two more gave an important 3 points to the Brumbies.
We can say after this game that the Waratahs definitely deserve to be in the final.
Where do we go from here?
My only real concern is that for the first time in a long time Kane Douglas was strangely ineffective – no telling tackles, ineffective in the lineout and ball carry. Is he carrying an injury? When they were going to take Potgeiter off I was fully dismayed until he did his u-turn and it was indeed Douglas being replaced.
People will say that the Brumbies were able to keep Folau under control but such were the lack of territory and field position for the Waratahs had very few opportunities. He had a couple of neat touches making space for support runners but he certainly wasn't as dominant as we've come to expect.
I left the ground thinking that the Waratahs will find it difficult to take the Crusaders, but having re-watched both matches I've revised that. I thought the Sharks were very poor. I'd echo Bismark's words when he said they were extremely disappointed with their performance on the night. Loads of their problems were self inflicted – dropping balls, failing to find touch with penalties, kicks out on the full – a very ordinary display.
I wouldn't say the Tahs will go in favourites but they certainly are a chance. I also thought the Brumbies were a very resilient and determined beaten team. They never did anything other than remain positive and try and save – first of all the game  – and then some pride. Full credit to the way they fought back.
Last week I commented how easy points can't be missed with penalty kicks and the early one in the second half was surely a turning point missed.
This was a very, very difficult game for the Waratahs to win but on the scoreboard they won it handsomely. They may not have constructed too many of their own tries, but they put the other team on extreme pressure.
You've got the play the cards your dealt – although I wouldn't want to play these cards two weeks in a row.