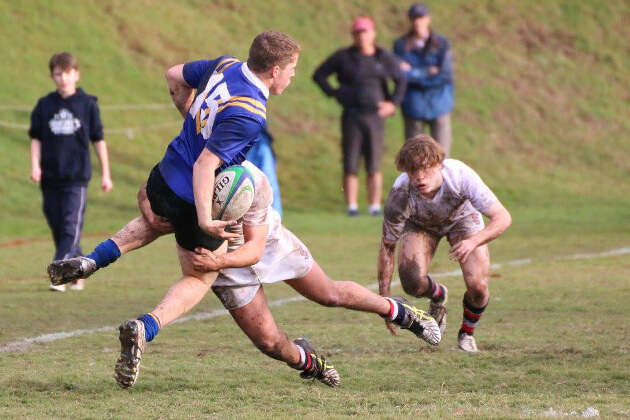 The CAS season was coming down to the wire and after the drama the week before it when Waverley beat Knox to draw level on the ladder, it was a matter of those two not stumbling to become joint Champions with one round to go.
.



.
Trinity
v Knox
by "An Observer"
Trinity were always going to be psyched up to play Knox at home. Redemption for the first round humiliation was required!     On the other hand Knox were licking their wounds after losing their first game in two seasons the previous weekend – and honour needed to be restored!
Playing conditions were perfect; Being dry and cool as Trinity kicked off for the second-last game of the CAS season.
First half
Knox received the kick and executed a sweeping backline move to sprint down the field and park within the Trinity 22.
The Knox backline looked slick, but their lineout was less than perfect with several Knox throws being won by Trinity, saving them from the Knox rolling maul. Trinity defended tenaciously and after a backline run down field, the tables were suddenly turned and Knox were defending their own try line. Following some confident play, Trinity lock, Nick Driessen, crashed over the Knox line and Trinity were up 5-0, but the conversion missed.
True to form, Knox responded almost immediately with a series of phases leading to a James Armstong run and a maul from which Knox no. 5 Nick Frost crashed over the chalk for their first try. This conversion missed also and the scores were tied at 5-5.
Both fly halves demonstrated some excellent kicking against the run of play to gain important field position. The Knox backline was clicking and after long sweeping move, no. 15 Harry Stocks scored a five-pointer that started in the Knox 22.
The try was unconverted and the teams went 'into the sheds'. There may not being any structures at Knox that resemble a shed, however I'm sure you get the gist of it.
Half-time score: Knox 10 – Trinity 5
Second half
After the second-half kickoff, Knox camped in the Trinity half which led to a lineout ten metres out. Trinity knew what was coming but it didn't help and the Knox forwards executed a powerful rolling maul for Frost to crash over for his second try of the game.
Trinity worked the ball downfield and were parked on the Knox try-line. The ball was cleared from the base of their ruck to a surprised Max Swallow who scampered through a gap to score an unopposed try. The Trinity kicking radar was not working and this try was also unconverted.
The Trinity backline looked confident with the No. 12 Jordan Morris making several menacing runs and looking dangerous, and 6 Liam Rasch was menacing the Knox forward pack with many strong tackles.
But Knox were not flustered and responded with a quick backline move. Woodcock put Armstrong into the clear, and he busted several tackles to race 50 metres to score after a brilliant individual effort.
From the kick-off, Trinity continued to kick away their possession, but it seemed to work because they were applying pressure in the Knox half.
Unfortunately for Knox one of the box kicks from Bosch was well-received by Trinity, not for the first time, and their winger swung the ball wide. Against the defensive flow Trinity's Lachlan Ilias sensed the opportunity and ran across field out-sprinting the wrong-footed defence. He sped around two defenders to score and suddenly Knox looked beatable.
Knox gained a penalty in the Trinity 22 and Bosch slotted the goal to put the game beyond Trinity's reach. However, they didn't stop fighting and scored a late try after being parked in Knox's half.
Full-time score: Knox 32 – Trinity 22.
The Teams
Knox were the dominant team however they need to fix their lineouts and penalty count.
Trinity put-up a great fight and are highly competitive in this competition. However, they need to stop mid-field kicking and improve general tackling.
The players
Knox
Stocks had another brilliant game. He made plenty of scything runs and looked dangerous every time he got the ball. His impact from fullback was significant and for mine was best player on the field.
Frost was impressive with two tries. Knox received a scare late in the second half when he went down injured but he seemed to be moving freely at the end of the game.
Others of note were 13. Armstrong, 8. Basson and 10. Woodcock
Trinity
Rasch made some intimidating tackles and appeared to target the Knox props. He has the size and skill to be an enforcer, but he seemed to go missing for periods of the game.
Others to commend were Jordan, Ilias and Stead
---
Aloys
v Baker

by Rod Skellet
The Aloys ground presented both teams with a near- perfect playing surface in a game that on paper at least, was going to be close. With a good home crowd, the Aloys team looked dangerous especially in the backs with Matt Dainton , Peter Slaven and Pat Flaherty hoping to overrun a Barker side who had improved remarkably in the second half of the season.
First half
The Aloys ground presented both teams with a near perfect playing surface in a game that on paper at least, was going to be close. With a good home crowd, the Aloys team looked dangerous especially in the backs with Matt Dainton , Peter Slaven and Pat Flaherty hoping to overrun a Barker side who had improved remarkably in the second half of the season.
From the kick-off Aloys were on attack and following a series of poor passes Barker was unable to clear their 22. When the Reds infringed at a breakdown Dainton knocked over the goal for Aloys to lead early 3-0.
The teams settled down to play consistent but conservative rugby. For Aloys Heath (9) was giving excellent service to Dainton (10) who gave his outside backs plenty of chances with crisp passes and and quick feet.
But the Barker defence held and an opportune free kick put them on the attack. A quick tap by skipper and LHP Anstey found Barker's big man Flaherty (4) who crashed over. After the extras Barker led 7-3.
With the forward battle even at this stage, it seemed that the faster Aloys backline should get it together soon. They were aided by a cynical play by Barker which led to the first of five yellow cards against the Reds. With a man advantage the Aloy's backs used their hands lightly but the move was spoiled when a long cut-out pass to unmarked winger Freed (14) missed by inches.
A 14-man Barker kept it tight and nearly increased their lead after a superb break by Will Lloyd (13) , who ran 50m only to be tackled brilliantly metres from the line.
Half-time score: Barker 7 – Aloys 3.
Second half
Barker started well after the break when Reimer 8 peeled off the back of a 5-metre scrum and forced his way through a wall of Aloys defenders to score for the Reds. Barker led 12-3 after the conversions was short.
But Aloys hit back immediately when nuggety hooker Gilman (2) stepped to wrong-foot the defence and dot down next to the posts. Daniton converted and at 12-10 to Barker, both sides were well in it.
An unfortunate knee injury to Aloys' star fullback, Slaven, took some sting out the Aloys' attack. It ended his game and likely his season.
Now Barker's forwards stepped up and started to command the set piece. They lifted the pace of the game and after some pick-and-drives and strong carries, Anstey scored. When Tom Williams (9) converted Barker led 19-10.
Then Barker lost Reimer to the bin and although a man short again Van Woerkom (10) Grundy (12) and Marais (11) combined well to put the forwards deep into Aloys' territory. Flaherty charged over the line again, to score his second try, helped by another fine run by Anstey.
With the conversion Barker had a comfortable 26-10 lead with less than ten minutes to go. Or so it seemed.
The referee was not happy with the way Barker was playing the breakdown and was discussing this with the Reds' skipper Anstey, repeatedly . Players and supporters from both schools seemed bemused when Barker lost Chalmers (7) and Flaherty (4) in quick succession to the sin bin leaving them with twelve players to see out the remaining five minutes.
After a penalty goal, Aloys took advantage of having the extra men when they put the ball through the hands for winger Garnon to run in a nice try. Dainton's conversion was sound and Barker's lead was down to six points with two minutes remaining but Barker held on.
Full-time score: Barker 26 – Aloys 20
The players
Barker
Anstey: Inspirational captain; provided a solid scrum platform as LHP and was a consistent ball carrier.
Flaherty. Barker have a go-to person in the lineout which was missing in the first half of the season.
Reimer: Hard, aggressive runner who always bends the defensive line.
St Aloysius:
Dainton – Was out injured most of the season, but on today's performance he would have got representative honours had he been available.
Heath – Gave clean service to his flyhalf, and forwards one-off the ruck.
---
Cranbrook
v Waverley
by "Anonymous Al"
Cranbrook's home ground, Hordern Oval, was soaked and muddy in patches for the annual local derby at the bottom of Bellevue Hill
First half
Waverley burst out of the blocks and ended up scoring five tries to one in the first stanza.
5 Lachlan Drew-Morris was first across the line after Waves built sustained pressure on the Brook line. 12 Tom Fuller then broke through the defence and went on a 50-metre run before popping the ball up to 10 Ben Donaldson in support.
Waverley continued to throw the ball around confidently and steamroll the opposition. 3 Liam Smith picked the ball up from a ruck and sprinted 15 metres to the try line unopposed.
After more confident play from their own territory and astute kicking into the corner, 14 Zac Carr gave chase, toed the ball through and added another five points.
But Waves 4 Finn Wright was yellow carded for an over-vigorous tackle and Cranbrook fought back to control the ball and get on the front foot. As Waverley were back-peddling 15 Ed Renton burst through a gap off some slick passing to open the scoring for the home side.
The Double V bounced straight back when Fuller reached across the line after another powerful and skilful attacking raid into Brook's territory.
15 James Mood slotted four out of five conversions.
Half-time score: Waverley 31 – Cranbrook 5
Second half
Cranbrook started to get the better of things with penalties and they maintained possession to test the Double V's defence. From one such advancement into Waverley's territory 13 Mitch Dickens accepted a clever inside pass from Renton to take Brook's score to 10 points.
Even though Waverley rising star, 8 Luca Moretti, had been yellow carded for a lifting tackle, and the game was evening out, the Waves were still on a roll. They ran the ball from their own red zone again and Donaldson scored his second try after chasing and toeing through a grubber kick from winger Carr.
The next Waves' try scorer was 13 Jaya Yoannidis who stepped and sprinted his way under the Cranbrook crossbar from a lineout 20 metres from is own line. Similarly 11 Jackson Mohi scored the last five pointer when he dashed 80 metres from a move started on his own line.
Final score: Waverley 50 – Cranbrook 10.
The teams
Despite the wet conditions, Waverley put on a masterclass of free-flowing attacking rugby, particularly in the first half. Their willingness and confidence to run the ball from anywhere on the field; their support play and skilful knack of offloading the ball in traffic was a pleasure to watch. If someone tagged them "The Entertainers" it wouldn't be an exaggeration; they're playing the style of rugby people love to see.
Cranbrook were disadvantaged by being without some of their best players but still showed plenty of fight and enough ability to score two tries. They didn't play badly although they did kick away possession at times; it's just that they were just no match for Waves in their current form.
The players
The Double V has some super talent in their ranks but it's their teamwork that's allowing them to fly so high. Every player could be named, but 1 Will McCormick; 2 Adam Hassan; 6 Joel Ellis; Yoannidis and Mood were big contributors. Subsitute scrummie Marco Bell also did a fine job.
Cranbrook's best were 10 Darcy Searle, Renton and 8 Mack Matters. 4 Oliver Burston was dominant at the lineout and busy in general play.
The wrap-up
An under-strength Cranbrook team tried hard, but despite Waverley playing a man short for 20 minutes of the match, and despite the conditions they won easily.
Going into the last round the Double V remain equal first with Knox on the competition table and have put their nose in front on points differential.
The scoring
Waverley 50 (B. Donaldson 2, L. Drew-Morris, L. Smith, Z. Carr, T. Fuller, J. Mohi, J. Yoannidis tries; J. Mood 4 cons, B. Donaldson con) def. Cranbrook 10 (E. Renton, M. Dickins tries)
Other Scores:
Waverley won 2nds, 3rds, 4ths and 16As
Cranbrook v Waverley photos courtesy of https://www.facebook.com
.