3. Matt Toomua
3rd choice fly-half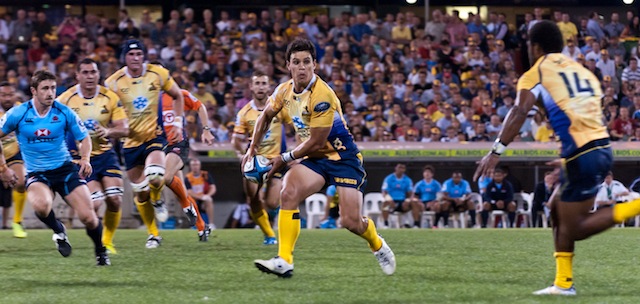 Seems to be gaining momentum as the dark horse of the available options for the 10 jersey. He's quite underrated, which is bizarre because he has a very solid all round game and a cool head. That said, he doesn't seem to have the flash, panache and flair about him that the other options (for good or bad) all do.
His tackling is ferocious, and game changing. He seems keen on winning the gold jersey by the Genghis Khan philosophy: If no one else is standing, you are champion, and his monstrous hits on Beale and Norton-Knight this season illustrate this. They are important, because, as Aussie Jake said after the game, Norton-Knight dropped much deeper into the pocket after that hit and seriously weakened the Force's ability to attack on the gain-line, giving the Brumbies a distinct advantage in defence. The same thing happened with the hit on Beale. He stopped taking the ball to the line, and it gave the Brumbies that leg up in defence.
His passing game is very silky, and he has a beautifully effortless style of kicking that reminds me of Morne Steyn. He had an excellent game against the Force, highlighted by his around the corner offload to Tomane (who did an excellent job in finishing) for a try.
His only real weakness is his ball running, which doesn't compare with the other options. He seems to lack that explosiveness into and through the contact/gap that the other options do, and he sometimes is guilty of going it alone and squandering opportunities out wide (prime example against the Reds in the 1st half, blowing a 5 on 1 overlap in a counter-attacking situation). Also counting against him is the lack of international experience. I don't think he would regard a broken jaw after 2mins to be great experience.