4. James O'Connor
4th choice fly-half, first choice right winger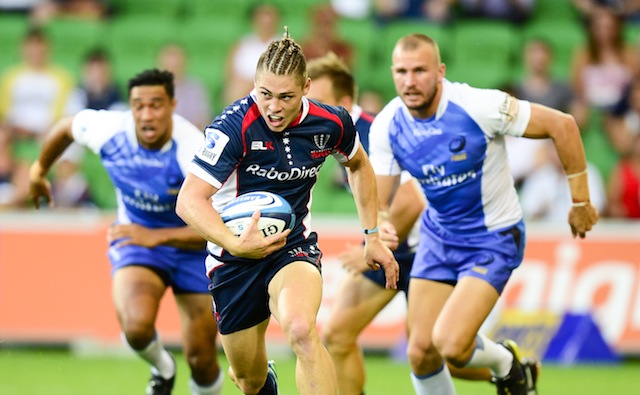 Like Beale, he's hardly played 10 in his professional career. A few games for the Force, a couple for the Rebels and 1 test match (Barbarians games don't count) for the Wallabies. His attitude is much better (on the field at least), and so is his fitness, tackling and goal kicking. However, his game management is poor, the Rebels don't look even a fraction more direct and controlled when he's at 10. Nor did the Wallabies, that beautiful pass to Turner against Wales not withstanding. He did have an excellent game against the Crusaders, but this was off the back of his greatest strength: his running game.
He does an average job (excellent game against the Crusaders is the only time he's looked decent at fly-half) of directing the team around the park with either kicking, passing or running the ball, and this is only because the truly incredible ability of his to run the ball. To hit the ball at pace, with a change of angle, and then use his footwork to confuse and wrong foot defenders, offload in contact, and back up like Mark Ella was famous for. Similarly, if O'Connor touches the ball once per movement, we usually make the advantage line. Twice and we gain a big chunk of territory. Three times, and I'd back us to score off it. This may work against a tired and disinterested Crusaders team, because the defence was very lazy and not in his face.
He is like a young Matt Giteau, in that he creates everything off the back of hitting gaps or good footwork. Like Giteau, he doesn't have the passing or management abilities to run a back-line when the defence is very aggressive and moving up quickly. So while he may have had a good game, this won't last because creating everything off the back of running the ball only means that he'll start to crab more and more and eventually be hated for it.
I personally think his best long term position would be 13, where he can combine the space of the outside backs, with the ability to attack the defensive line and get his hands on the ball more often, but for now he's an outside back. At wing or 15, he's a far better counter attacker than any Lions outside back and should be marking up on them. He should be on the wing, preferably on the right wing, where he was the best in the world in 2010, along with Drew Mitchell. His finishing, and speed out wide is vital, along with his ability to receive the long pass and attack where there is space.