This is the first in a series of articles focusing on the effect the NRC is having on Australian Rugby.
Ita Vaea was an up and coming number eight with the Brumbies when in 2012 he was diagnosed with a condition which caused blood clots. At this time doctors advised Vaea that he must retire from rugby to focus on his health, which he did, missing the 2013 and 2014 Super Rugby seasons.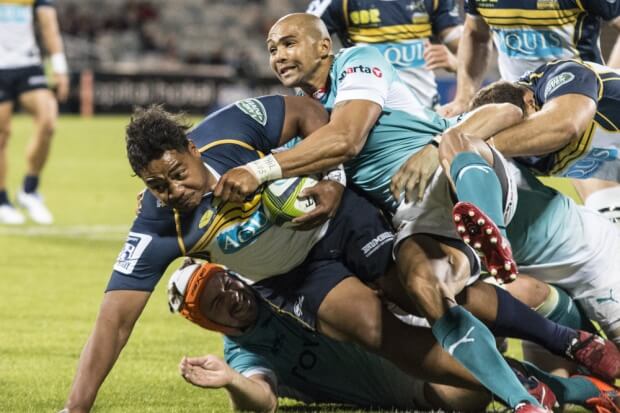 In those two years off, Vaea worked with medical staff on controlling his condition, a goal that was achieved in time for the birth of the NRC. The NSW country Eagles gave him a go and he looked like the Ita of old, crunching defenders and attackers alike. While he just wanted to play rugby again, people noticed and when Fotu Auelua was injured pre-season for the Brumbies, they offered him a chance to play again.
The 2015 Super Rugby season saw Ita score four tries in seventeen appearances, an effort that saw him get a Brumbies contract for another two years. The following NRC season saw further accolades for Vaea, winning the Viking's Player's Player award and RUPAs player of the NRC.
Vaea retired again this year, after starting the first four matches he succumbed to the same condition that was prevalent since 2012. It was tragic for the 27 year old, who had only just attended a Wallaby training camp in Sydney. But without the NRC I doubt we would have got to see him play again at all. When he turned up to train with the Eagles after the extended lay-off, twenty kilos heavier, GAGR asked a teammate if Ita was in shape he replied "he's a kind of shape". But having the opportunity to prove himself on the field made all the difference, without the NRC he might have played some club rugby, but without seeing his impact against the higher level opponents the NRC provides, it's hard to see it happening.
While Vaea's story is unique, it highlights the value of having the NRC as a tool for injury comebacks. Rory Arnold recently came back from injury into the NRC, played well enough to go straight in to the Wallabies squad. Similarly Rob Simmons was dropped from the Wallabies and had a chance to play himself into form, or at least maintain match fitness in the NRC and was selected back into the team. Pre NRC it was only the wallaby contracted players that could miss a chunk of super rugby and expect to be on the radar for the Wallabies, particularly as club rugby was their only chance of getting their groove back at that time of the year.
Leave a comment if there are any other comebacks I've missed, or perhaps your favourite Ita moment.